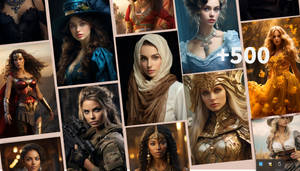 AI Female Photo Collection
This collection are over 500 illustration to help you get inspired in filed of game/animation/illustration project. This artwork image was created using artificial intelligence and the Stable Diffusion production tool. I am delighted to share this beautiful female with you that I was able to create through this process. AI Art Cosplay and Beauties All images are made of AI . We will update regularly,welcome to subscribers!
---

Description
Taken from Leota's Garden by Francine Rivers, there is a granddaughter attempting to restore a generational gap between her grandmother and herself by restoring her dilapidated garden neglected by age. She finds a watering can, paints it with reds, oranges, yellows, and pinks, and puts it in the garden as some fun art. My cousin reminded me so much of this character, taking care of her grandmother more than anyone she knew. I grabbed our only tea kettle, painted it like the story, and threw some dry, painted flowers in it and presented it to her on Easter 2012...right before she passed away. I pray the spirit of this story remains in our family for generations to come.
Image size
3072x2304px 1.57 MB
Model
Canon PowerShot A620
Date Taken
Mar 24, 2012, 7:07:03 PM