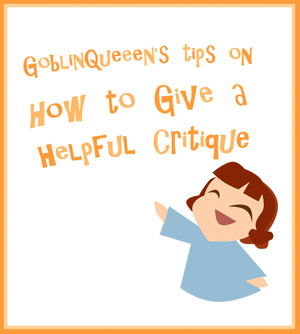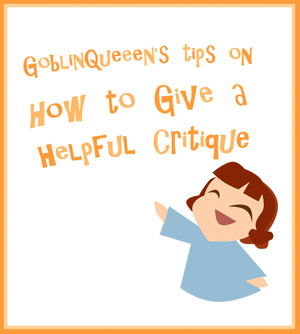 Watch
It seemed to me that more and more so lately, I'm noticing disharmony between artists here on dev relating to the critique system. I don't think it's that artists don't want honest critques, I think it stems more from miscommunication and perhaps not everyone understanding how to give a helpful critque. In any case, I didn't think it would hurt to throw this guide together and just maybe, it might help improve communication between each other.
Now, I don't want to sound preachy, either. These are just thoughts and techniques I have found work well for me. Like any other tutorial, you may find some work for you and some don't. Just take from it what you like and leave the rest behind

*Edit 3/13/05: re *tigrin 's suggestion, I went back and added some general and brief definitions for the formal elements.
***********************
Critique. It's one of those words that society has taken into one of the most negative connotations, and yet, it's not meant to be a negative at all. In the art world, the idea of a critique is to examine the formal elements of a particular piece of art. It has absolutely nothing to do with passing judgment or assessing its validity, it is just a way to look beyond the obvious. It is an invaluable process within the artistic community and the responsibility to handle it properly should not be taken lightly.
Now, personally, I was introduced to the process at a very young age. Back in grade school, we had a woman that would come in once a month and we would go over several pieces and review the formal elements involved. Of course, my level of understanding at that age was not what it is now, but still, I knew the basics and if asked, how to approach a proper critique.
It has come to my attention that many people were not likewise exposed and are relatively new to the concept of critiquing the works of others. There seems to be a bit of high tension lately as some people are presenting things in a less than tactful way, upsetting artists, and in turn, getting upset and thinking that the artist does not want an honest critique. Well, I can't speak for everyone, but I know for myself personally that is not the case. I do want an honest critique, but I also appreciate one done properly that shows respect for the work at the same time as examining it.
As many people do not understand the difference between those two concepts and many have not yet been exposed to the proper way to give a critique, I thought a little guide might be helpful. This is especially important here on devArt as if you are going to participate in the critiquing/commenting process, it's best to do so with a full understanding of what is and is not considered good form.
First and foremost, the formal elements of art I mentioned include but are not limited
to:
Theme – the idea, emotion, or motif behind the piece.
Expression – how the theme is carried out in a piece on a technical level. What elements are employed to express the theme and how well does it read.
Line – how lines are used in the piece, both in the literal lines you can see and in the implied ones created by objects and directional movement.
Color – how color is used, including, but not limited to the tonal palate (warm tones like reds, oranges, browns versus cool tones like blues and greens), use of contrast and complimentary, and also how the color has been used to render and draw focus.
Form – how the artist has used rendering techniques to create a dimensional feel and how those forms then register and relate to each other.
Repetition – how shapes, colors, and lines can be repeated throughout a piece to create unity, pattern, balance, and/or rhythm.
Composition – how the different elements of the piece are arranged to give and specific effect or mood. The actual staging of a piece.
Balance – a more surreal term, does the piece feel balanced and well grounded where it is? Are the objects centered, or all to one side? Does one side seem to feel more pull than another?
Direction – somewhat related to balance, how the elements combine to create a pull to a common point in space.
Movement – similar to energy, but also including literal movement within a piece. How alive a piece feels, both for abstract and representational works.
Energy – the dynamics of a piece. Do the different elements like color, line, and pattern create a calm state or a more energetic one.
Rhythm – how elements like pattern, repetition, and flow work together to create an overall unified feel.
Flow – how the eye moves around the piece and how well the different elements relate to each other.
Focus – how the artist has used to formal elements to guide the viewer to a main subject area.
Depth of Field – how the literal focus has been adjusted to create depth in the piece, i.e., objects at a closer range are more/less in focus than those at a distance.
Emotion – also related to theme, but the emotional level or idea in a piece. Also the emotional response it elicits from the viewer.
Symbolism – elements of the piece that involve a subtext beyond their outward appearance. They are what they appear to be at first glance, but they may also be representational of an idea, a person, or an emotion.
Iconography – a type of symbolism related to specific images or objects the viewer should use to understand a piece. For instance, placing a heart over a person's head would be an iconographic reference to love.
How an artist has chosen to use these elements should be the central issue, not whether or not you care for the particular subject, style, etc… What follows are some tips on how to keep that focus.
1) A critique is not just about what is 'wrong' with a piece. This is an unfortunate misunderstanding that I have seen perpetrated all too often. Simply pointing out each and every thing you consider to be a flaw in a piece of art is not a good critique. A good critique is balanced and addresses many if not all of the formal elements, expressing both good and bad, what you feel works, and what doesn't. This may seem to be an overly 'pc' approach to some, but if you focus on the negative, the person you are trying to help is likely to tune you out without taking in your meaning which accomplishes nothing for either of you. Remember, this is something the person has likely poured hours of work into and understandably, they may be rather attached to it and if all you have to say is negative and they see some good, they may discredit your perfectly valid points. A balanced evaluation is the best and most proper approach. Try to address the elements you think were carried out well in addition to the one's you felt maybe could use some work.
2) Remember to leave your personal tastes behind. If you are going to evaluate a piece of art, you have to be able to approach it from a totally neutral perspective. If you don't care for a particular genre or style, to give a good critique, that needs to be left out of it. That is not to say you are not entitled to that opinion, but I'm sure the artist is well aware that there are those that will not care for the style/genre of their work and there is no need to say so again. As mentioned before, you want the person to be receptive to what you have to say and if you start out with an obvious prejudice, they will likely discredit anything else you may have written. Again, this is of no help to anyone and defeats the purpose of the critique.
3) Be constructive with your criticisms. Unfortunately, this is a very ambiguous area. How do you say something bad in a good way? Well, to start out with, saying something is 'ugly,' 'annoying,' and/or 'bad' is not constructive. It gives the artist nothing to help them improve. Again, your ultimate goal is to help the person you are lending your time to and if all you do is slander their hard work, they are unlikely to listen. If per say you find something lacking in a piece, it is far better to try to focus on why you find it lacking and express it that way. Saying a color feels a bit too bright is far more helpful than saying it is ugly or wrong. By focusing on the source of your gut instinct, you are both helping the artist because it is much harder if not impossible for them to try to guess why you had a certain reaction.
4) Similarly, do try to be honest. It's all well and good to be polite, but also not to the point where you are being untruthful. Don't hold back your opinion, just try to keep in mind how you would like it expressed to you if it was your own artwork being commented on.
5) Also important specifically here on devART is the level of critique the person has indicated they desire. Obviously, if they say 'do not critique,' they do not want it critiqued for many possible reasons. If they ask for an 'advanced critique,' then fire away, but still keep in mind that you want to be respectful in doing so. More ambiguous is the 'critique welcome' option. Keep in mind, this is the only middle ground deviantART has set up. While the person is not asking you to refrain from a more in-depth look at the work, they are also not specifically requesting it, so try to keep that in mind.
6) Use maturity and tact in your comments. Of course, this may fluctuate depending on the age of the artist that produced the work, but if you are evaluating a serious nude, then it is not generally good form to make jokes about body parts, etc. Understandably, one of the most natural responses in people when they are nervous or uncomfortable about something is to make a joke, but think first about whether it is appropriate or not. If not, it might be better to say nothing.
7) Saying nothing is perfectly alright. If you really just don't like a genre like anime, or abstract expressionism, or portraiture and do not think you can comment without those prejudices influencing you, it is perfectly alright to say nothing at all about the piece. To have an opinion does not mean it has to be expressed at every opportunity. As mentioned before, the artist already knows that there are those that do not share their same interests. Simply telling them again with no consideration for the formal elements of the work does not help them at all and isn't the end goal to help the artist?
8) Be prepared that the artist may not agree with you. That does not mean that they do not respect your opinion, but just as you do not necessarily agree with the choices they made, they might not agree with yours. In the end, art is very subjective and each person will have their own taste. You can offer a suggestion, but don't take it personally if the artist decides against it. It is not that they are unwilling to hear criticism, they just don't happen to agree with that particular suggestion. Remember, all you are offering is an opinion. It may be an opinion shared by many, but in the end, it is only an opinion and the artist is the one with the end say.
9) Do not try to pass judgment on the 'validity' of someone's chosen means of expression. There many different forms of art out there, some I like and some I don't, but if it is of no harm to others, then I have no right to say what is and isn't 'art.' Someone else might choose a different means of expression than I would, but that does not make those feelings they are expressing any less valid.
10) Try to look at the age and level of the artist. On devART, there are many different ages and skill levels. The scale ranges from professionals to amateurs to hobbyists. You may want to be a bit less harsh with a 12 year old or someone that is just doing art for fun than with an aspiring professional that is trying to hone their skills to break into the field.
11) Be willing to put your money where your mouth is. It is not a necessity, but a very nice addition if you can see that the person offering suggestions understands what they are talking about and can demonstrate it in their own work. As I said, this is not a necessity, but I've always found I'm far more receptive to taking suggestions from professors and other artists whose work I respect. It shows that they understand what they are saying on both a theoretical and practical level.
12) Do not, I repeat do not use the critique/comment area for promoting your own work. That is extremely bad form. That's like coming into someone else's gallery show with fliers for your own or coming to someone's wedding and trying to upstage the bride, it's just not done. Mentioning that you have dealt with a similar theme/character and even comparing and contrasting the two is generally accepted, but to use the space to link up your own work is very disrespectful. Obviously, if the artist is interested (and I would hope they are as I'm always interested in seeing how different artists have approached the same subject), they can come over and find it in your gallery, but it is impolite to impose.
13) If you are going to ask a question, be respectful of the artist's time and read the description first. Nine times out of ten, the question has already been answered there. After all, they were nice enough to take the time to provide all of the information you might need to properly understand a particular piece, if you ignore it, then you are showing disrespect for that original time spent and the time they now must spend answering it again.
Now, in the end, these are only suggestion to help both you and the person who you are critiquing. Just like with a critique, you might agree with some or none of these and ultimately, how you approach it is up to you. These are just my own observations and things I have found help me from both ends in terms of understanding where someone else is coming from in offering a critique and helping them understand where I'm coming from when I am offering one. Maybe these tips will prove useful for you and maybe they won't, but it's something to think about in anycase.
Daily Deviation
Given 2005-03-14
We've all seen those 'how to comment and critique' tips and tutorials around here have we not? I found this one exceptionally good, so good i actually read it all the way which i normally wouldn't. *
GoblinQueeen
's approach is very down to earth, yet artsy and motivates me to look at deviations in a new way. I wish I wrote this.
Tips to Critque on DA
(
Suggested by Mechanicalchaser-Sca and Featured by suzi9mm
)