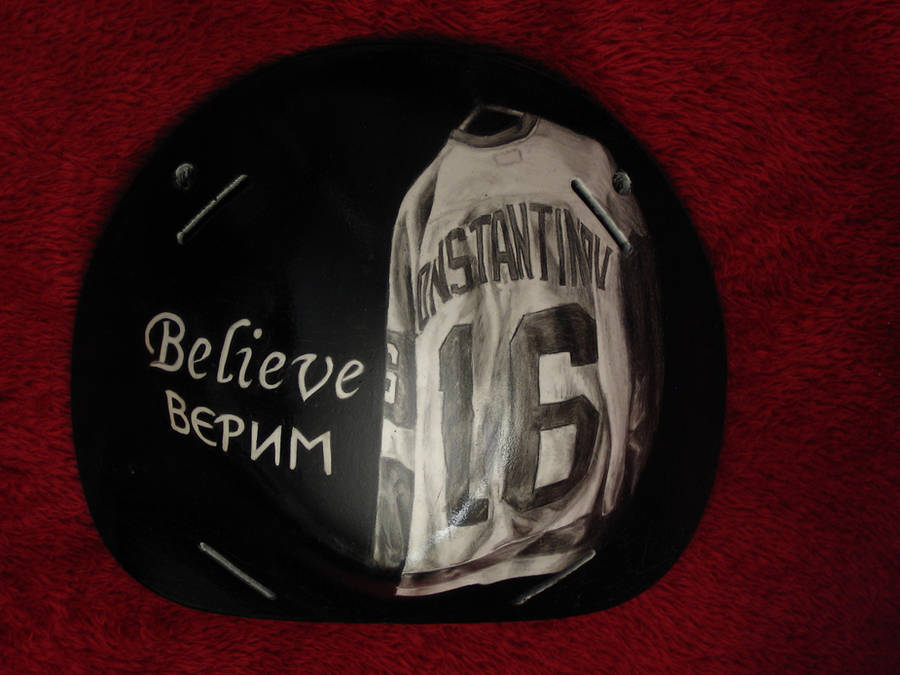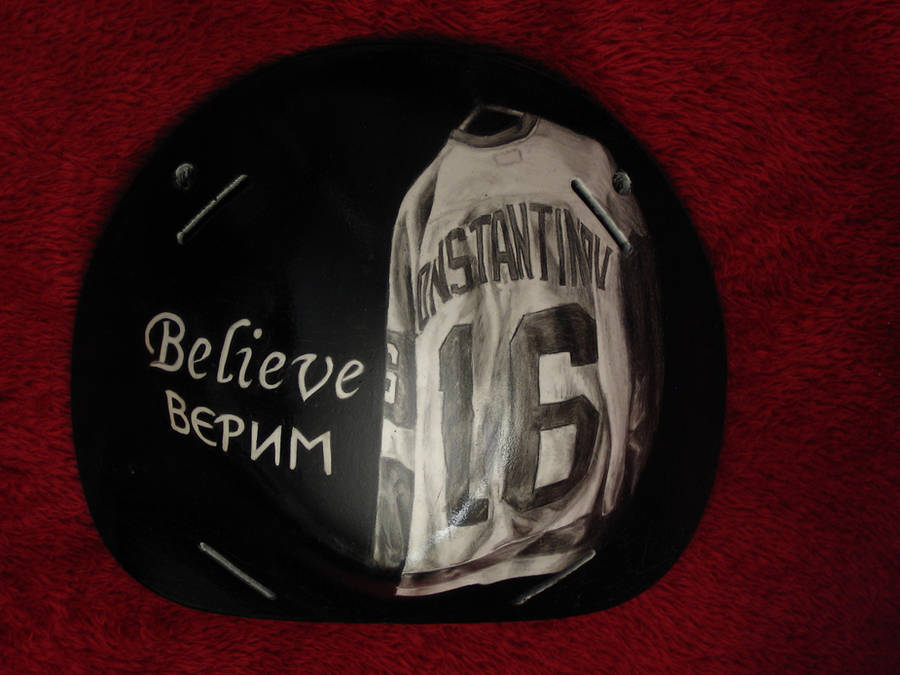 Watch
While the main body of the helmet is the public "face" of a goaltender, the back of the helmet is where the truly personal notes go. Many goalies will put family member's names, causes they support, or any number of deeply personal things. I chose to make mine a tribute to Vladimir Konstantinov.

Those of you who know me know I am a die-hard Red Wings fan. Back prior to 1997, my favorite player bar-non was Vladimir Konstantinov. 6 days after the Wings won their first Stanley Cup in 42 years, Vladimir Konstantinov, Sergei Mnatsakanov, and Slava Fetisov were in a horrible limosine accident caused by a driver who was high on marijuanna. Slava was fine and went on to play several more seasons, but Vladi and Sergei were severely injured. Sergei was paralyzed and Vladi.... Vladi was in a coma that seemed to never end and when he came out, he was severely brain damaged and physically challenged. To this day he still struggles to maintain a normal semblance of life.

The words of SI writer David Fleming summed it up perfectly:
"You wait 42 years for something- a sports championship, a trophy, a banner- and somehow you start to think it's the most important thing in the world. Then suddenly it means nothing."

The Wings left Vladi's locker as it was and went on to win a second Stanley Cup the next year, more than anything for Vladi and Sergei. It was one of the most emotional moments that I can remember watching Steve Yzerman raise the Cup and then, instead of taking his victory lap, handed it off to the lap of Vladi in his wheelchair and the whole team followed Vladi in his victory lap. Even now I tear up thinking about it.

So, I pay tribute to the amazing player and man who's struggled through everything from harsh Arctic Russian winters to repairing a life that could never return to what it was. Vladi, this one's for you.

------------------------
Before it's asked, the second word is "believe" in Russian.

Technical junk: I decided to decorate my helmet via graphite drawing which was a ridiculous idea when it come to applying the idea. I had to put down a coat of finish to give the smooth surface some tooth then spent 11 hours on this laying down layers of graphite and smudging it. The pure black is China Marker which, unfortunately, cracked when I put the clear coat on. It was difficult dealing with the curvature of the helmet but it was so worth it. This looks PHENOMENAL! in real life. Photos can't do it justice.
I am a die hard red wing fan and this strikes very close to home. I was 2 when this happened, but I know the name and the player very well. I absolutely love this.

If there was one thing I could say about this it would be:
"The purpose of morality is to teach you, not to suffer and die, but to enjoy yourself and live"-Ayn Rand
Vladimir Konstantinov was the ideal hockey player. I believe he could have made a better word for himself as red wing captian Nick Lidstrom if the accident never happened. Again thank you for doing this amazing picture. Don't stop believing in Konstantinov!
The Artist thought this was FAIR
2 out of 2 deviants thought this was fair.

God, I almost broke down and wept after seeing this and remembering all the emotions of the following season, culminating with Stevie-Y handing the cup off to Vlad beffore the victory lap in front of the Joe Louis Arena crowd...
From a purely technical standpoint, it's an amazing piece of artwork! As a hockey player and diehard Red Wings fan ( we actually named the family dog Vladi in honor of #16

), it's the most beautiful tribute I could think of to an amazing individual, both on and off the ice!
Also, as I write this the Pavel Datsyuk just cut Nashville's lead in half! Goosebumps man...
Anyway, Amazing job, man! Go Wings!
Reply

Thank you very much! When I came up with the concept for this mask I knew I had to do a tribute, and his jersey seemed much more appropriate for what happened than a simple portrait. I'm glad you like it!
Also, that Datsyuk goal was SICK! Totally schooled the rookie and Renne!

Reply

I love it! I've also painted a couple of goalie helmets so I know hard it can be to work on one. Very impressive.

And hell yeah, that goal was nasty! I just hope they can pull off a comeback in the series...
Reply


i also have a tribute to Konstantinov, my dog. his name is Vladimir Konstantinov von Stonehill
Stonehill is where we got him from
oh and the creepy thing is that they both have the some birthday; march 19 (seriously!!)
Reply

woah, that is pretty creepy... I'd be weirded out personally

Reply

yeah i was reading the information on the wing's site when we got him home and read his birthday and started yelling. my mom kept asking why i was freaking out

i told my friends only 2 thought it was creepy. we didnt even know til i said it and showed them
Reply

Nice thing. I proud of your life inspiratoion.
NEVER GIVE UP
Reply

My favourite - it's for the idea, for the text and for the big heart
Reply

aww, thanks!

Most people so far (read: my parents) think I'm crazy for doing this when the accident was almost 11 years ago. But you know what? Vladi'd still be in the league if it wasn't for that. It will never be time to give up believing, even if it's just for the hope of a normal life.
Thanks again!
Reply

YOUR A DIE HARD RED WINGS FAN! WE NEED TO SEE A GAME TOGETHER THAT WOULD RULE!
Reply

Yes, I am, and I would love to see a Wings game, period. Unfortunately, it's a 12 hour drive to the nearest NHL rink (Calgary), so my NHL game viewing is limited to the occasional telivised game

Reply

THATS SO BEAUTIFUL! I love everything about it! That would be cool if you could go into mask painting for a career.

Reply

ha ha I've thought about it but there's so few goalies around here that I could do every goalie in the Northwest's within 6 months and be sunk as a business. Maybe as a side project for some extra cash. Got any referals?

Reply

Nice. Very very nice. I remember seeing that too, Yzerman handing the Cup to Konstantinov. It was just so emotional! I'm an Avs fan (don't kill me!) but more importantly, I'm a Hockey Fan, and I was so shocked and saddened to hear of the accident. I hate to hear of hockey players getting hurt no matter what team they're on.

I love your tribute to Konstantinov. It's even more awesome that you did it yourself.

p.s. Looks like your Wings might get the Cup again this year! It *should* go somewhere where it actually snows.
Reply

*restrains self from throttling unsuspecting Avs fan*

Me, too. Even if it's your most hated player, it hurts as a community to see one fall. That's one of the best things about hockey; it's a tight, very supporting community. I go crazy without hockey!
PS I sure hope so

All this Tampa Bay, Carolina, Quackers... it's disgusting! Detroit's overdue for yet another year of proving their awesomeness. I watched the Avs/Blackhawks game last night; for being at the bottom of the playoff race they're looking pretty good. Makes me hope the Wings don't meet them first round.
Reply

Nah, as long as as Lidstrom (I will score on you from the blue line) and Zetterberg keep scoring like they are, I think Wings'll do fine. Oh hey, Wings vs Avs on Friday!
Oh, and I thought the Blackhawks just looked awful last night. Khabi got no help. But hey, I'll take the win for my guys.

Reply

Aaaand I don't get the game Friday. I'm stuck to versus games only. For some reason they think there's no hockey fans in washington

Yes, the 'Hawks were HORRID last night. I was listening more than watching (working on the helmet) but nothing worked for them.
Reply


Hockey goalies have to put on pretty pictures to be cool.
On the helmet itself: Fucking damn. It was definitely worth it.

Reply

lol you soccer goalies on wish you had something so cool as a goalie helmet that you could paint.

And thanks! I'm very satisfied with it.
Reply