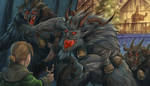 Artwork Inspired by Krampus

Interview with
Michael Dougherty
A really good horror movie speaks directly and instinctively to the darkest parts of our human animal instincts, tapping into that primal fear.
Through millions of years of evolution our minds have been programmed to react to certain fear triggers such as a survival instinct or fear of the dark where predatory animals might be waiting to gobble us up. Movies like this are few and far between these days. The spookiness that made horror films great in years past in classic films by John Carpenter, George Romero, Don Cascarelli, Stanley Kubrick and movies inspired by the books of Stephen King have been replaced by ultra serious, over the top, gory slasher films.
Aside from a couple of recent movies like the Babadook and It Follows, horror films have seemed to have lost their way. However, just when you think the genre is heading for a downturn, something magical unexpectedly appears and gives you that creepy little glimmer of hope.
Enter: Krampus
Krampus is the epitome of a movie that taps into that primal fear by taking all that is beloved and making it supernaturally evil. In bringing to life an old myth and unleashing it in modern times, during what is supposed to be the happiest time of the year, the movie delivers a shock to of creepiness to your eyes with a wink to the subconscious fears of your inner child.
DeviantArt spoke with the film's writer/director, Mike Dougherty, the creative magician behind Krampus — who had a mission to serve a very spooky cup of holiday cheer.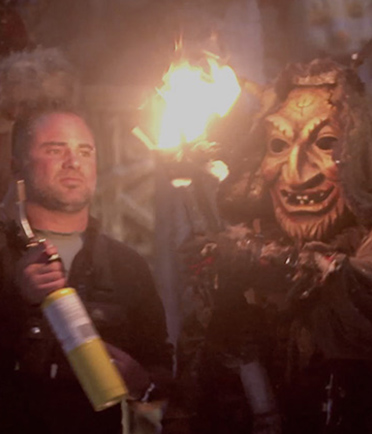 First and foremost Dougherty is a storyteller who has been narrating his imagination through his artwork since he was a child. As a kid in Columbus Ohio, Dougherty was obsessed with the horror genre and he would spend countless hours drawing the monsters he watched on television and in the movies.
I watched too much TV as a kid. This was the very, very beginning of cable television and home video. That became a good/bad habit, I guess."
Old Twilight Zone episodes, A Nightmare on Elm Street, Tales from the Crypt, Tales from the Darkside and other countless pieces of 80's horror pop culture inspired Michael early on to be a filmmaker.
I feel like when you grew up in the 80's you had a very compressed education about old horror movies, kung fu movies, Godzilla movies….Basically anything and everything that the last three generations watched was made accessible — and so it became this very unorthodox film school. Old Twilight Zone episodes, marathons of King Kong and that kind of stuff."
Like the great filmmakers of the 80's that he looked up to while growing up, Dougherty is inspired by the past and the happiness that watching their films brought him.
The filmmakers of that era — Lucas, Spielberg, Cameron, Burton — their films were also paying tribute to the films they grew up on, which were all of the movies from the 40s, 50s, 60s."
The Krampus Folklore from the Blu-ray
Determined to make movies for a living, Dougherty decided to use his strength as an artist to jumpstart his quest.
In high school he sought out the only animation studio in his hometown and hustled his way into an internship by bravely walking in off the street to introduce himself. This hunger for knowledge to perfect the craft of filmmaking embodies the type of person Mike Dougherty is and this dedication was his vessel to the Tisch School of Arts at New York University in the Maurice Kanbar Institute of Film and Television. This is where he produced Season's Greetings which would eventually become Trick r Treat, Dougherty's first Holiday themed horror film.
To this day, Mike still creates the concept art for his films and being involved in the entire process of filmmaking is something that he is passionate about. You can see his work here at mikedougherty.com. However it does not end with concept art, as a writer and a director he must wear very different hats.
To me it's all different facets of single discipline which is storytelling… or filmmaking and what I love about making films is that it demands a certain amount of knowledge and expertise in a lot of different kinds of fields. When you're making a film you have to have a very certain set of skills on the visual side of things, which includes storyboarding, production design, even wardrobe and costume, photography and music — because the score is a key part of any film."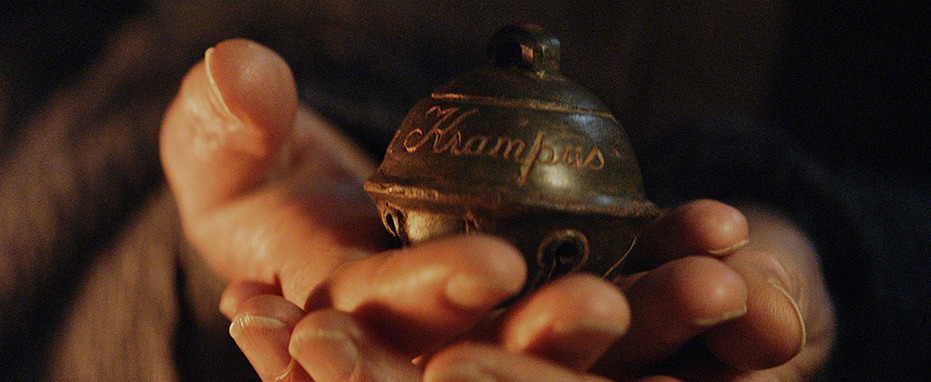 After his cult success with Trick 'r Treat and a number of writing gigs on Superman Returns, X2 and more, Mike Dougherty was ready to attack an underserved sub genre of films, with Krampus. Confident in his skills and very determined to tell stories in the style that he loved, Mike took on a very interesting time of the year to inject a little spookiness into — Christmas!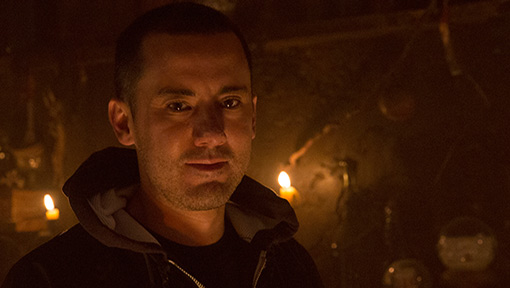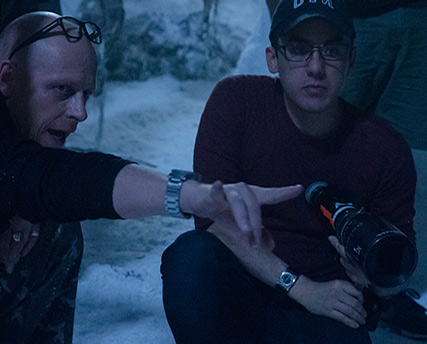 It stemmed from a genuine love for Christmas first. As a kid, the best holidays were Halloween and Christmas both of them involve getting treats and candy. They're both very centered around kids and what I love about both holidays is that they work together as kind of a tag team, because whenever Halloween is over you know Christmas season really begins. They also as a kid, represent this weird time of year from fall until the end of winter, or at least until the end of Christmas, we're told that we should believe in magic again. What both holidays are telling us is that there are otherworldly forces at work for whatever reason at this time of year and Halloween, the ghosts and the goblins and the demons come out and at Christmas it's much more enchanted and magical and fairytale like.

But at the same time, even as a kid I couldn't help but feel that Christmas eve has a dark side to it because we are told under the threat of punishment that we have to be good. We need to be good because this man who lives in this frigid barren wasteland is watching you and deciding with his weird cadre of elves if you're going to get toys or a lump of coal. It just made an impression as a kid and that shadowy side of Santa Claus always sort of lingered and as I started to make more of a career in film, I never let go of my love for old horror and monster movies but again the ones that I love always have something else going for them but it's always the supernatural ones I appreciate the most and ones that have a sense of humor… and that's the kind of movies I wanted to make. "
Dougherty decided to summon a little bit of dark magic in Krampus, the mischievous Christmas devil that had been scaring little German children for hundreds of years.
Krampus was the perfect fit for his style of filmmaking because he was still very unexplored in the United States and the world at large. Mainly popular by internet memes and kooky folk art images, Krampus embodied a balanced level of goofiness and creepiness that Dougherty really was drawn to. Krampus allowed him to break the "Santa with an axe" mold set forth by the existing Christmas themed horror films and truly make it scary Christmas themed film. By using this Christmas boogeyman in Krampus he was able to capture the essence of modern day holiday customs and commercialism and assault it with ancient supernatural folklore.
I get what the Christmas cards and Christmas specials are trying to say that there's something magical about Christmas, but I'm sorry, if a Gingerbread man sprang to life in front of you, your sanity would be shattered. It would be terrifying, it would not be funny. So other than Gremlins there was never any other scary Christmas movie that embraced that supernatural threat and I felt that Krampus was the perfect fit."
Michael was drawn to the myth of Krampus and the imagery he found. He loved the goofiness of Krampus and the dark side he could pull from it as well. Due to the fact that Krampus kidnaps naughty children and images of him with sacks of stolen kids populate the internet, it's fright potential went hand in hand it's silliness.
It's truly potentially to scary if you're a kid in the same way that the boogeyman is and if you're an adult there is a wink to it."
Determined on pushing the typical tropes of Christmas themed storytelling literally and figuratively out the window, Michael and his team of writers he collaborated with began scheming of the potential plot devices. Like all good ideas, Krampus took some time to get right and refine. The first concept felt, "too much like a Nightmare on Elm Street meets Krampus," he said. But the golden opportunity he realized was to make, "a family Christmas movie, get invaded by Krampus."
The intent of this film was to be scary and fun and Mike Dougherty knew exactly how he wanted to do it once the concept of the Krampus invasion was conceived. "Tales from the Darkside and Tales From the Crypt they were scary but they were also fun," Dougherty said.
TV shows and movies that were both fun and terrifying, once plentiful in the 1980's have since taken a back seat to blood and gore.
In the 80's we had a lot more genre bending movies which I call fantastical horror, blending elements of fantasy and fairy tales with horror. Over the last 10-15 years what we've been getting is horror movies that are so serious, so grounded to the point where it's boring."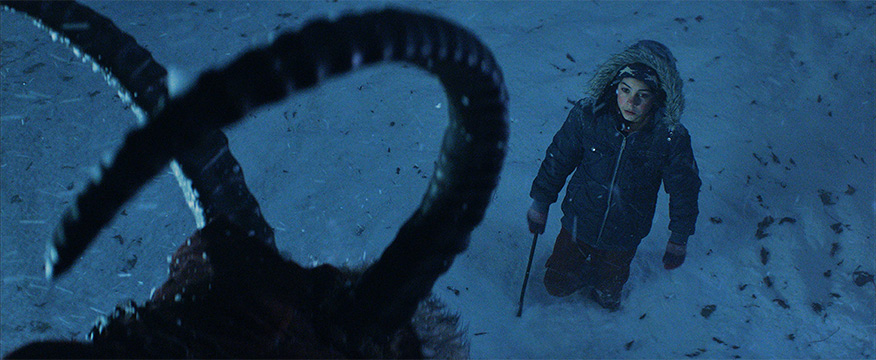 Dougherty was clearly aware of this trend in horror filmmaking and saw it as a grand opportunity to bring back a Christmas gift for others,
like the ones he enjoyed growing up. It's very evident in discussing his passion for his preferred style of filmmaking, "horror comedy is sort of a subgenre that is both underappreciated and misunderstood."
I was definitely exposed to a very certain style of storytelling and tone and I thought it really inspired me and that was the tone that I was committed to carrying forward. It's a subgenre that has been ignored for decades and it has been a mission statement to bring it back."
And so Krampus was begotten as dark horror comedy filled with supernatural action, fun social commentary, a goofy soundtrack and all the fixings of a magical Christmas feast gone awry for the whole family to enjoy.
This was meant to be a horror film that families could watch together. It's meant to be gateway horror. So that kid who watches Krampus at 8-12 years old suddenly becomes more curious of the genre and plunges down the rabbit hole where they discover a Poltergeist, the Exorcist, a Nightmare on Elm Street, and all of the classics."
In the film, Krampus' minions were amazingly creepy and derived from Michael's original artwork. From the evil jack in the box to the crazy gingerbread men, the possessed icons of Christmas cheer and consumerism worked really well in the film to instill a sense of uncomfortable terror.
In December we are supposed to be act like decent people. Let's all be cool and be nice to each other but it doesn't work out that way. Suddenly we take it too far and embrace this insanity and there's pressure to buy gifts for everybody and go to holiday office parties So we've taken something that should be very warm and wonderful like human beings tend to do and we turn it into a living nightmare. To me what a Christmas movie does is comment on that. Whether, It's a Wonderful Life, A Christmas story or a Christmas Carol — A Christmas Carol to me is the original Christmas horror movie."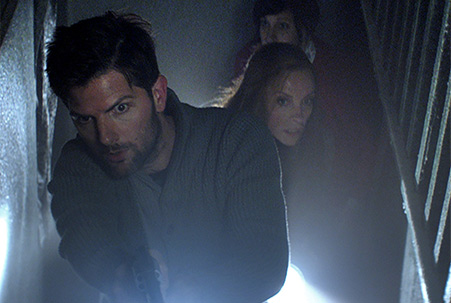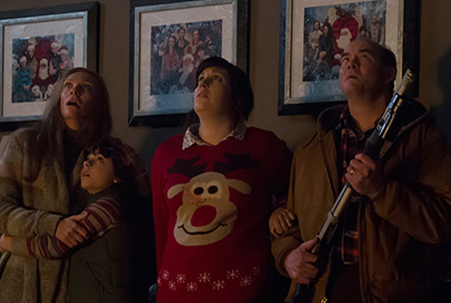 Like A Christmas Carol, the supernatural element was a theme Dougherty wanted to use to weave a web of the macabre around Christmas.
We really wanted this to become a modern dark fairy tale, even more than a horror movie."
This dedication to creating a modern shadowy fairy tale is definitely an element that sets Krampus apart from other movies. This dark fairy tale element of Krampus could not be achieved without the experience of the holidays that ground the film in reality. One of the funnier elements of Krampus is the all too familiar family tension that the holidays bring forth like an unforgiving blizzard, through smart, very relevant social commentary.
All of the best horror movies have social commentary whether you realize it or not. I look at the politically charged climate and it's just ridiculous. So the idea was to create a powderkeg of upper middle class liberal leaning part of the family clashing with the more blue collar right wing — (which I have both members of my family that fall into those categories) — but the two sides face a greater threat and actually come together instead of tearing each other apart. I just felt like this is something we don't see a lot of that we should probably see more of — because that's how it should be. Bickering and focusing on our differences isn't going to get us anywhere."
With Krampus being so deeply layered with fun, horror and intelligent commentary, it exercised every creative muscle in Mike Dougherty's body to create. A man, passionate about telling good stories, Mike is also a student of the craft of filmmaking and is very detailed in how he goes about it. Gaining some great hands-on experience along the way to making Krampus was key in getting this film right. Working with Bryan Singer, in an on set capacity that isn't usually given to writers allowed him to see firsthand how tentpole films were made. This experience was invaluable to Michael and he learned a lesson he never forgot, "A film is written 3 times. On a page as the script, when you shoot it and in post production."
The experience of making a film is so similar no matter what the budget. It's the same emotional roller coaster, whether it was X-men which cost $200 Million dollars to make or whether it was Krampus that cost $15 million to make, it's emotionally the same."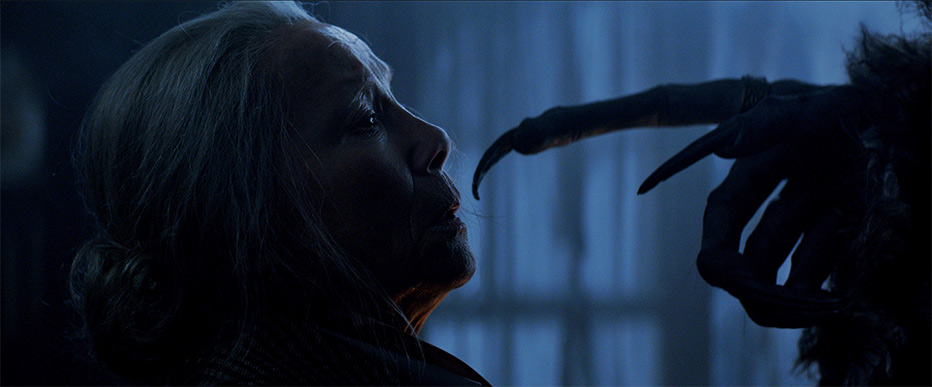 With the Blu-ray/DVD of Krampus available soon,
The shroud around the dark magic of Dougherty's filmmaking will be lifted and you will be able to get a peek into Michael's and his team's creative process. Michael's intentions are to give as much information back to potential filmmakers, artists and creators as he can — to hopefully inspire them like he was.
There's a commentary I do with my co writers that was a lot of fun and there's multiple behind the scenes videos about the construction of the creatures."
Michael promised a whole bunch of informative, in depth looks with the various teams at WETA that brought the monsters and dark magic to life. Additionally there are a whole bunch of deleted scenes and an alternate ending available only on Blu-ray. The entire movie from start to finish was a labor of love for Michael and this will humbly come through in the home release on Blu-ray, DVD and digital HD.
My hope is that I'm paying it forward. My hope is that this film will inspire a whole new generation of filmmaker, like a 10 year old kid in the midwest, who just starts by drawing the monsters and hopefully that snowballs up because we need more monster movies."
Like all good filmmakers that are interested in making high quality work, Michael is open to the idea of making more Krampus films but only do it if the opportunity is right.
The door is always open, but it's always like if you're going to make a sequel you better make it f---ing good. Anything less than Aliens, T2 or Wrath of Khan, please don't bother."
Available Now on Digital HD, Blu-ray & DVD.
Your Thoughts
As a child, were you ever scared of a malevolent toy coming to life? Comment below to answer.