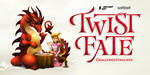 The Twist Fate books have arrived! Learn about our collaboration w/wattpad @writingproject yalsa @TheCLAlliance
Twist Fate
Challenge Finalists
Let's start with celebrating the thousands of submissions received in the Twist Fate Challenge both on DeviantArt and on Wattpad. The response, creativity and energy level on this challenge were genuinely impressive. Every entry of excellence was matched by one that revealed the bravery of artists to simply put themselves out there, many for the first time. Everyone doesn't get to be a finalist but everyone who participated gets respect. Equally impressive are the encouragement, comments and the support shown by the entire DeviantArt community.
The Twist Fate Challenge was to pick a story and character, and create an alternate scenario where a famous hero is the villain, or an infamous villain, the hero. Each qualified Finalist will be considered by the panel of Editors for inclusion in the Twist Fate book, will receive a certificate of accomplishment and will receive credit as a Finalist in the book itself as well as a copy of the book when published!
Here are the 60 Finalists selected by the DeviantArt staff!