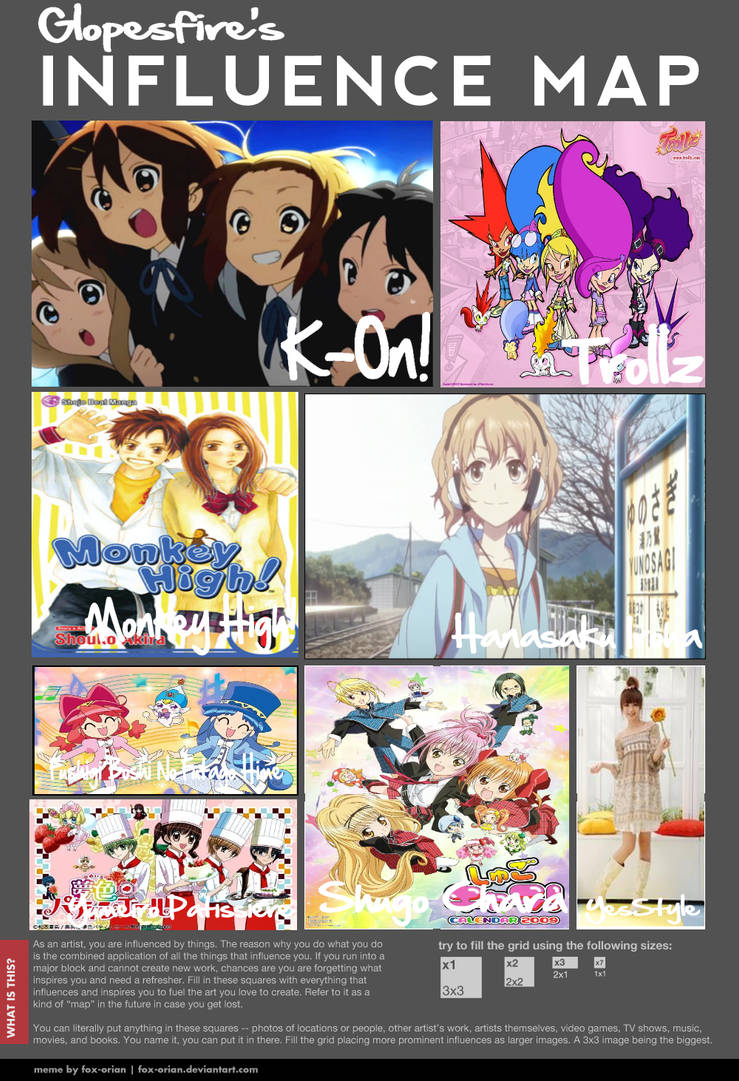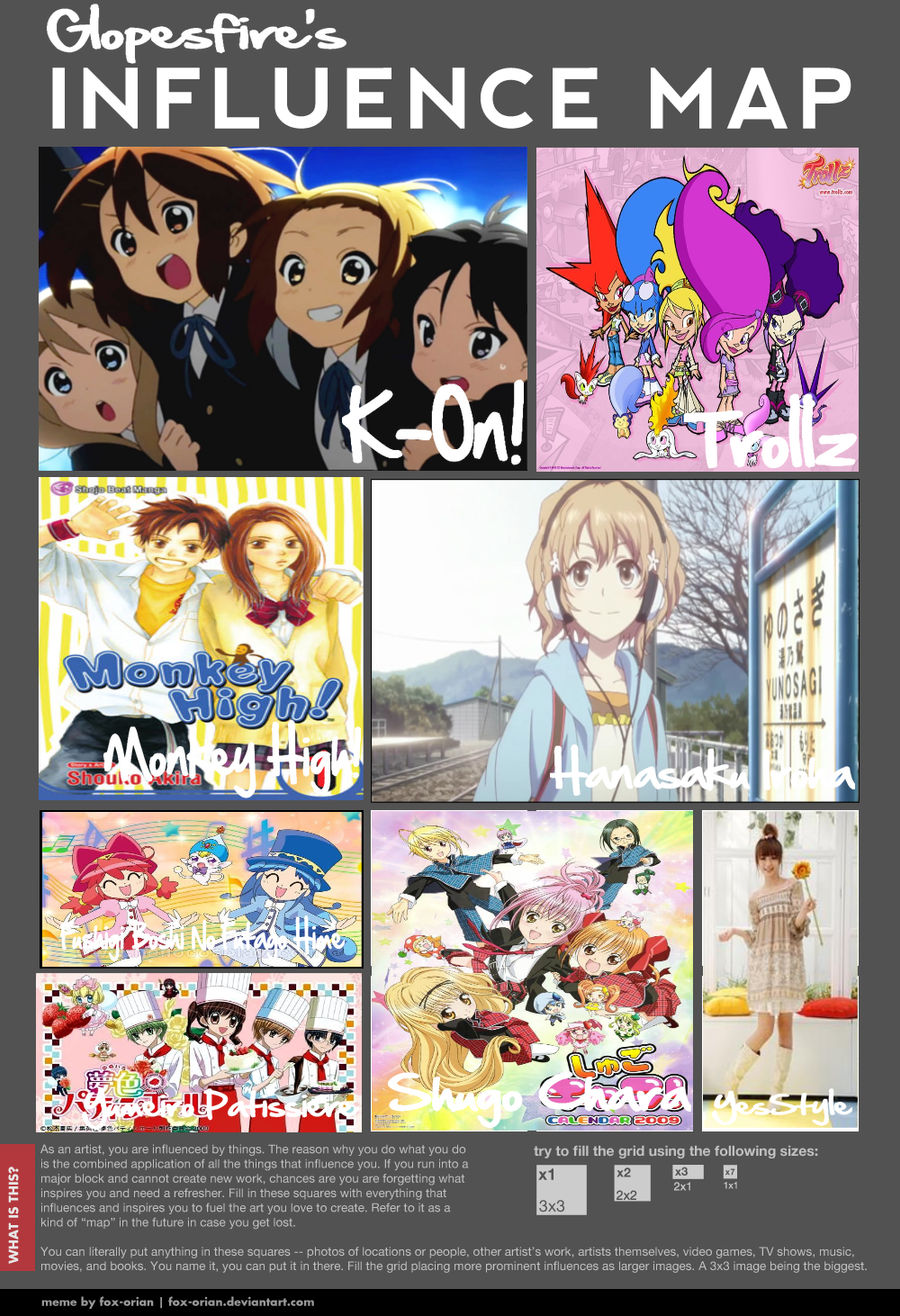 Watch
K-ON~
Well, what can I say? XD I realkly LOVES this anime, tiny dainty cute fingers and chubby legs and big eyes and i loves the eyebrows so I really got accustomed to the eye and eyebrows style. I used to watch it 2 summers ago and I stopped somehow but I really LOVES IT. <3
TROLLZ~
Oh my gawd, it's sooo OLDDD show I used to watch when I was in middle school like maybe in 6th or 7th grade and I really like their hairs, it's all poofed up lmao and they had some good styles <3
MONKEY HIGH!~
I first got this manga when I was in bookstore and I fell in love with it so I decide to spoil my allowance on it so I bought 2 XD The colors and delicacy really is soo CUTEE so I'm trying to apply that color technique but...eh..I am TRYING!! Haha, so let me do it and I'll get there but yeah, I even reread it over and over cuz it never got boring, it's soo beautiful romance <3
Fushigi Botashi No Fumigi Hime~
I......I don't even wanna start it but hey, it's so CUTE!! Lol, it's kinda old anime way back around 2005 or whatever, but I really like it a lot cuz of the style they have, the hair, the legs and everything and plus it's HI-LARIOUSSSS Like soo funnyyyy XD I crack up at everything they do and say haha -wipe away tears <3 So yeah, I kinda wanna do this anime somehow ^__^
Yumeiniro Patissiere~
I forgot how I found out this anime but I'm pretty sure it's somewhere I found on some anime blog or something lol. Uhm, this is not so bad anime but it's really lot of deep detaisl and the background and the scenes. Also, their langauge is very formal but funny at same time which I like and they have lot of foods so I can relate to THAT haha cuz I LOVESSSS FOOOODDS!! Every time they're cooking or traveling or foods involved, I normall drool over it and I get hungry a lot cuz I ususally watch the show like really late nights and I would go downstair and get something to eat haha cuz this anime made me hungry a LOT! <3
SHUGO CHARA~
Well, everyone knows this anime very well, so I wasn't sure how I found but I think someone or my friend told me and I fall in love with this anime right away. It's always full of surprise and lot of magic and funny time

So that's why I really love this anime and I can't believe theres 100 episode and I never went THAT far but I made it haha!! 0___0 They also had another short clips as sequel for the anime so I really likes that too <3 It's really funny and magical and lot of love triangle too omgggg, I cant stand the hot cat guy, I forgot his name but he's cutteeee XD lol
Yesstyle~
This is a japan fashion I found online and I LOVES IT RIGHT AWAY!! It's amazing and beautiful and I normall go there if I'm in fashion emergency in case whenever if I'm drawing clothes or something else and it's really good taste there so it's fun

HANASAKU IROHA~
This anime is found recently and I start to like it but I'm gonna watch more and see what happens but so far, it's cute and interesting and I loves the styles though <3
Blank Template found here:
[link]

OH I love K-ON! to bits, love the art style in Hanasaku Iroha, and I LOVE YESSTYLE! I'm dying to buy stuff from that website. QAQ
Reply

hahahah me too <3 and yes yes

and omgawd, I knnoooowww same here D: it's so much better than the "american fashion" here -___- they have more self-confident in fashion so I really like the clothes they have there <3
Reply

OMG ME TOO! General Japanese and Korean fashion are my favorites~~ I love Japanese street styles like decora, fairy kei and lolita alot as well.
Reply

omgawdddd same here!!!! <3 high fivee!!!

Reply