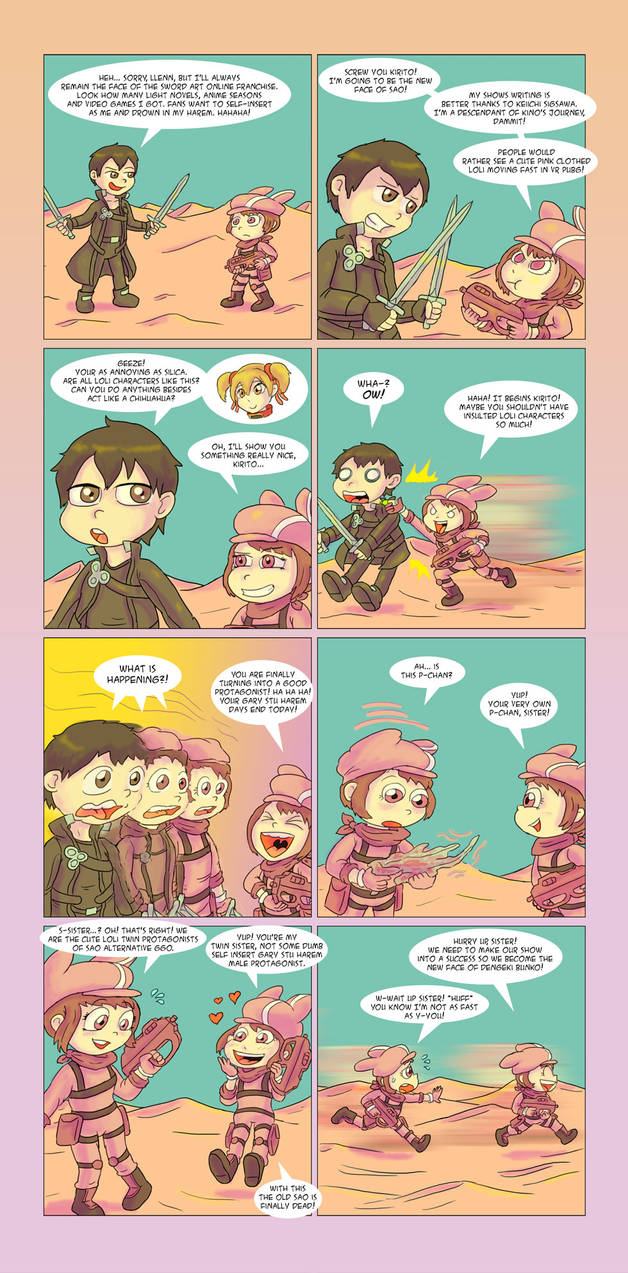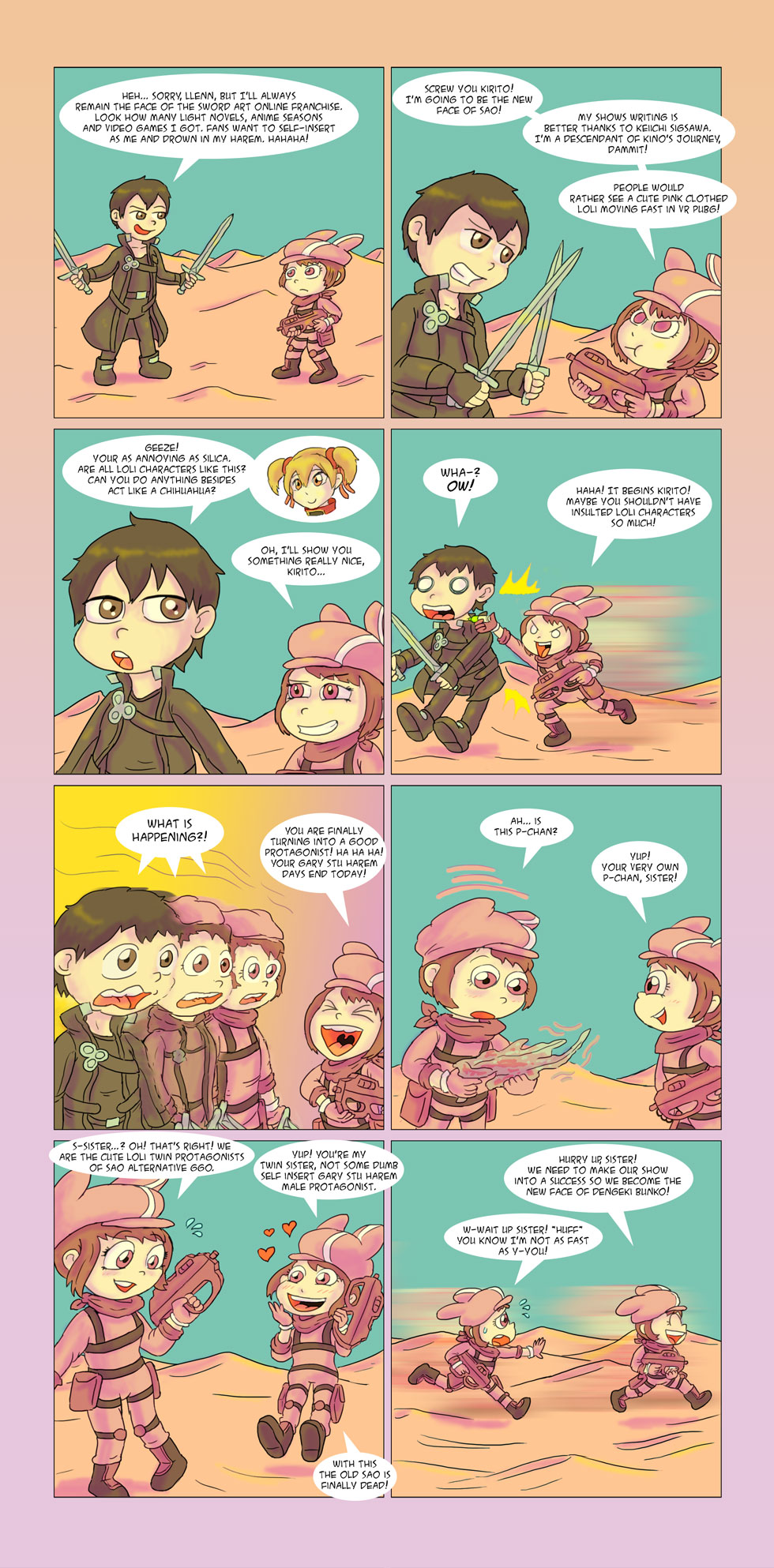 Watch

Reply

Live already fallen in love with Llenn
Reply

If only this actually happened, it would have made the show more interesting to watch. Good job on the art though.
Reply

what happens in SAO that most people hates is that it suddenly changes from action/adventure to romance, the story being simple is not a problem, also no reason overpowered characters does happen a lot in animes, they are not the main character most times tho. It still is pretty popular with kids/teenagers since they want unreal overpower bad written characters like Kirito while SAO alternative we actually got real persons here.
So yeah i like SAO alternative more than SAO original but people bash it too much just because it is super popular, there is a lot of anime worst but one bat an eye .

Reply

better than the actual series
Reply

This in an improvement for sure!
Reply

SAO does have some serious problems, but it also doesn't deserve a fraction of the hate it gets. It got popular despite its flaws so people feel the need to constant bitch and complain about it and to attack it and anyone who enjoyed it.

It is so laughable that SAO Alternative is better however. It's not bad, but it lacks any real suspense. It's literally just a game. Where one of the things SAO does very right, is the real danger the characters dealt with. In SAO Alternative, I find myself only marginally interested in the possibility of the character failing, because there is no consequence to that failure. The whole, the character is gonna kill herself is she wins, or kill her friend... I don't buy that for a millisecond. Kids in Japan use "I'll kill you" as a casual insult all the time - its an empty threat.
Reply

SAO literally stopped being suspenseful after the first arc though.
Reply

Haha I think it's interesting that I had the exact opposite thought when I watched the original. I could never feel any suspense in it cuz even with the "die in the game, you die in real life", any time something big happened, my brain just said "this is just a video game. I could do that. I know to push the A button on the controller too." I don't know how much suspense I feel in the new one, but I've been enjoying it way more without the original's death implementation.
Back to the art though, this is a good and fun piece~

Reply

I don't want this comment section to devolve into a SAO vs Alt GGO thread. This CoM purpose is a fun parody of the very real mainline SAO and Alt GGO comparisons if the 4th wall breakings didn't make it obvious enough.

I actually enjoy mainline SAO to a certain degree otherwise I wouldn't have made two previous story commissions [Lisbeth/Leafa] or bothered to include the Kirito in this at all. Hell I enjoyed most of the games especially the recent GGO game for a multitude of reasons.

That said I personally felt Alt GGO so far did a MUCH better job as a media that showcased the GGO world and its culture. The GGO arc in the main SAO anime barely scratched the surface. It didn't help it was largely under Kirito perspective [A protag I was not fond of for multitude of reasons that was only absent for one arc] like the majority of the show so it was a refreshing to have a new protag that is totally unrelated to the SAO incident with a new set of motives.

Let's be real the writing is noticeably different too which you can tell since Sigsawa is known to be a writer of stories involving firearms being used heavily. You don't need to have the constant themes from main SAO like "X will die if you lose the game" or "Y will get raped if you lose the game" that mainline SAO seems to do every main arc to have good writing.

FYI the Pito thing issue isn't about death but I'm not gonna spoil since the anime isn't quite there yet.
Reply

Wow, this one is really wordy! But they make some pretty valid points.
Reply

Yeah this script was a mixture of humor and a parody of the SAO fanbases so I felt this one needed a bit more dialogue then the last CoM I made
Reply

Reply