I know some people prefer to design their characters, so I wanted to make a journal for people who wanted to do just that.

I'll probably have these open all the time.

Keep in mind this is a
CLOSED
species. Do not make your own without my permission or without buying the rights!!
(I cant believe I even have to add this in here)
THIS IS A CLOSED SPECIES WHICH MEANS YOU'RE BUYING THE SPECIES TRAITS
AS THEY ARE!
THE ONLY REASON THE SUGAR MUNCHIE WOULD HAVE A LONGER TAIL IS IF I WAS A HALF-BREED OF A TAILED SPECIES.
ONLY PEOPLE WHO HAVE BOUGHT THE RIGHT TO THE SPECIES MAY MAKE BREEDABLES. NO ONE ELSE.
IF YOU CANNOT FOLLOW THESE RULES I HAVE THE RIGHT TO TAKE AWAY YOUR SUGAR MUNCHIE.
What they look like: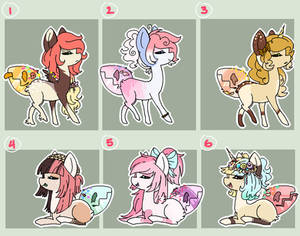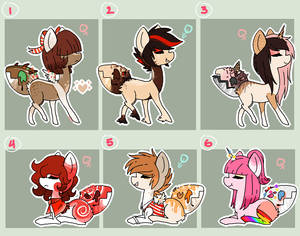 _______________________________________________

ADDED: TRAITS ONLY I CAN MAKE!!!!
> Long stemmed Sugar Munchies.
> Hybrids.
> Savoury Sugar Munchies
For: 250

/ $2.50 AUD via paypal
You may create A Sugar Munchie
of your own!
Try and base them off real candy <3
PARTIAL OWNERSHIP IS CLOSED!!

For: 600

/ $6.00 AUD via paypalYou Can become a partner in the species and sell as many adopts as you like!



Please always credit me when you post though, I like seeing what people come up with!!

If you have any questions about the species note me or comment below!!
_______________________________________________
Partial Ownership List:

These will now be limited slots.

Amiookamiwolf
(Paid)

Bringmetohell
(Paid)

Nubi-Chan
(Paid)

axolotlshy
(Paid)

Ttarakyu
(Paid)

EllieSprings
(Paid)

AzrealRou
(Paid)

Earth-Call
(Paid)

aura-serpents
(Paid)

Kanean
(Paid)

c-ryptids
(Paid)

BluesStuff
(Paid)

bentbones
(Paid)

EmpoweredHades6
(Paid)

Liinaii
/
Liinaiiadopts
(Paid)

taaffeiite
(Paid)

AfroPuppy
(Paid)

NotPasta
(Paid)

Colliwooble
(Paid)

UnicornsCreate
(Paid)
_______________________________________________
OTHER MAKE YOUR OWN JOURNALS:
<da:thumb id="449733340"/> <da:thumb id="449943878"/>
Please comment below asking to make one or buy the partnership:

>> tell me if you are going to pay in points or paypal please c:

BEFORE you post your Sugar Munchie design please send me a link to it in a note so i can approve it!