Wow. It's been over 2 years since I've updated this journal. It's amazing how fast life can get ahead of you sometimes.
Well, if there's anyone still out there you may have noticed that I've been participating in Inktober this year and active throughout posting new artwork to my deviant art page as I create it each day. It's been really fun and exciting getting back into the habit of sharing my artwork publicly again. I won't waste too much time going into the details of why I've been so inactive here, but simply put ones life can really spiral out of control on occasion. Even still, I have been actively creating new artwork in my absence. Some of which I've shared across other social media outlets.
I'll go ahead and plug those now. If anyone is interested you can find me and my work at both:
Tumblr
and
Facebook
I also have and Instagram account, but it's currently inactive as it no longer works on my phone. When I get back to posting there I'll be sure to share and of course as I create new domains where I'm hosting my various works I'll be sure to keep my Deviantart account up-to-date.
As for future work I don't currently have anything professional in the pipeline, but I do have a few personal projects that I'm authoring. A few months ago I posted a piece pertaining to the project I've spent the bulk of this year developing.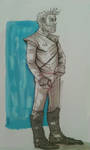 I still have a significant amount of work ahead of me but as more develops I'll certainly be posting updates on the progress of this project. There's other stuff going on with me as well, I'll be participating in National Novel Writing Month this November as a challenge to myself to pen my first book and as practice to hone my chops in developing my storytelling abilities.
And of course there's even more to come, but I'll be keeping these things contained until they are ready to be shared.
I can't wait to share more details regarding what I have cooking up in my head, and I want to thank any and everyone who has taking the time to peruse my gallery both past and present.
Onward towards the future. And best of luck on all of your projects.