Welcome to my page. My name is GJYYNGII. I am an alien from the planet Emotaria. I make music, animations, and 3D models.
If I get any rude comments, threats and/or harassment, you will be blocked from this page, and you will no longer reply to me.











Please don't steal art. it's not cool.

:thumb83862769:
ANY SPAM COMMENTS, CHAINLETTERS, SPAM-BOTS, WILL BE FLAGGED IMMEDIATELY
Likes:
Anime, cartoons, manga (mostly the horror genre), drawing, mostly pop music from the Eastern Asian countries, trance/techno music (mostly from the early 90's to the mid-2000's), classical music Cuphead, Undertale, VOCALOID, UTAU, visual novels, animating, YouTube Poops, making music, Madea movies, Johnny Test (neutral), reggaeton, DDR, In the Groove, Creepypastas
Dislikes:
The Simpsons, Family Guy, American Dad, Bordertown, The Cleveland Show, movies that are poorly made (or those where the plot makes no sense), nightmares, liars
My favorite musical artists:
Chris Brown, Rihanna, Jason Derulo, Cascada, Basshunter, Katy Perry, Morning Musume, SEVENTEEN, Super Junior, BIG BANG, 2NE1, DJ Antoine, Avicii, Kendrick Lamar, BTS, Kratae Rsiam, Omarion, Dave Reemler (the guy behind all the aliases from Lapfox Trax), Girls' Generation


If you want to follow me on other sites, here are the links:
www.furaffinity.net/user/gjyyn…
www.youtube.com/user/gjyyngii
www.twitter.com/GJYYNGII
www.gjyyngii.tumblr.com
www.gjyyngii.newgrounds.com
Also: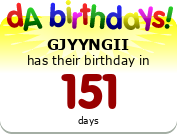 Surprise me for my birthday. =w=