Literature Text
This content is unavailable.
Inspired by
Born Dead
by
dholl
: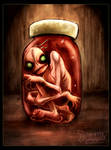 Aether ship inspired by
Otherworld
by
mortalitas
: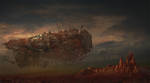 An audio version of me reading this poem can be found here:
www.youtube.com/watch?v=mBIGd-…
I still strive to match this poem. Writing now in 2020, I have yet to create anything quite so good as this. I keep trying.
One of the most beautiful stories I've read recently. I'm crying now. So hauntingly beautiful. If I could have, but a smidgen of your talent to weave an elaborate tale simply from an art piece Oh I would hone it so!!
Your are supremely blessed! I wish you all the success in the World if that is your desire.
Also check out, if you haven't already seen:
mrzarono.deviantart.com/galler…
I think you'd like his work.