Jessie
"Can I buy you a drink?"
-------------------------------
She is Jessie, a singer in a bar.

And...now she is get a bit drunk.
Alcohol make her passionate...
Want invite you drink with her.
Will you accept her invite?
We draw her sometime ago.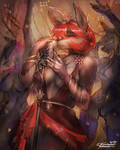 Jessie is a character from our friend's visual novel
"Changeling Tale"
Now already have
DEMO
littlenapoleon.itch.io/changel…
Trailer
www.youtube.com/watch?v=BU41Wn…
And if you want support this project here is the patreon
www.patreon.com/LittleNapoleon
*we are not the staff of novel,just want draw this
beautiful
werewolf.
And hope our friend can finish this.
Anyway...
Hope you guys love this
and consider
support us

>>Here

>>Here
Image size
909x1300px 670.01 KB
IMAGE DETAILS
Software
Adobe Photoshop CS3 Windows