DD is short for Daily Deviation and is - like the name lets you presume - a daily feature of artworks from different the galleries.
DDs can be featured by Community Volunteers and Staff members.
Suggesting DDs
While browsing it can happen that you come across deviations that you think should be featured as a DD, but how?
First of all you need to take a look at the gallery it was submitted to.
You can find this information in the description area, directly below the artwork itself.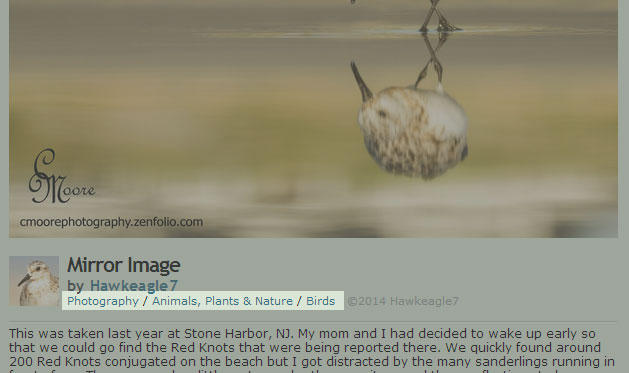 With that category in mind, we are now heading over to
communityrelations
to take a look at this
CV overview
. It lists all volunteers and the gallery they take care of.
For our example we now need to search for the Photography CVs.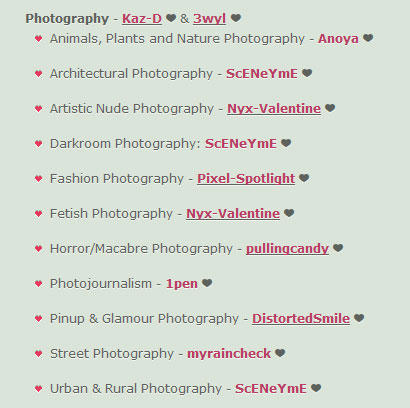 As you can see there are plenty of them, so we take a closer look at the sub categories. The deviation was submitted to "Animal, Plants & Nature", means to have to search for a CV that takes care of that. If we can't find anyone, then we stick to a general photography CV.

In this case there is a CV for "Animal, Plants & Nature". After that we also quickly check if there might be a special CV only for the "Birds" category, but as this is not the case we stick to our latest result.
Now you could go on by sending that deviation to the "A,P & N" CV via note right away, but it is recommend to check their DD guidelines first
(if there are any).
Most of the time a CV has their guidelines listed at their profile or links to them there. It makes sense to check those, if you are not familiar with suggestions in general or to that specific CV. They might have listed important things you should keep in mind for suggesting.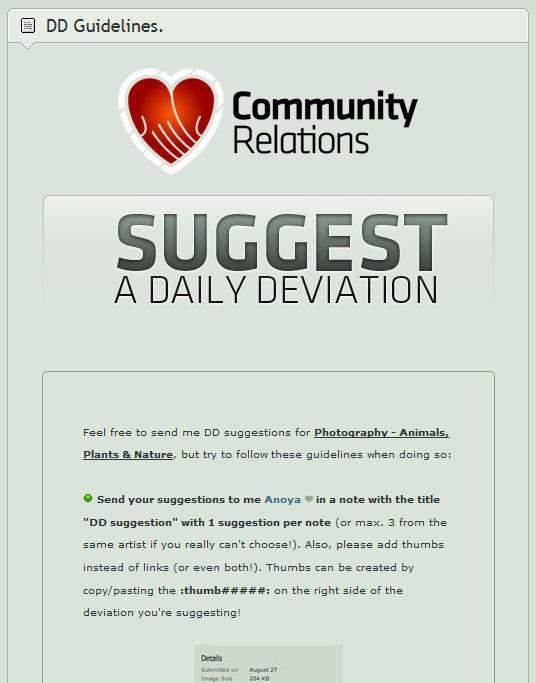 Go through those guidelines and then go ahead sending the note with the deviation.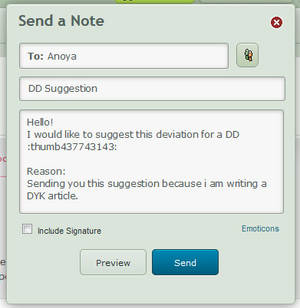 And then you are done. Depending on the CV they will get back to you, if your suggestion was accepted or not.

If you come across a deviation that has no CV, you can send your suggestions to
Moonbeam13
,
Ikue
,
fourteenthstar
or
MidnightExigent
.
---
Want to learn more?
Suggest a Topic
As we write this article series for you, the community, we would like to know: What aspects of the website do you want to learn more about? Or what can you teach other deviants about? If we decide to use your suggestion we will be sure to credit you.
Thank you for your input in advance!
Let us know your ideas through our
feedback page

Previous Articles
You can find every article we've ever done right
here
.