Submit a Group Journal via a Group
The usual way to submit a journal to a group is via the groups platform.
Therefor go to your group and click at the "Journal" tab, to get to the journals page. There you can find the "+ New Blog Entry" button at the top left .

If you click that you will get an empty form for your new journal entry. From there you can write down all the latest information, can choose the category it should be added to and can add a skin (Super Group status is required for that).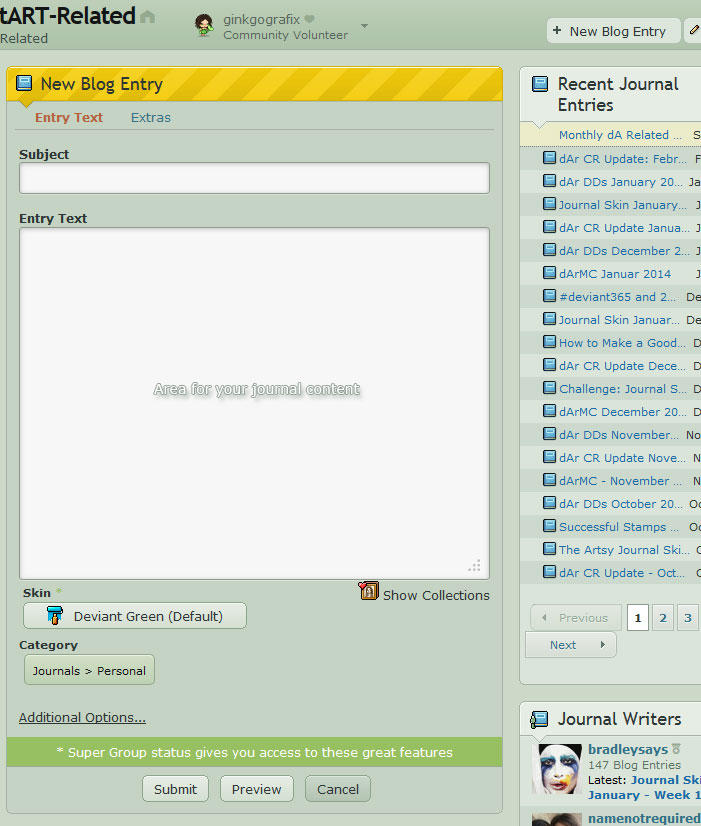 Once you have added all needed information, codes and did fill out the form correctly, you can now submit your journal.

Journals submitted via a group can not be added to the journal section of other groups. Only to their galleries.
Submit a Group Journal via Sta.sh
Go to Sta.sh and prepare the journal you want to submit. Write down all information and maybe add a skin (requires a Premium Membership). If all is ready click "Done".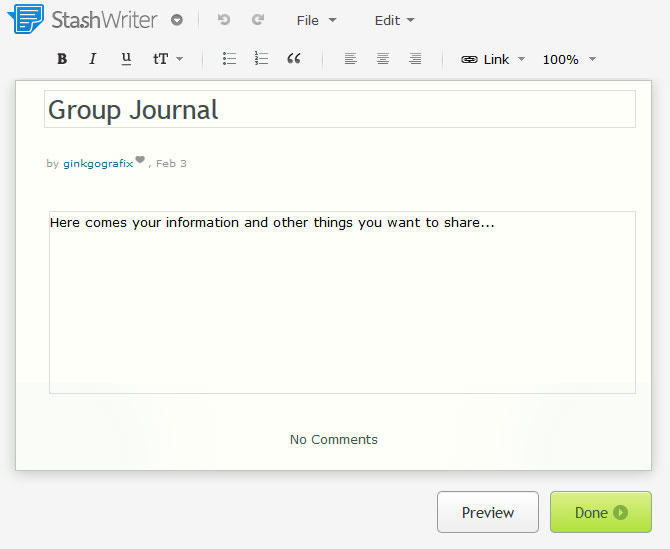 The journal itself is finished now, but still hiding in your Sta.sh. To make it available for the public you can either click on "Submit" or "Submit to deviantART".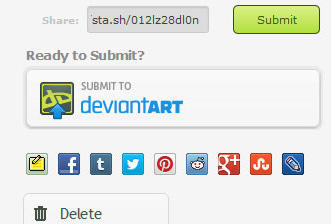 Both buttons will direct you to the submission page, where you can can select where your journal should go to now.
First you choose whether it should be in the "My Journal" or "Journal Portal" category. If you choose "My Journal" it will not appear in the journal portal. If you choose "Journal Portal" it is optional if you want to have it in your personal journal list as well. Afterwards pick a related sub-category.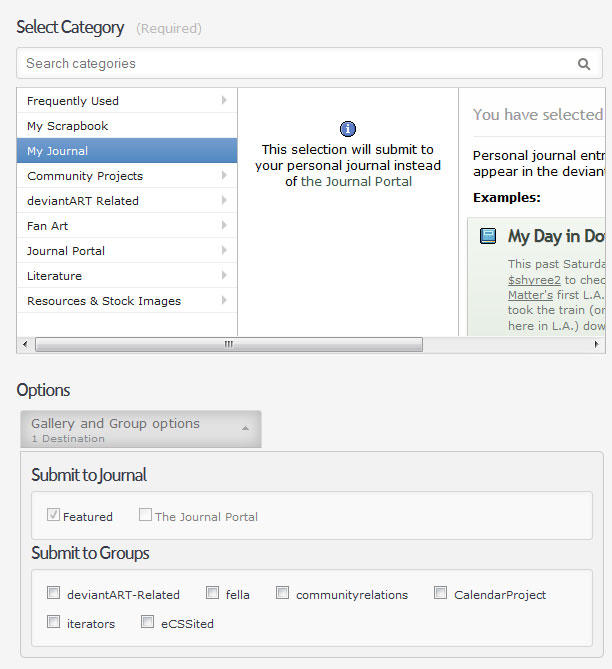 Below the category tree you find the groups you have blog permissions for. Select all the groups the journal should be added to.

The dropdown menu that appears after selecting a group doesn't give you any additional options (as we are just submitting it to journals), but it's a good check if our submission is ok. If the folders of your groups appear there, but no "journal", you have done something wrong before.
Now that this is done you can add a description, keywords and fill out the rest of the submission form if you haven't done yet and finally click "Submit Now". The journal will now appear at all places you selected before.

Journals you submit to groups via Sta.sh will appear in the message center of your own watchers as well as in the message center of the watchers / members of your group.
---
Want to learn more?
Suggest a Topic
As we write this article series for you, the community, we would like to know: What aspects of the website do you want to learn more about? Or what can you teach other deviants about? If we decide to use your suggestion we will be sure to credit you.
Thank you for your input in advance!
Let us know your ideas through our
feedback page

Previous Articles
You can find every article we've ever done right
here
.