Personal Forum
Most of us know that deviantART has a big official forum, where you can go to talk about various things. But are you aware of the forum widget as well?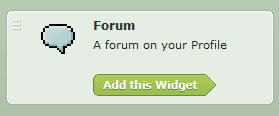 It is your own personal forum that you can add to your profile or journal page to interact with your watchers or random visitors.
Only Premium Members can make use of it though. As a non PM deviant you can still see the widget in the list, but you won't be able to install and use it.
The upper image shows you what you will see as a deviant without a PM and below is what you get as a premium member (minus maybe existing threads).

Threads can either be started by yourself or by said vistors and watchers. And of course you can comment on older threads that are not started by you as well. Just like you can do at a regular forum.
It's a nice way to interact with your fellow guests or to have a place where you can collect information, links, tutorials etc.
Comments and new threads will also appear in your Message Center, so that you can never miss any of them.
You need to keep in mind that newly started threads only appear as regular comments though. There is no extra highlight that shows that it is a new conversation.
Even if a premium member hasn't added the widget to their profile or journal page, you can still look up the forum or add new comments and threads.
Therefore you just need to go to the deviants forum page.
username.deviantart.com/journal/forum/

Just because they have the forum, it doesn't mean they really want to use it. So avoid starting random threads if a forum is hidden and nothing had been posted before.
---
Want to learn more?
Suggest a Topic
As we write this article series for you, the community, we would like to know: What aspects of the website do you want to learn more about? Or what can you teach other deviants about? If we decide to use your suggestion we will be sure to credit you.
Thank you for your input in advance!
Let us know your ideas through our
feedback page

Previous Articles
You can find every article we've ever done right
here
.