Frequently Asked Questions
For nearly every website we use there is a FAQ section, that explains common questions and that can help you to understand and use that site more easily.
Here on dA the Help & FAQ section is rather complex, searchable and is also structured by topics to make it easier to you. You also can contact the Help Desk via tickets directly and report bugs, problem content or other things here.
To access the
help
page, you can either go there from the menu, from the footer or via
help.deviantart.com
directly.
When you are at the help page you have a general overview first. At the left side you can find the menu that will help you to navigate through all the content.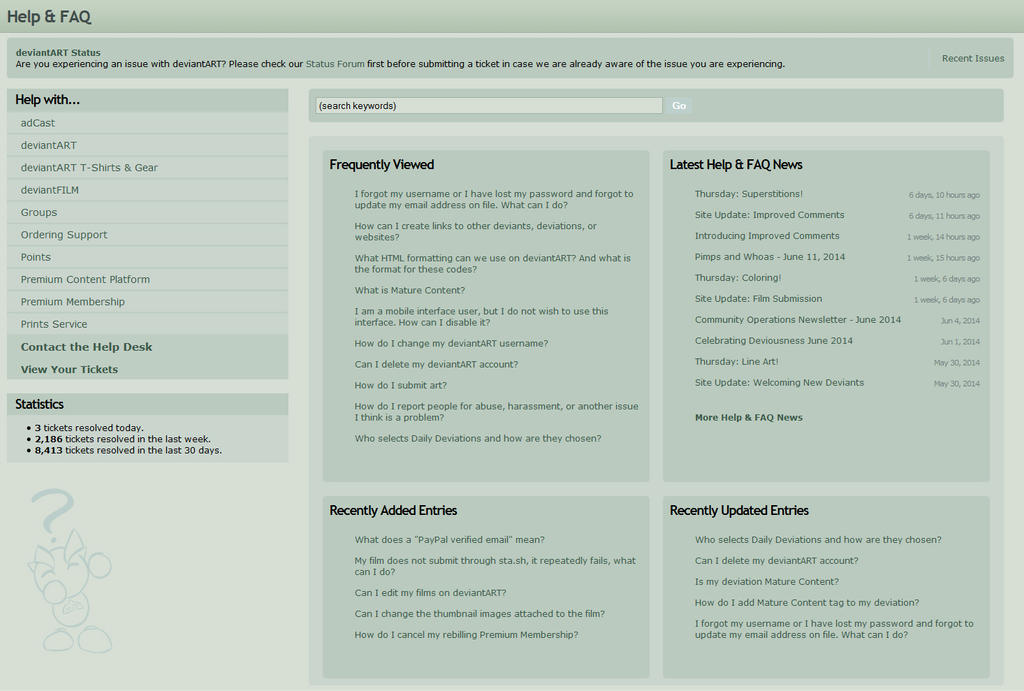 The right side is divided into four sub-sections.
Frequently Viewed
These are the FAQ that have been recently looked at by other deviants.
Recently Added Entries
Sometimes it is needed that new FAQ will be added. The last 5 new ones can be found here.
Latest Help & FAQ News
News articles submitted by deviantART staff, such as site updates, can be found here.
Recently Updated Entries
When features of dA will be changed, it is required to adjust the FAQ as well. The latest 5 ones can be found here.
If you are looking for something specific you can use the search or - if you know under which category it might be listed - you can browse through the navigation sections at the left, that are already divided into the most major areas of dA.
Direct FAQ Links
It can and will happen quite often, that a friend, a deviant you watch or even a random person on dA needs your help with certain things.
To quickly link them to the right FAQ entry you can use their devcodes.
They can be found at the right side, next to the explanation. That code can be used like any other devcode everywhere on dA.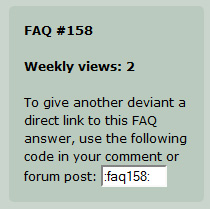 ---
Want to learn more?
Suggest a Topic
As we write this article series for you, the community, we would like to know: What aspects of the website do you want to learn more about? Or what can you teach other deviants about? If we decide to use your suggestion we will be sure to credit you.
Thank you for your input in advance!
Let us know your ideas through our
feedback page

Previous Articles
You can find every article we've ever done right
here
.