Sta.sh
Sta.sh is your very own upload and publishing platform within deviantART.
Everything that you add will be provided a special URL, that is only known to you. That means that others are only able to see the content you are willing to share with them. It can be a specific file or a whole stack of different ones.
With a free membership you will have a limit of 2 GB, while Premium Members can store files up to 10 GB. Once you have reached the limit you can't upload more. You first need to delete or to publish existing files.
How to get to Sta.sh
To enter Sta.sh you can either just type that into your browser or make use of the dA menu.
You will find it in the menu, under the "Deviant" section, when hovering over the little arrow next to the dA logo
but also when you use the "Submit" menu.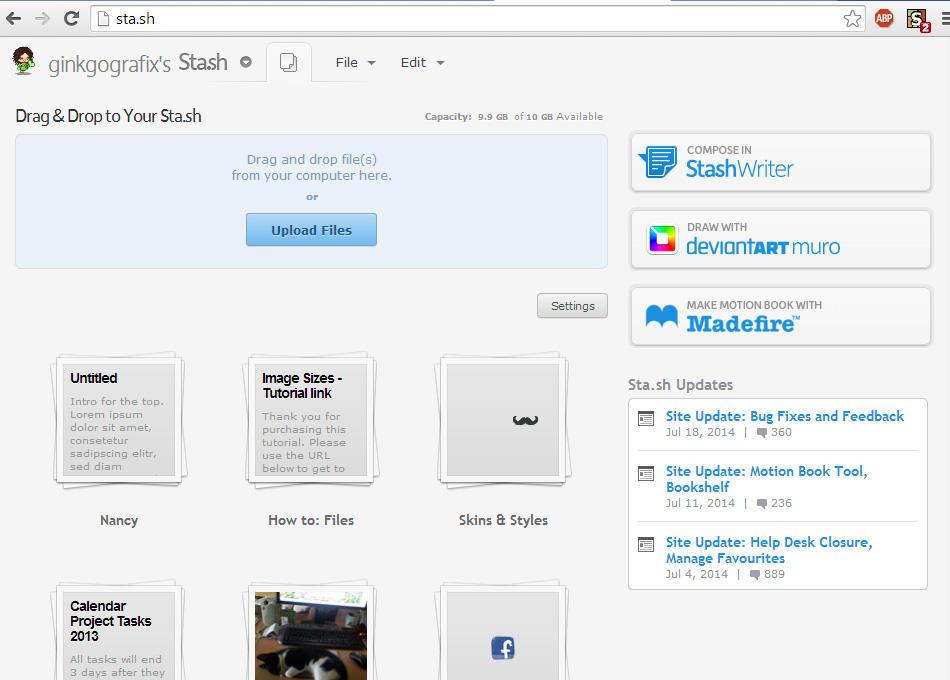 Upload to Sta.sh
There are several ways to upload new files to your Sta.sh. The direct upload is the easiest, but with a few adjustments you can also make use of FTP, mails or applications.

Via Sta.sh
This is the direct way to upload your files. Either by Drag&Drop or via a regular browser upload.
Via FTP
After you have
enabled the FTP
option you can make use of it, by uploading files to ftp.sta.sh via your usual dA login data.

Via Mail
To upload via mail you need to
grant access via the application page
. You then will be given an unique email-adress you can now use to upload your files.
The subject of the mail will become the title, the actual email content the description of the deviation and any attached file the deviation itself.

Via Applications
Through applications made by other deviants you are also able to upload files to Sta.sh. Instructions and the overall process might vary, depending on the applications and their developers.
Authorized apps can be seen
on this page
.

Fore more details about uploading see
FAQ 441
at the end of the article.
Publish/Share Files from Sta.sh
When you want to publish your files (aka adding them to your gallery or journals) you have two buttons at the top right side of your sta.sh file.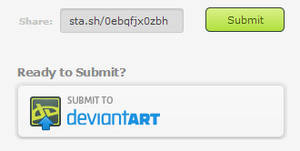 Both will lead you to the submission page, where you can add the usual needed information and finish the submission.
If you want to share your sta.sh file with just a few persons or want to keep it in sta.sh but still share it with your watchers, you can make use of the special sta.sh URL.
It can be found at the top right area of single files or stacks.
But you can also find it at the preview, when you hover over the actual file, and of course in the address bar of your browser.

When sharing sta.sh URLs make sure it always looks like this
http://sta.sh/0ebqfjx0zbh
URLs should
not
have the
?edit=1
at the end or
#writer
in the middle. Those are URLs just for you to edit your files.
Related FAQ
FAQ #440:
What is Sta.sh?
FAQ #441:
How do I upload to my Sta.sh?
FAQ #442:
What is the storage limit of Sta.sh?
FAQ #443:
What happens when I reach the storage limit for Sta.sh?
FAQ #444:
What happens to my Sta.sh items when my subscription runs out?
FAQ #445:
Can I upload anything to Sta.sh?
FAQ #446:
Why can't I drag & drop files to my Sta.sh like other users?
---
Want to learn more?
Suggest a Topic
As we write this article series for you, the community, we would like to know: What aspects of the website do you want to learn more about? Or what can you teach other deviants about? If we decide to use your suggestion we will be sure to credit you.
Thank you for your input in advance!
Let us know your ideas through our
feedback page

Previous Articles
You can find every article we've ever done right
here
.