Scraps
Beside your usual gallery and Sta.sh there is also the Scrap section for your account. Since the release of Sta.sh it got less used, but it's still there and can be quite handy!
To take a look at your own Scraps or the ones of someone else, click on the gallery tab at the top of a deviants page.
Once done, you will have the three main gallery sections listed: featured, all and Scraps.

If you click on Scraps, you then will see what a deviant has 'hidden' there.
The direct URL to get to the scraps sections would be
http://USERNAME.deviantart.com/gallery/?catpath=scraps
Everything that is part of Scraps can be found via the search as well, but will not be displayed at any official gallery. Opposite to files added to Sta.sh, these files can be seen by everyone and it doesn't require the direct URL to get there. They can also be added to favourites or suggested to groups.
As a watcher you also have the chance to get notified when someone uploads new deviations to their Scraps. On default this is disabled though.
If you want to be informed about new Scraps, click on the green "Watching" button at the top of a deviants page. A pop up window will appear where you can select what should appear in your Message Center from this deviant.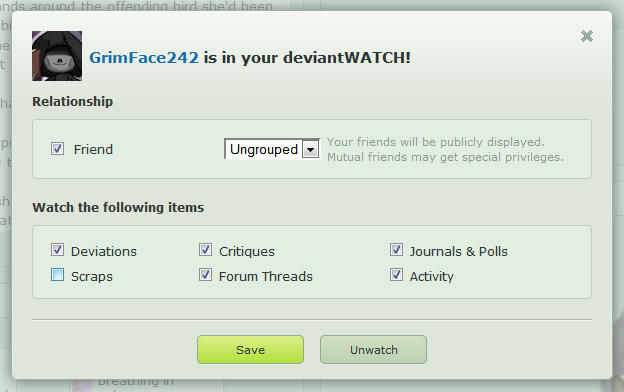 If you have enough of the Scraps of a deviant, you can uncheck it the same way.
What should I use Scraps for?
All kind of unfinished or incomplete works can be submitted to the Scraps section, like WIPs or works you don't want to go on with, but still want to share with your watchers.
Basically all things that don't belong or fit to any other gallery on deviantART. Means if a gallery isn't appropriate, use Scraps.
FAQ #242:
What are scraps?
If you are not happy with a deviation of yours anymore, but still don't want to delete or store it, you can move it to Scraps as well. That way you (or others) can still look at it or read through the comments, without having it in your main gallery.
For example, I am using my Scraps section for deviations that once have been part of a temporary fun event, that I don't want to be in my main gallery, but still want to keep.
Or others are artworks that can updated to announce events or such, but aren't important otherwise.
Having your deviation added to Scraps doesn't mean that it is something bad or of less value, it's just less prominent.
If you go on working on that specific piece or think you found a gallery it belongs to, you could still move it at a later time.
FAQ #243:
How do I change an already submitted deviation to a scrap and vice versa?
How to submit to Scraps
Submitting a deviation to Scraps has the same routine, as if you are going to submit to a regular gallery.
The only difference is, that instead of selecting one of the various galleries, you pick 'Scraps' at the category area.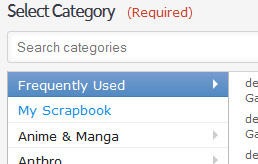 Scraps can not be featured as Daily Deviations.
---
Want to learn more?
Suggest a Topic
As we write this article series for you, the community, we would like to know: What aspects of the website do you want to learn more about? Or what can you teach other deviants about? If we decide to use your suggestion we will be sure to credit you.
Thank you for your input in advance!
Let us know your ideas through our
feedback page

Previous Articles
You can find every article we've ever done right
here
.