Scheduled Submission
Premium Members are able to schedule their submissions. This is extremely helpful if you do regular articles or if you are away for some time, but still need to post things. Or, if you are like me and tend to forget things, and want to make sure that certain submissions will be posted at a special day/time.
Scheduled submit is possible for journals and deviations.
First thing you have to do, is to prepare your deviation. If you have done so in Sta.sh click the "Submit to deviantART" to get to the actual submission page. If you have added your deviation via "Submit Art" from the menu you are already there.
At the top right you can then see the "Schedule" button.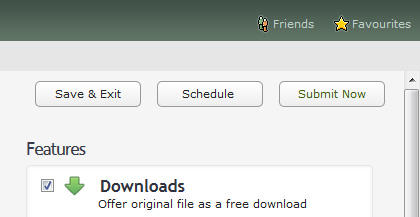 To be able to schedule the submission, it is required to select a valid category and to define whether it is mature content or not. If you don't do that and want to schedule the submission you will end up with a short message like this: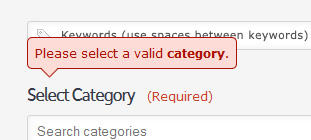 Category, title and mature content are the minimum requirements in order to be able to submit a deviation.
Once those are filled out the "Submit Now" button will be green instead of white as well.
If you have picked the category and selected if your deviation is mature content or not, you can now click on "Schedule" and will get a pop up where you be able to choose a day and time for your submission.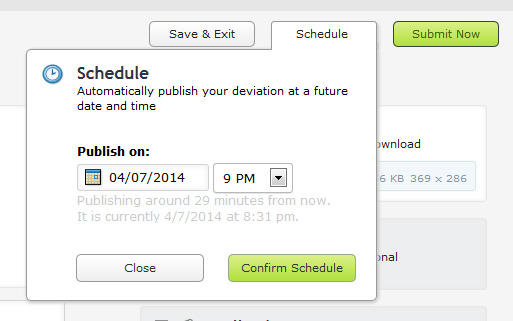 When you click on the date area, you will be able to choose the date from a little calendar like interface. Which the little arrows you can change the months, while clicking on the numbers will define the day.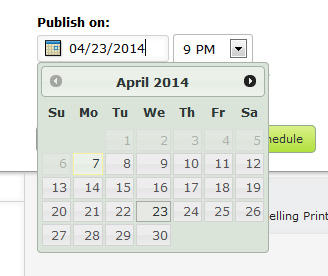 The current day will be marked with a yellow border, while the day you picked will be highlighted with a slightly darker border and background.
You can schedule your submission up to 90 days in advance. If you go through the calendar you will see that later dates are disabled.



For the time you have only the option to choose full hours. AM would be in the morning, PM would be in the evening (in case you get confused by that).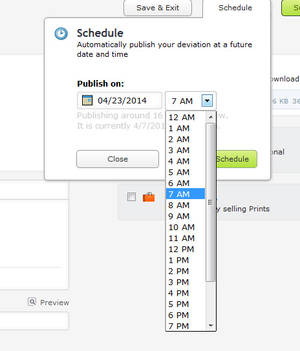 As a little help you get the information of how much time is left until your deviation will be submitted.
If you choose to submit it within 24 hours it tells you the hours or minutes that are left . For everything else you get to know the days.
After picking the right date and time click "Confirm Schedule" and you are done.

Whenever you will go to the submission page now you will see that scheduled deviation until the day it gets published. Or until you decide to maybe cancel it.

If you have scheduled a submission and your Premium Membership is running out after that, the deviation would still be submitted at the chosen date.
But if you try to edit it, after your Premium Membership expired, the scheduling will be lost.
---
Want to learn more?
Suggest a Topic
As we write this article series for you, the community, we would like to know: What aspects of the website do you want to learn more about? Or what can you teach other deviants about? If we decide to use your suggestion we will be sure to credit you.
Thank you for your input in advance!
Let us know your ideas through our
feedback page

Previous Articles
You can find every article we've ever done right
here
.