Random
We usually have selected groups and people we watch based on the art they upload and how else they interact on deviantART. That means we mostly get to see art, journals and other things in our message center that will most likely interest us.
It also means we could miss a lot of other things. But sometimes it can be useful to be able to see new art or deviants, without having any set criteria. And that's why we have the random feature at deviantART.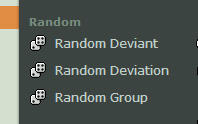 You have that in your deviantART menu (when you click that little arrow next to the dA logo at the top) and it gives you three possibilities of going random.
Random Deviant
It doesn't matter if a deviant is new or old, popular or unknown. Anyone who recently have been active (even their profile might not show this) could show up here, once you will choose that option.
Clicking the link will directly take you to a deviants page. And hopefully it is someone you didn't know yet!

Direct link
www.deviantart.com/random/deviant
Random Deviation
When choosing the random deviation there are no criteria either. It doesn't depend on what you already faved, where you commented or what you personally would to see, one out of all the submissions that have been made to deviantART will show up for you, after you click on the menu item.

Direct link
www.deviantart.com/random/deviation
Random Group
Just like we have a lot of deviants and even more deviations, there is a plethora of groups. For those that want to just see "what is out there", without any specific criteria, this is the right feature.
Of course you won't always end up with a group that is something for you, but sooner or later you might find a group you like to become part of.

Direct link
www.deviantart.com/random/group
FAQ #535:
Can I search for a random Deviant/Deviation?
---
Want to learn more?
Suggest a Topic
As we write this article series for you, the community, we would like to know: What aspects of the website do you want to learn more about? Or what can you teach other deviants about? If we decide to use your suggestion we will be sure to credit you.
Thank you for your input in advance!
Let us know your ideas through our
feedback page

Previous Articles
You can find every article we've ever done right
here
.