Switching between RTE* & HTML mode
*Rich Text Editing
While working on a new journal entry we have a fancy menu that helps us to quickly switch between RTE and HTML mode. It can be found at the top within the menu.

Since a while comments and the description of deviations also support Rich Text Editing, which is the default mode for those areas.
This makes it easy to copy existing snippets from other parts of the site. All code (of visible elements) will be automatically transferred then.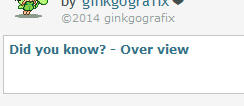 This can safe us a lot of time, but it also can make things difficult, when we want to adjust the HTML code. And here we have no buttons to switch between the modes.
But fear not, of course there is a solution!
With the help of
CTRL + E / CMD + E
you can switch between the modes without any buttons. When you make use of it, you will see that the font changes and you either end up with HTML code or it vanishes (this depend on which mode is active).
So if I use
CTRL+E / CMD+E
for our example I will end up with this.

In case I would have used more complex code, I could now adjust it all to my liking.
The key combination
CRLT+E / CMD + E
does also work while writing your journal in Sta.sh. It's a quick way to switch between both modes for all areas you have RTE available.

You don't have to switch to HTML mode to add any code, you can also do it while being in RTE mode. But if you do so and change the mode you will see that wytiwyg="1" between your code bits. It's the indicator for code that has been written in RTE mode.
When you use a lot of HTML code it is recommended to switch to HTML mode before though.
Especially when having a lot of wrapping elements every new line break could mess up your code otherwise.
---
Want to learn more?
Suggest a Topic
As we write this article series for you, the community, we would like to know: What aspects of the website do you want to learn more about? Or what can you teach other deviants about? If we decide to use your suggestion we will be sure to credit you.
Thank you for your input in advance!
Let us know your ideas through our
feedback page

Previous Articles
You can find every article we've ever done right
here
.