Premium Membership
A Premium Membership (short PM) allows you access to a few extra features that regular members can't make use of.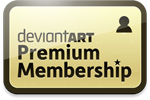 A few of those features are:
• change your username
• schedule submissions
• no ads while browsing (except promotional dA messages)
• use CSS for customization
• more profile widgets
• discounts at the print shop
For a complete list
go here
.
Premium Members have a full star next to their name, but Seniors or Beta Testers can be Premium Members as well.
For Beta Testers it is required to have a PM. For Seniors it is optional, as it depends on how they got their Seniority.
When you go to a profile of a deviant, you can find the information about their Premium Membership status at the top. There you can see how long their PM still last or if they would need one and who has given them the current active one (if one was gifted).
How to get a PM
Purchasing
To purchase a PM on your own, go to
this page
, choose the amount of months/years and select how you want to pay for it (Points, Paypal or Credit Card).
Premium Membership > Rebilling
at any later time.

If you just want to get yourself a 1 Month or 3 Months PM, you can only do this via gifting someone else one too.
For more read the next paragraph.
As Gifts or Prizes
If you want to surprise someone with a PM you can
go here
. Write down the name of the deviant who should receive it (be careful with typos), choose the amount of months you want to gift and pick how you want to pay for it.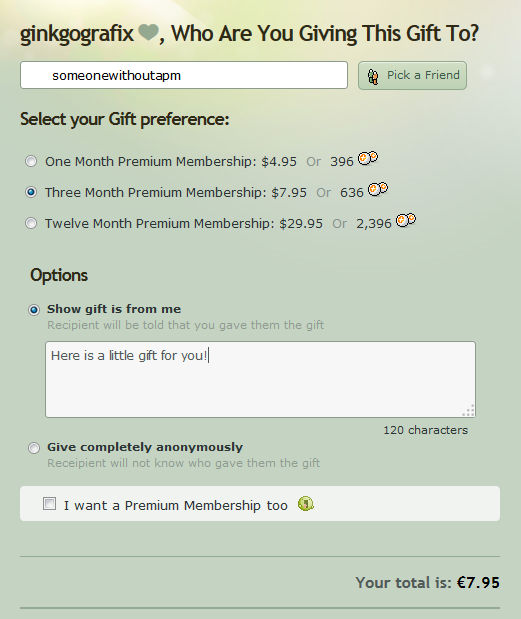 Optionally you can send it anonymous or add a little message for the deviant who should receive it.
And here you can also choose to get yourself the same amount of months for a Premium Membership too.
You can also gift someone a PM directly from their profile page. If you come across such a deviant you want to gift a PM, click on the 'Give' Button at the top of their profile and choose "Give Premium Membership".
You will be directed to the page above and the name of the deviant is already added.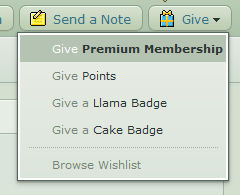 No matter if you purchase or gift a PM, after the purchase the PM will be active immediately.
Related FAQ
FAQ #228:
Can I transfer my DeviantArt Core Membership?
FAQ #824:
What is the difference between a Prepaid Core Membership Package and a Billing one?
FAQ #236:
Will my DeviantArt Core Membership be auto renewed?
FAQ #65:
What will happen to my features once my Core Membership expires?
FAQ #785:
I paid for a Core Membership and it said my Core Membership is activated but I do not have all my features yet. Why is this?
These are just a few, for more take a look at the
Help & FAQ
page.
---
Want to learn more?
Suggest a Topic
As we write this article series for you, the community, we would like to know: What aspects of the website do you want to learn more about? Or what can you teach other deviants about? If we decide to use your suggestion we will be sure to credit you.
Thank you for your input in advance!
Let us know your ideas through our
feedback page

Previous Articles
You can find every article we've ever done right
here
.