Points
Points are dA's own currency, introduced in March 2010, that can be used in various ways within deviantART only.
The
about page
will give you a quick overview of what you can do with points already. There you will also find the rules for points - something worth to take a look at.
Before we go into details about what you can do with points, where you can get them etc, let's talk about their value.
80

= 1$
That's how it is. Not more, not less. So when someone is doing commissions for 100

, it doesn't mean that they want you to pay 100$. In fact you would only pay a little over 1$.
This is something you should always keep in mind. Especially when you think that someone charges too much for their work.
How to get points?
There are several ways how you can get points.
• buying points yourself
• accepting commissions
• offering Premium Content
• via donation pool
• as a gift
• as prizes for contests, challenges or events
An older DYK article already
explained how to earn points
, please take a look at that for more details.
What can you do with points?
There are several ways you can spent your points, but keep in mind that it can't be undone. Once the points have been transferred, they are gone.
• commission someone
• gift them to someone
• offer them as prizes for contests
• purchasing Premium Content
• purchasing a Premium Membership
• purchasing items from the Prints Shop
• purchasing cake badges or llama accessories (more
here
)
• trading llamas for Points (more
here
)
Where can you 'manage' your points?
All information that is related to points and your account can be found at
http://www.deviantart.com/account/points/
At the top you can see your current balance and the profit balance from commissions or Premium Content, that is ready to be withdrawn to your credit card / paypal or converted to points.

Next to that you have the option of giving points to someone. The interface is the same as if you would do it via the "Give points" menu at a deviants page - you just have to type in the name manually here.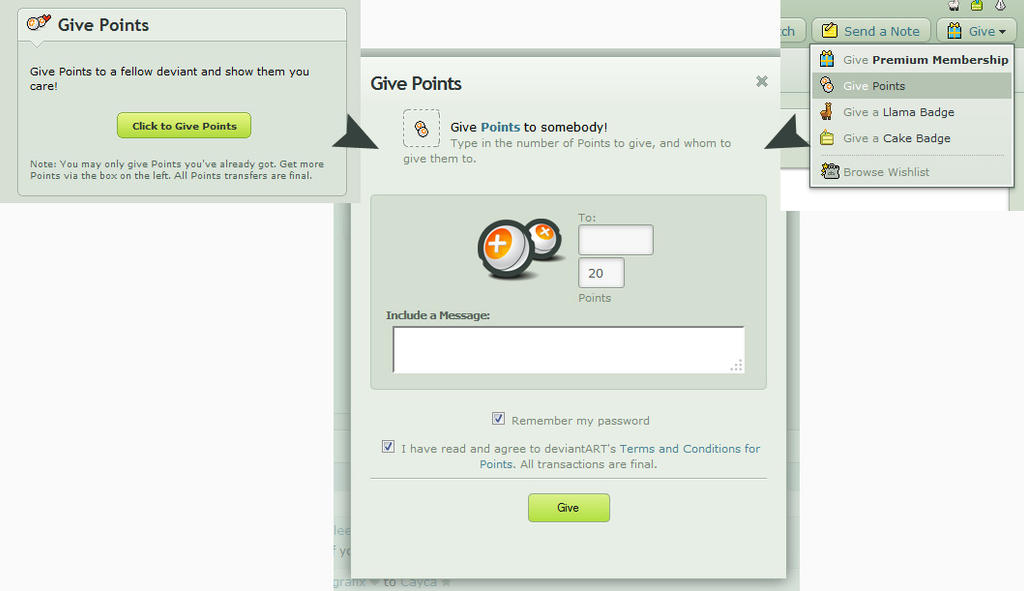 And right below the "Give Points" area at the points page you find the URL you can use to motivate other deviants to donate to you.
It is always
http://yourusername.deviantart.com/?givepoints
This URL can be used to create buttons or to link people directly to the donation page, in case they have trouble donating points otherwise.
At the lower part you then can take a look at your latest transaction. There you will also see that little message you can add when sending someone points.

Some Point related FAQs
FAQ #234:
What are Points?
FAQ #903:
Why may I only purchase digital content with Points?
FAQ #894:
Can I run a lottery, raffle, sweepstakes or other random drawing or game of chance through my DeviantArt account?
FAQ #895:
Can I offer an automated service on DeviantArt in exchange for deviantPOINTS?
FAQ #181:
Can I still buy prints if I don't have a credit card?
---
Want to learn more?
Suggest a Topic
As we write this article series for you, the community, we would like to know: What aspects of the website do you want to learn more about? Or what can you teach other deviants about? If we decide to use your suggestion we will be sure to credit you.
Thank you for your input in advance!
Let us know your ideas through our
feedback page

Previous Articles
You can find every article we've ever done right
here
.