Message Center
The message center(short MC) is your communication area for the deviantART world. Here you will be informed about the deviants and groups you watch, but also get notified about any interaction on your own account or deviations, such as new watchers, comments, critiques, faves and other things.
The navigation bar at the top already gives you an idea of how many and what kind of messages you can expect in your message center. It can be seen from all pages within deviantART (except Sta.sh).
The way it is displayed depends on whether you have the "Splinter Menu" or the "Unsplinter Menu". In my example it is the last.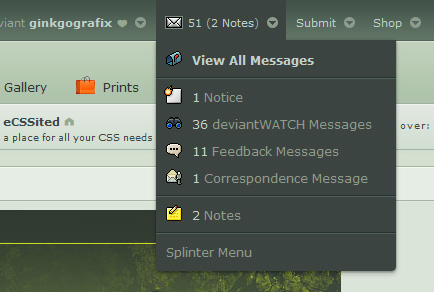 By clicking on
View All Messages
or the overall count you will be forwarded to the overview page of your MC. If you click on a specific sub-menu, it will direct you to that area within your MC.
Inbox
Your MC looks like this and while the content will always be different, the menu at the left and top will always be the same.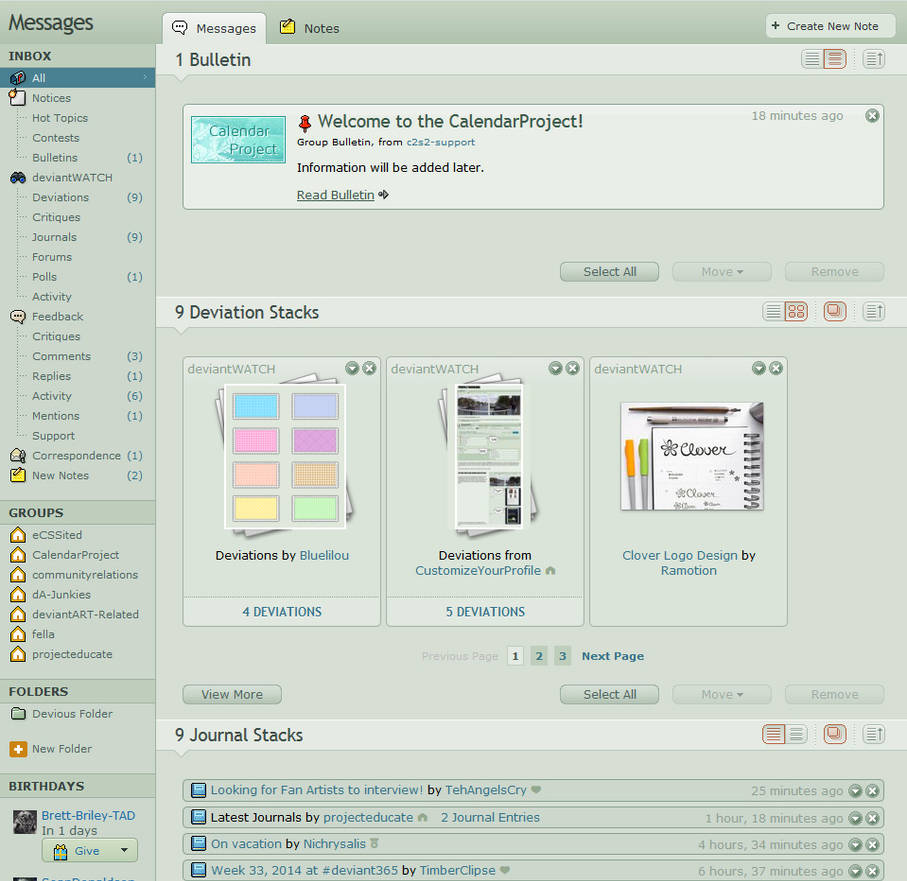 The order of your messages has the same like the menu. If there is no content for a certain section available, it will not be shown. You also have a counter that specifies how many messages there are for each section.
Via the menu you can decide if you want only certain messages to show, or if you want to go for all again.
Therefore you just need to click on the single sections and all other non-relevant messages will disappear. They are not deleted though.
The section headlines will help you to figure out what kind of messages will be displayed where. For most it should be self-explanatory though.
Some more information about that can be found in FAQ 1 (see at the end of the article).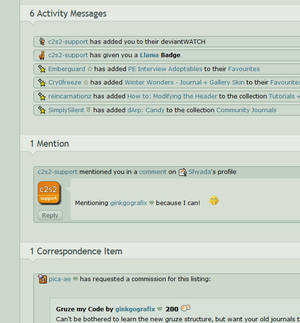 Display Settings
For each section you also have little icons at the right side, next to the section title. These icons give you the possibility of adjusting the MC in a way that works best for you.
Sometimes you have a combination of icons available sometimes you can just change the order of the deviations. It always depends on the messages of a section.
If an icon is highlighted in red it means that this option is currently active.

- Deviations are sorted by either newest or oldest first.

- Red means Stacks are enabled. If grey, they are disabled.

- Here you can choose between a List or a Grid with thumbs.

- Here you can choose between a List or (short) Previews.

- Here you can choose between a List or Full View.

- Here you can choose between a List, (short) Previews or Full View.
Groups
All groups you are a founder, co-founder, moderator or contributor of will be displayed here. While group messages don't show up in the overview of your MC, the specific messages will appear once you click on a groups name.
Folders
Within the folder section you have the chance to save messages, without having to fear that they get lost after you have reached the messages limit or when you have replied to comments.
There is one "Devious Folder" you can start with right away, but you can also add your own custom ones.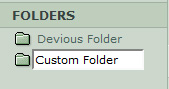 You are not able to rename your folders, so be careful with your names and if you want to keep the folders for a longer time.

Via drag & drop you can move around your messages and add them to the desired folder. If your MC is very long, because of all the messages, fear not, because the Folders will magically appear, once you start to move messages, at the top.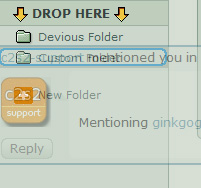 The moved messages will no longer appear on the MC overview or the sub sections now and can only be found in the folder you moved them to.
While these messages can be moved from one folder to another, you can't move them back to the MC.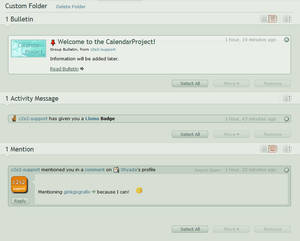 You also have the chance to move messages with the buttons below each section. Therefore highlight the messages and then choose a folder they should go to.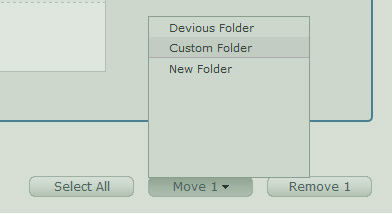 Birthdays
The birthday section will show all birthdays that will happen within the next 7 days. Only deviants who have their birthday displayed for the public will appear here. It is also limited to the deviants you watch only.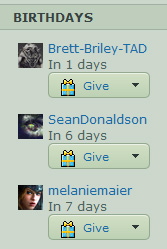 Via the drop down menu right under a deviants name, you could give them a little gift(Points, Premium Membership or Llama/Cake badge) directly. From there you could also get to the Wishlist of that deviant, if available.
This section can not be modified by you.
Related FAQ
FAQ #1:
What is the Message Centre and how do I use it?
FAQ #37:
I deleted items in my Message Centre and they all came back, why is this?
FAQ #71:
How long do messages stay in my Message Centre?
FAQ #87:
Is there a limit on how many messages I can have?
FAQ #742:
I am unable to receive or see messages at this time in my "Message Centre". Does this also mean I cannot receive or see Help Desk responses?
FAQ #432:
Where will my Groups activity go in my Message Centre?
---
Want to learn more?
Suggest a Topic
As we write this article series for you, the community, we would like to know: What aspects of the website do you want to learn more about? Or what can you teach other deviants about? If we decide to use your suggestion we will be sure to credit you.
Thank you for your input in advance!
Let us know your ideas through our
feedback page

Previous Articles
You can find every article we've ever done right
here
.