Journal Categories
When writing a new journal, may it be personal, informative, educational or a feature of the latest art that got your attention, you always should look for the right place to submit it to. Just like you (should) do for your actual artworks.
Since journals are equally to regular deviations, they also have their own gallery and categories. Which means that you can also browse for journals.
Art Features
Journals related to the topic of art, features based on a specific theme, how-to articles, collections of deviations and interviews with artists.

Deviant Events
Journals promoting community events or news, such as, community run contests, projects, deviantMEETS and chat events.

Literature Features
Journals related to the topic of literature, features based on a specific theme, collections of written deviations and interviews with writers.

Personal
Any personal updates that you want to share with your watchers but aren't newsworthy to the community at large.
Note that these can still be found in the Journal Portal.

Software Reviews
Reviews of new and existing software.
Featured vs. The Journal Portal
No matter if you submit via the journal page or Sta.sh you always have the option to submit your journals to one of them or both.
Featured
means that the journal could also appear at your profile(when you have added the journal widget), while journal published only at
The Journal Portal
will not show up on your profile.
These are only visible when someone is clicking the ALL tab on your journal page. And only then they will get listed at your journal entry list widget.
As an example we take a look at my own journals. When you go to my journal page
Featured
is selected by default and you see this.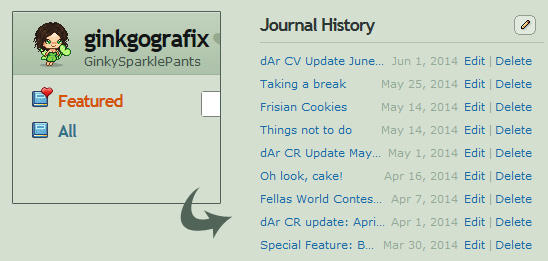 Those are journals submitted to
Featured
(at the journal submit page) or to
My Journal
(at Sta.sh), but not to the Journal Portal.
When we switch to
All
now, we get this Journal History.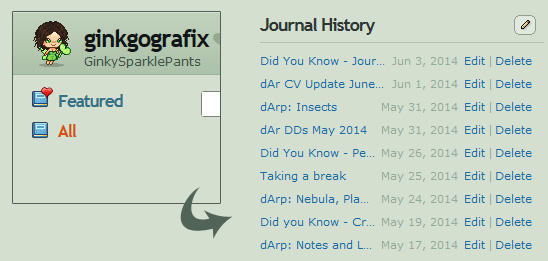 And there you can see all the journals I have ever written. There you can now see those submitted to groups only, to the journal portal and the personal ones.
This leaves us with three options of how to publish journals.
• just at your profile (featured)
• for the public (the journal portal)
• at your profile, but also for the public (featured + the journal portal)
Selecting Categories at the Journal Page
When you are using the regular journal page to write your journal, you have a button at the very bottom to select a category that fits best.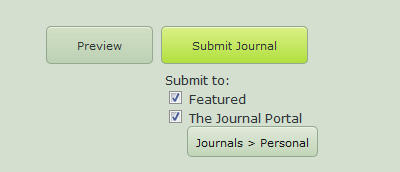 By default the "Personal" category is picked. If you want to submit to a different category, click the
Journals > Personal
button and a new window will appear. There you also have the
Gallery Info
button that gives you more information, if you are unsure what a category is about.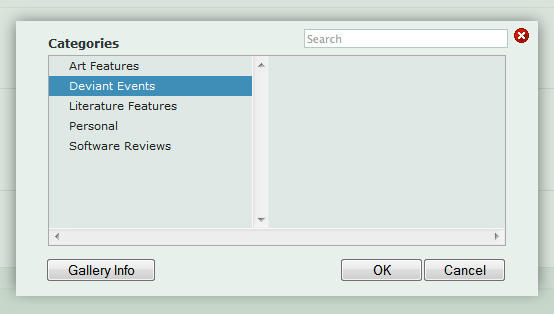 Once you have made your selection, the
Journals > Personal
button will have the name of your picked category then.
Under the
Submit Journal
button you also can determine whether your journal should appear at the journal portal and/or in your featured section.
Selecting Categories when submitting via Sta.sh
If you are using Sta.sh to publish your journal, you will have the same submission page like for any other artwork.
But the categories you can submit to are limited. Beside a few gallery categories (like for written tutorials or literature) you have those five journal categories here as well.
My Journal
equals the "Featured" of the journal page.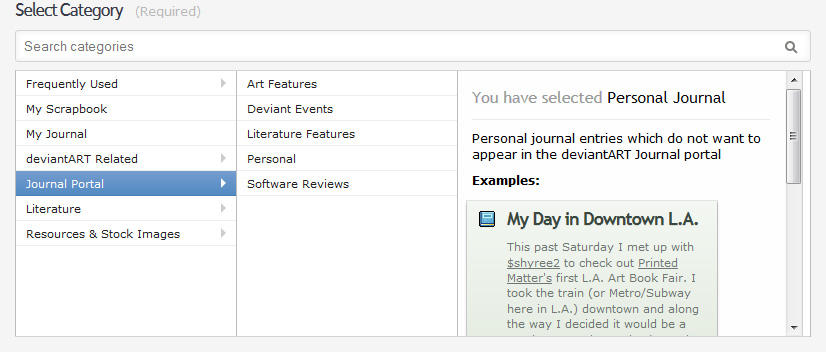 Again the
Personal
category is the default one. At Sta.sh you get the category explanations, as well as examples, directly when you select a category.
Depending on your selection for the category, the pre-checked options below will vary.
Via Sta.sh journals that go to your featured area, won't be published at the journal portal then. While you can still decide whether you want journals, you publish to the journal portal, also appear at your featured area.

Only journals submitted via Sta.sh can be submitted as journals to groups as well.
Therefor you just have to pick the groups you are an admin of at the options area.
Journals submitted through the journal page can only be included as deviations to a groups gallery.
---
Want to learn more?
Suggest a Topic
As we write this article series for you, the community, we would like to know: What aspects of the website do you want to learn more about? Or what can you teach other deviants about? If we decide to use your suggestion we will be sure to credit you.
Thank you for your input in advance!
Let us know your ideas through our
feedback page

Previous Articles
You can find every article we've ever done right
here
.