Deviousness Award
The Deviousness Award is an award that will be handed out at the first day of each month to outstanding deviants.
Read about
The Deviousness Award 2.0
here. It explains a bit more who will receive it and why it is given to outstanding deviants.
( added June 2015)
These days it can be easily recognized by the crown symbol.
There are no set criteria for the Deviousness Award, but in general the awarded deviants are known for their community spirit, their dedication and support. They are role models in different ways, who take that extra step to make deviantART a home for all of us.
How do I know that someone got Deviousness?
The latest deviant who was bestowed with the award can be found in the footer of deviantART for the entire month they received it.

From there you can get to the article that introduces the deviant who just got the Deviousness Award.
If you are watching
fourteenthstar
you will also get notified about new Deviousness recipients directly.
But you can also find them at the
today page
if the footer is hidden for you.
All those that have gotten the Deviousness also have a special widget displayed at their profile.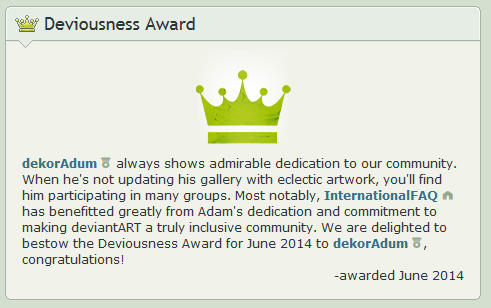 Next to the date when the award was given, it also contains the reason as to why they recieved the Deviousness Award. The same that you can read about in the matching article.
There is no list of who has received the award so far, but if you like to take a look at older recipients you can make use of the search,
looking for "Celebrating Deviousness" articles
.
Over at
communityops
you can also find a list of the recipients for the current year, as well as a countdown until the next person will be awarded.
How to suggest someone
If you think you know a deviant that deserves to be awarded you should contact
fourteenthstar
.
In your note or mail you should explain why you think that the deviant suggested should be considered and what makes them so special.
---
Want to learn more?
Suggest a Topic
As we write this article series for you, the community, we would like to know: What aspects of the website do you want to learn more about? Or what can you teach other deviants about? If we decide to use your suggestion we will be sure to credit you.
Thank you for your input in advance!
Let us know your ideas through our
feedback page

Previous Articles
You can find every article we've ever done right
here
.