Add Media
Add Media is a feature that allows you to quickly add deviations from Sta.sh or deviantART. It is available for various places, such as Sta.sh in general, when writing journals or when leaving comments (profile, deviations, forum...).
To get the Add Media interface for comment and description areas you simply click that
Add Media
textlink at the bottom of those sections.
When you are using Sta.sh the
Add Media
interface will always show up whenever you edit a section where it is available. Same for when writing journals via the journal page.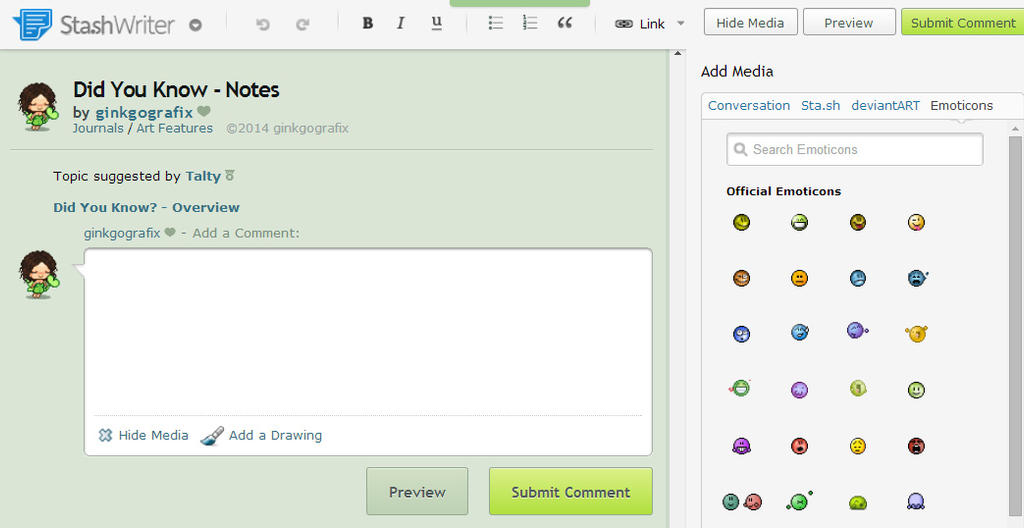 The interface allows you to differ between Conversations (only available for comments), Sta.sh, deviantART and Emoticons.
The default tab changes depending on what feature you are currently using. For example for comments you usually start with the Emoticons tab.
Emoticons
Here you have the common dA emoticons, but also can search for specific ones further below. These are submissions of the "Chat Friendly Emotes" gallery. With the help of the search you can specify your results.
deviantART
The deviantART tab allows you to choose submissions from your own gallery, your favourites or your bookshelf (purchased Premium Content).
Again you have the option to refine your results with the help of the search.
You also can make use of the deviants button, next to the search field. This allows you to pick a certain deviant or group you watch and will get to see their submissions only.
Sta.sh
With the Sta.sh tab you can add all content that is part of your Sta.sh and usually hidden for others.
Here you also have the option to add new content via the
Upload Files
button directly.
Conversation
Any kind of media that already has been used for a journal and the deviation itself will be listed here, no matter if it is part of deviantART directly or added via Sta.sh.
---
Want to learn more?
Suggest a Topic
As we write this article series for you, the community, we would like to know: What aspects of the website do you want to learn more about? Or what can you teach other deviants about? If we decide to use your suggestion we will be sure to credit you.
Thank you for your input in advance!
Let us know your ideas through our
feedback page

Previous Articles
You can find every article we've ever done right
here
.