The description in
: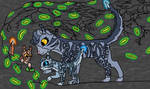 "
The cats are looking at torbernite-a green, radioactive rock- which is how the jaguars got their weird powers- this does not actually work in real life dont try it but it works in Marvel and other universes so..."
is incorrect and old.
I have changed how they get their powers and stuff, the reason is:
They have a religion!Random facts about the religion and the powers:
There is only one religion for the jaguars so they don't really have a name for it.
It's
polytheistic
-there are multiple gods/deities to worship. There is a deity for fire, plant, life, death, storm, water, gravity, stone/rock, wind/air, plants, sleep, friction, movement/strength/balance/agility/endurance/energy/flexibility/momentum, cold, light, shadows, time etc.
There is basically a deity for everything that controls this universe/this world.
There is also
the Creator. They were the first deity, and thus the most important, and they created other deities.
I will make a creation story and other stories later.
The deities take the form of
(when they want to or when called upon)
a glowing ball with smoke-like tendrils coming off.
Each deity's form varies in color and how the tendrils move around
The jaguars get their powers by calling upon the deity/ies and borrowing a portion of the deity's power. The jaguar gives the power back when they no longer need it.
They borrow the power and give it back, and when they need it again, they simply borrow it again. If a jaguar demands the powers of a deity
(that they can get the powers from or not)
very forcefully, then they will be punished physically in a way that the deity
(that the jaguar called upon)
sees fit. Some examples:
getting scared, adding or subtracting a muscle(s), bone(s), limb(s), or organ(s) etc that they could live without(not their heart, lung(s), brain, skull, pelvis, spine, etc), shortening the tail, deforming a body part(that they could live with being deformed), becoming blind, deaf, etc, making a body part smaller or larger, giving them a disease or cancer, making an organ, muscle, bone, or limb ache or not work as well, break or fracture a bone, etc etc etc.
The deity cannot:
do something that would immediately kill the jaguar, etc
Not all of the deities can be called upon
when a jaguar wants to use their power. The
deities have predicted the unbalance that would create and the jaguars can only call upon some
: plant, fire, storm, stone, air/wind, water, and life(healing). The jaguars can also call upon the light, heat, cold, friction, movement and deities but only sometimes. For example when/if a stone jaguar wants to make a rock that produces light, then they would call upon the stone deity and the light deity.
The fire jaguars can only call upon the fire deity, the water jaguars can only call upon the water deity
, etc.
Jaguars with multiple "races" can call upon the multiple deities that their races can.
For example: A jaguar that is 1/4th fire, 1/4 water, and 1/2 stone, can call upon the fire, water, and stone deities.
Reincarnation
!:After a jaguar dies they wander around on the island until everything and everyone forgets about them, then their life is put into a new living thing(this could be animal, plant, fungi, bacterial, etc(not viral though because viruses are not alive technically)). While the dead spirit jaguar is going around on the island, they cannot be seen, heard, felt, smelled, etc(unless they want to). They can appear via dreams, visions, etc.
please comment below if you have any questions.