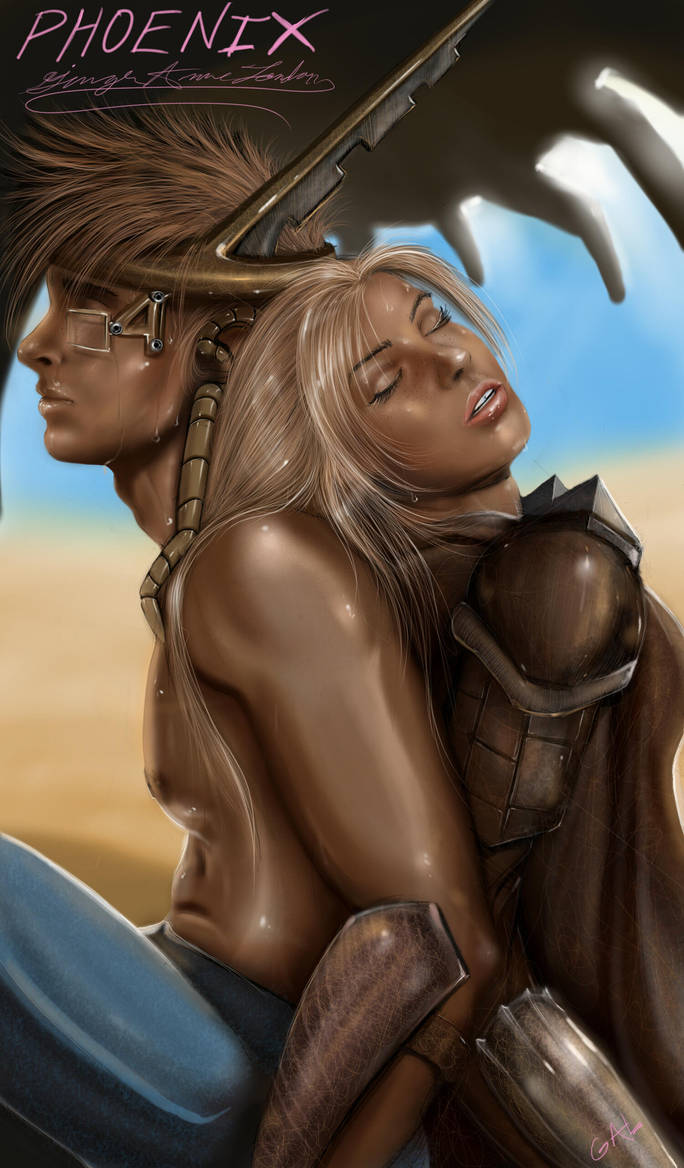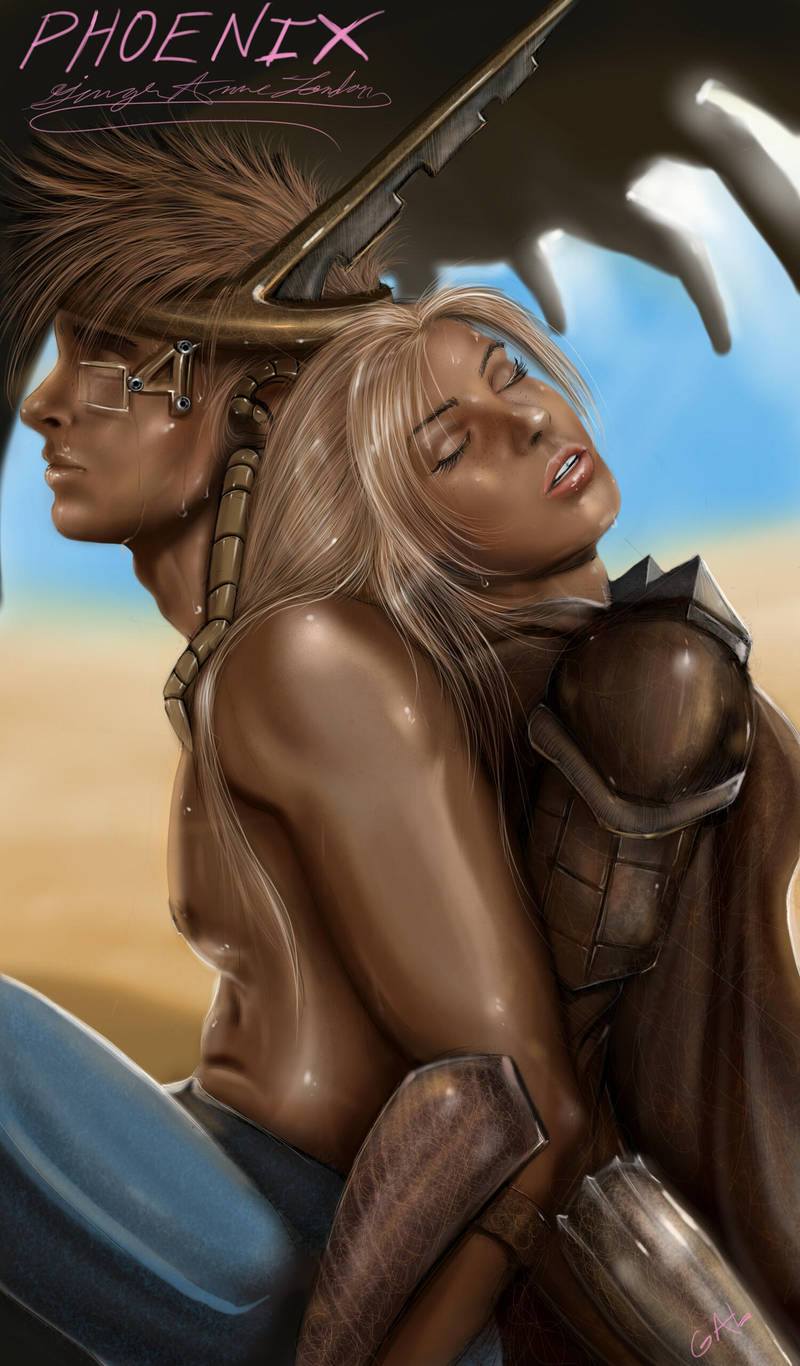 I painted this entirely on Sketchbook Pro. This is for my up coming art book, based off my Dystopian SciFi novel series, Phoenix. Here, Phoenix has been hurt as Leo the handsome rogue let's her rest on his back. Something more than friendship could be between them.

Reply

Oh my...!
Leo, you are SO lucky!

Reply

Haha.. in some ways yes and in some ways no.
Reply

The title of the piece and the image itself made me think this was an idea for a [possible] upcoming movie. Sort of like "Trigun" for American film audiences

Your work is always a pleasure to see. You mentioned in a previous comment that you've been practicing a lot with shadowing, we'll here it shows how far you've grown. It particularly shows in the flesh tone areas. Speaking of which, the sweat/shine on the characters helps to sell the desert "feel" of the image.
Finally. You cowgirl (and funny how she looks a lot like you

) is very pretty. What I wouldn't give to be in the 'rogue's' place.

Reply

Thank you very much for this awesome comment.

I always love your comments. As flattered I am to hear you think Phoenix looks like me, I would say I wish I could look more like her. I made her very young, darker in skin tone, small nose and straight silky hair. My hair is naturally curly. I been straightening it lately and I'm very pale with strong features and a long nose lol. I wanted Phoenix to resemble the california like girl....the "all american girl" look. Someone with maybe slight Latino mixed with Italian backgrounds and maybe some Swedish features. She's from Phoenix Arizona. So, I wanted her to have that western look over my north eastern pale/dead look lol. But I'm flattered you think she resembles me. Even if I am 30 and she's 18 lol. I see her more like a daughter I guess. But her and I have far different personalities. I guess that would show in a child. She's like my baby and I've been working on this story for almost 4 years, so it's like a child. lol Dedicating all my time to it like a mother. It's been beautiful.
But yes, the rogue's place is a good one. lol. Let's see if he can be suave enough to catch such a rare birdie like...Phoenix.

Reply

I'm always glad to compliment. Especially when you've obviously earned it, with these art skills who can say otherwise.

Don't sell yourself short. You're very attractive. I just had a feeling that even though you used a number of difference in her design/look, That the starting point/base was your appearance.
Where can I find a copy if your story. Now I'm
Very tempted to read it.
PS- if you ever need a spare background/minor character in your writings. Maybe you can describe me.

Just a thought.
Reply

I wanted to mention specifically, I like all of your features. You especially have pretty eyes.
Reply

it looks awesome. You can feel the chemistry they have....like maybe they were really tight friends, but secretly he had feeling's for Phoenix. Then one day when he was about to tell her how he felt about her, the deadly virus started to wipe out people and they got separated among the chaotic panic through the city. Or the situation could be reversed. I assumed the character Phoenix is a reflection of your inner self, but whatever. It's just so awesome :3
Reply

lol way off, but fun concept. Here is the description.
The first book in a psychologically thrilling series delves into the mind of an immortal young gun slinging gal named Phoenix. With a heavy taste for whiskey and tobacco, she has wandered a desolate Earth for a thousand years and owns nothing but a gun on her hip, a tortured heart, and the tragic memories of her past.
  Phoenix is haunted by recollections of biochemical warfare that took place a millennium prior in the year 2156. The war decimated over half of the world's population. The water, left toxic in the aftermath, had a mysterious effect on Phoenix granting only her with eternal life. On her journey she is haunted by ancient spirits from the past who share secret messages about mankind's existence. Plagued with a life of solitude, she sets out to find the meaning of it all.
  Phoenix's sanity is challenged when a vision of an ethereal being appears, claiming to be Mother Earth. She has been awakened from her dormant state due to the planet's condition with warning that she is dying. However Mother Earth has come forth with malicious intent. She plans to manipulate Phoenix to restore Earth to a time before humans existed. With her faith in humanity lost, Phoenix struggles with the decision to assist Mother Earth or preserve the future of mankind.
  Hope comes to her in the form of a little boy, Dino, an innocent orphan with psychic abilities who awakens her heart after she rescues him from kidnappers. With her new attachment to the boy, she decides to not follow through with Mother Earth's plan.
   Meanwhile, we are introduced to two villainous siblings, Julius and Alexandra. The vile duo kidnaps orphans to create a technologically enhanced teenage army. They become fascinated with Phoenix after learning about her immortality and plan to use the army to hunt her with the goal of obtaining the source.
Refusing to be ignored, Mother Earth unleashes her behemoth's upon Phoenix and her new companion, Dino. Pushed to the brink, Phoenix is challenged more than ever to make the greatest decision of her existence. Protect the boy or join the spirit of Earth to help eradicate all humanity?



And like I said to Jpew above. Phoenix and I share separate personalities. She is no where near a reflection of myself. If she were anything similar to me, it would be if she were my child, my daughter. Which is all I can see is like. Her emotions, personality, etc... is far different from my own. Not to mention she's from the southwest and I'm from the north east. The only thing we could truly relate to with one another is our strength. But you'll have to read the books to find out more, which I hope to have available in the next year or two depending on how well contracts go with the publishers and agents. Thank you for your comment.

Reply

ohh~ ok. Well I hope it goes well with the publishers and your books get published. Also thanks for the small peak into the world of Phoenix. I hope my style of writing can be as awesome as yours one day. Again good luck.
Reply

Beautiful painting. Now I want get Sketchbook Pro.
Reply

Beautifully done, as always~

Reply

your drawing style has come long way <3 it's like getting better and better, and i though it's possible because you alredy were so good!
Reply

Thank you! I've been doing a lot of illustrations over the past year and with each piece, I try to find my mistakes. I been practicing with shadow and light, really trying to capture some extra realism and dimension lately. With stuff I struggle with, I force myself to do more of. It's been coming along. I'm happy that you have taken notice to it.


Reply

well i have to blind if i woulnd notice it! You draw so much that it's like a timeline of a life! Evolution scale or something, just simply glorious!
Reply