UPDATE:
Congrats to

for winning the prize and helping me reach 50,000 pageviews!

Finished the commission: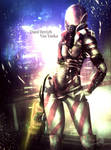 Hope you like it!
~~~~~~~~~~
Hello!
So, I know I've disappeared. Life has been crazy and I'm in the process of trying to open my new agency, which means lots of work and little free time. Never the less, I am working on my last piece of the Shepard Series. I have to thank all of those who are following me and those who have faved my work. I wish I could go and thank each and every one individually, but alas! Time is not on my side.
Anyways, just noticed I'm close to 50,000 pageviews! As a result, I'm offering a comission for my 50,000 visitor. Please send a screenshot if you're the one and I'll be happy to draw/paint something for you!
Thank you and good luck!