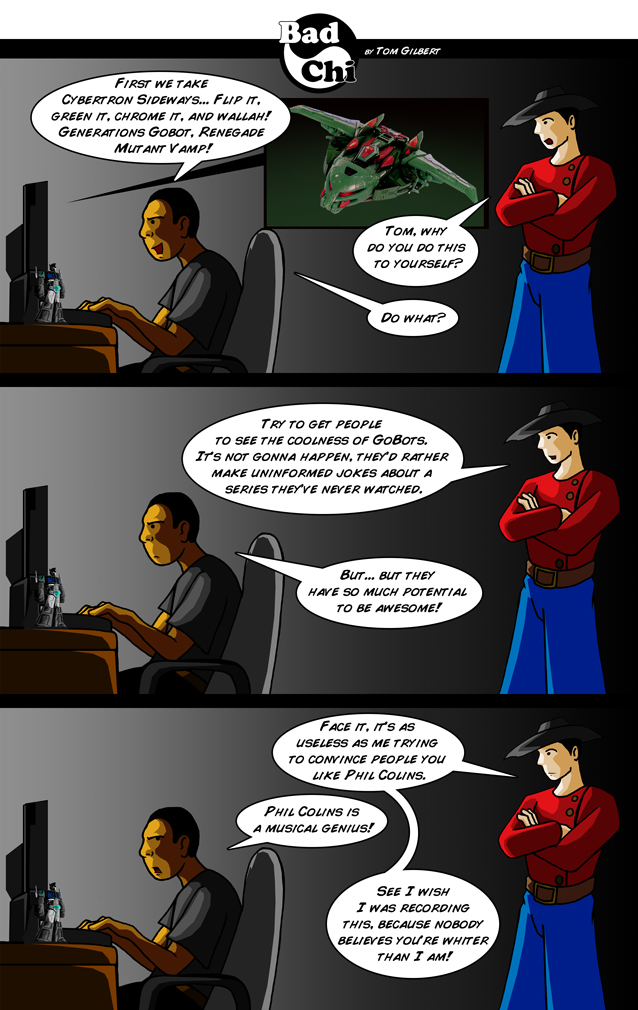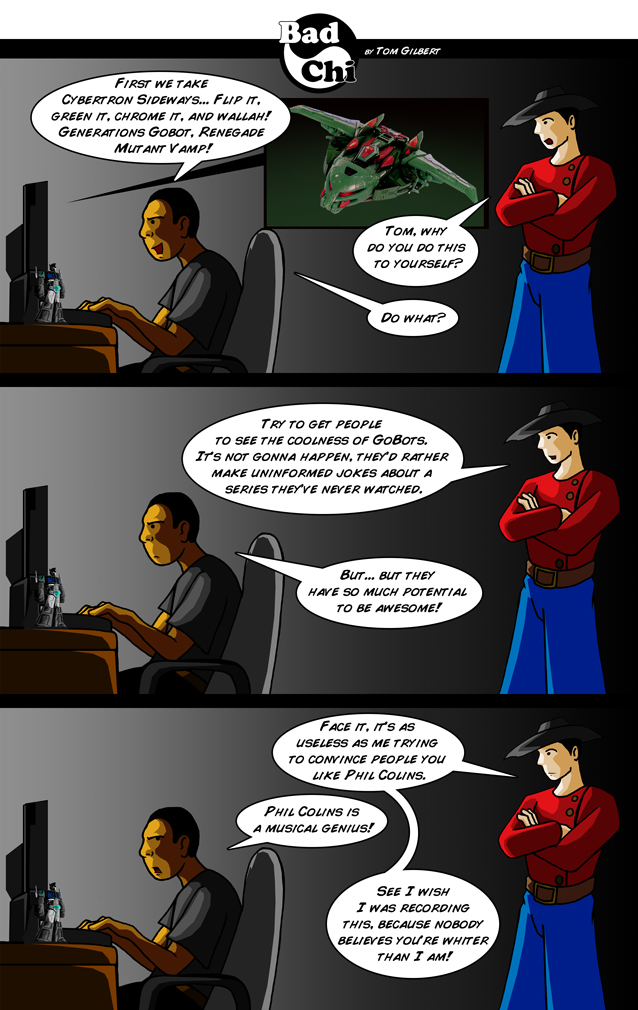 Watch
Next time I'm at Botcon, I think I may have to stalk the Hasbro design team and try to find out which one of them is the secret Gobot fan-then thank them profusely. There are repaints that have been loudly acknowledged as Gobots, but there's a lot that haven't been, and I refuse to believe it's just a coincidence when someone like, say, HFTD Highbrow (who is a
spitting image
of the Guardian Bolt) pops up.
Anywho, you can check out the rest of my digibashes and customs on my blog.

That's because Hasbro-Takara owns the Gobots characters. Tonka owns the show, and....someone else, I think Hanna-Barbara owns the show. The Gobots characters have appeared several times by both name and design in the comics. Crasher herself is named specifically as Transformers Animated Blackout's cousin, and/or Michael Bay Movie Blackout's bondmate Fracture.
I guess that would make Blackout Coptor?
Reply

You know, I never thought about that repaint, but I'm all for it.

Maybe a new head, and throw it into a Botcon set.
Reply

I'd be much more inclined to snap up a cleverly done GoBots set than say, this year's Botcon set. There are enough molds available now that almost all of the cast can be updated.
Reply

Well, buddy, look: I am a geologist. And I know that with LOTS of work is possible find a gold nugget in the proper geological environmental setting...


in other words, it means in the BotCon XDDDDDDD
Reply

Poor Go-Bots. I always wondered why geeks who want to be TFs didn't like them. They're actually cyborgs after all.

I'm going to have to take a harder look at Highbrow.

Phil Collins isn't bad. Its when he starts digging on Michael Bolton...
Reply

I've never known Phil Collins to have had anything to say about Michael Bolton, was that in an interview or something?

As for gobots, you'll also enjoy how Revenge of the Fallen motorcycle Reverb is painted up exactly like the Gobot Renegade Dart. Somebody at Hasbro seems to have a genuine appreciation for GoBots, and I love whoever it is for it.
Reply

Yeah, Scooter is just a pop-culture phenomenon just waiting to happen!
Reply

Aw, Scooter couldn't help it if the writers made him the JarJar of the 80's! The soulless huge eyes and obnoxious voice didn't help either... But you can bet as soon as I find a decent TF base; Generations Scooter!
Reply

I'd buy that Vamp - it's the perfect choice for a recolour

Reply

Thanks! I think if they really want to get one more use out of that mold (I'm kind of surprised they actually managed to find two/three extra uses for it) they could turn it into Vamp and be done with it. I'd buy the hell out of it! Plus, it'd be a great wink/nod to the fans and introduce a cool character to the kiddies who aren't familiar with her.
Reply

"Nobody believes you're whiter than I am. "

Haha, that line is gold. XD
Reply

I can't even begin to tell you how many times he's said this to me

Reply

Phil Collins is good, Genesis is better.

Reply

A lot of people I know say the same thing, but I disagree. I think he's done amazing things both with the group and on his own. I absolutely love "I can't Dance," "Land of Confusion,"and "Jesus He Knows Me", but I can listen to "In the Air Tonight," "Son of Man," and "Dance Into the Light" all day long.

Same thing for Rob Zombie, in college I kept More Human than Human on infinite repeat, but did the same thing when I got Hellbilly Deluxe.
Reply

Granted. But then he's also done "Sudio" and there's no forgiveness for that.

Reply

I disagree again, I love that song too

. True, Sussudio as a filler word is silly, but works as well any "non-word" Michael Jackson or Prince have used. I also enjoyed the horns quite a bit in this song, for some reason they remind me of Peter Gabriel's Sledgehammer.
Reply