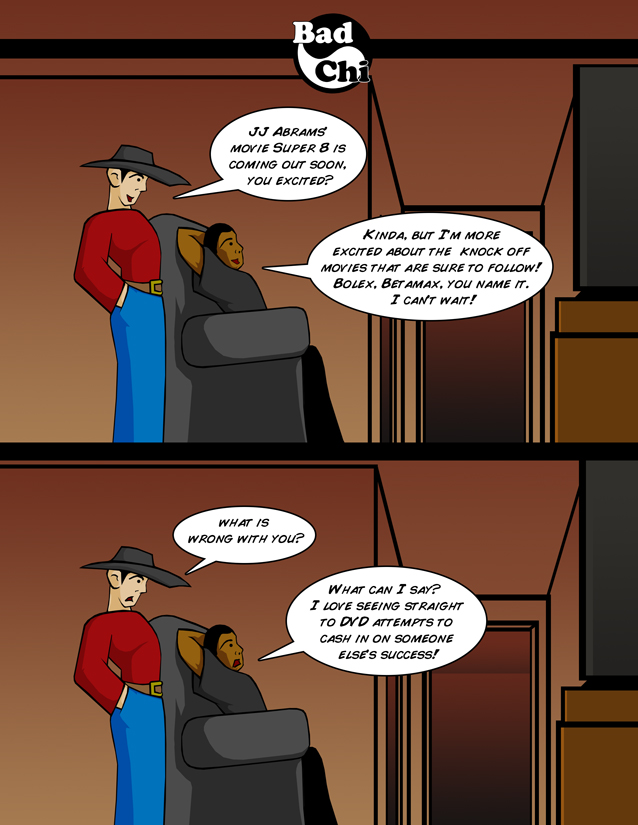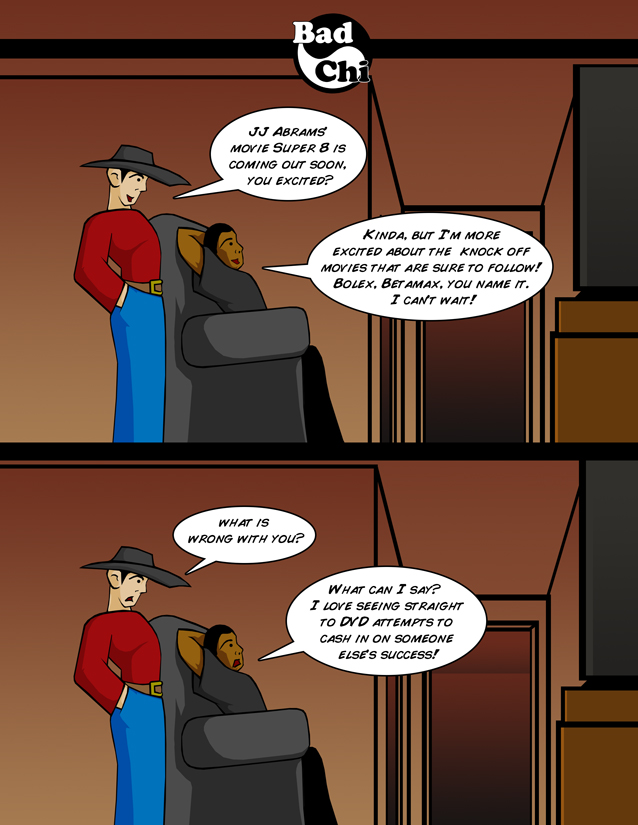 Watch
Though I'll never endorse Transmorphers, I've been thoroughly entertained by a lot of lower tier horror films. Some of the jump-offs from the whole shaky-cam style have been done well. Paranormal Activity spawned Paranormal Entity-which was good in concept, but a bit rough in its execution. The Japanese take on Paranormal Activity (called Paranormal Activity:Tokyo Night) was pretty good, as well as a few others like Deserted House, 8213 Gacy House... most titles containing the word 'House' now that I think about it.

First of all dear boy, I have Piranha 3D on disc so don't worry about that...and even better - do you know they're already working on a sequel?! Joy of Joys!!

Too bad Kelly Brook won't be able to reprise her role... Helloooooo Nurse!!
Reply

No worries, I'm sure she'll find her way back to the big screen. She'll just float to the surface with all that... er... acting ability. Yeah, acting ability...
Reply

So, are you saying I shouldn't have enjoyed "Roadkill"? Cause at 3am it was pretty darn entertaining my friend!

I want an RV with pretty coeds in it and a giant bird of prey to eat the competition! Plus, I've seen enough of these movies to know how to get out alive! And get the girl!

Oh, and take out the bad guys too! Don't worry- within a few months... The Simuroc VS. Sharktopus!! It'll happen! Maybe Tiffany and Debbi Gibson can be in that one too!
Reply

You most certainly should *not* have enjoyed that movie! Your t.v deserves better than that, you should have at least popped Piranha 3D into the BluRay if you wanted bad acting, gore and busty babes all rolled into one!
Personally I'll be happy if Scifi gets their act together and gives us "Fire Komodo vs Ice Gorilla" which'll put them in just the right position to propose a live action Primal Rage

Reply

Oh seriously, we all know it's because you like sparkle, skittle re coloured toys and you've probably handled a few too many with lead in them, so now you also enjoy knock off movies too...

Reply

Haha, a KO just isn't a KO without a little bit o' lead! I think it helps me enjoy the second rate films just a little bit more

Reply

Skittles Deathy is shortening your lifespan!
Reply

Haha! I wouldn't be surprised, but at least I'll go with a smile

It's funny, I dug my Deathys out of storage last week and kinda sighed. I think I officially have every single bootleg and incarnation of Deszaras *except* for the original toy. I even have the Botcon version! One day a complete G1 Deathy will be in my collection so he can join his brothers Red Geist... Fruity Tuty Deathy Scooty... Deathy Carus... Botcon Deathy... Mini Deathy... and I think two others I can't recall at the moment. But one day!

Reply

The knockoffs are awesome! And sometimes even better than the originals! They made one for Sherlock Holmes and it had Dinosaurs in it! Journey to the Center of the Earth, not only DIDN'T have Brenden Fraser in it, but Ricky Schroeder (even after Silver Spoons, he still has it!) has been allowed to act again! And don't forget the straight to sci-fi network (oh yeah, I'm using the old spelling of it!) sequels of real movies! Lake Placid 2 & 3? Awesome! Can't get enough! And start making Tremors movies again dammit! Okay, sorry getting worked up....just a sensitive subject is all...

Reply

Arg, SciFi... I agree, the current 'Syfy' spelling is the network being ridiculously ashamed of what *made* the damn channel so great originally. As for their movies, super arg! Those bastards ruined Puppet Master vs Demonic Toys and mishandled Cory Feldman at the same time! I really wonder what their budgeting meetings are like, I keep thinking that Sharktopus would have been a much more entertaining movie if they allowed it to absorb the money they wasted on Roadkill-that movie never needed to happen, just give that money to a better idea!
Reply

What about movie sequels that cash in the success of their originals, like Final Destination 5 (you think THE Final Destination would restart the clock....)
Reply

I give a little more leeway to sequels depending on who's working on them, but yeah, it's very rare to find a movie with sequels I actually enjoy. Of course, there are some great ones-Ghostbusters 2, Gremlins 2, Back to the Future 2... Blues Brothers 2000 though... yikes.

Haha, horror on the other hand.... I'm almost not happy unless there *is* a sequel, at the moment I'm having a hard time thinking of horror sequels I didn't get some enjoyment out of.
Reply

Have to believe ya. I am mildly entertained by the notions that these people are literally just making movies in the hopes that you'll pick up their movie and rent or buy it, believing it to be another film entirely
Reply

I'm always amazed when I see them pop up because people got paid to make it! A whole cast and crew, writer, director, grips, I'm blown away by the idea that money's being paid to people to create some of the most God awful stuff. Makes finding the gems really hard.
Reply

I know. The profit must be so miniscule and they seem to relish in the obscurity and the audacity in such attempts. It's so new and so strange, it's like a train wreck, you can't stop watching no matter how bad it gets!
Reply