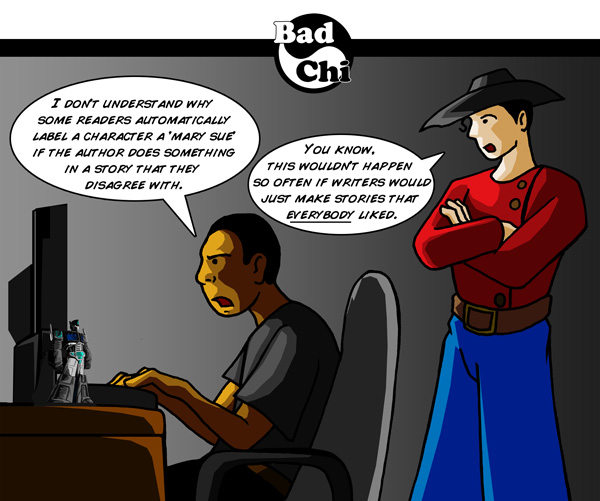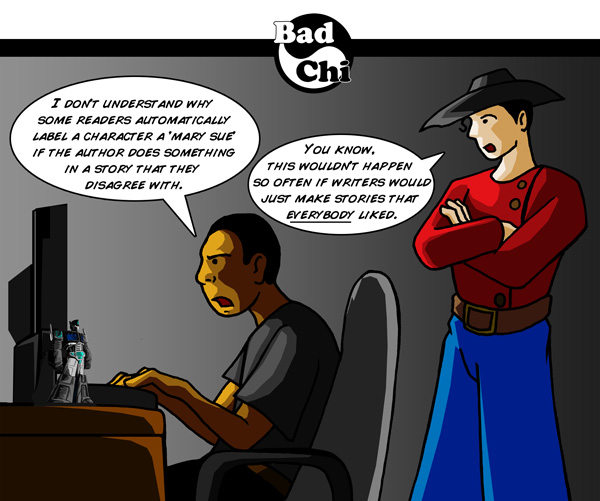 Watch
What, you mean you can't please all of the people all of the time? P'shaw!

This is what I call dictatorship.... there is a control that does not allow you go beyond one milimeter from what is called canon!

Reply

Tell me about it, some people have a hard time dealing with things not playing out exactly the way they themselves would have done it.
Reply

I agree. This is what makes me afraid in post a char in different style, but oh well. I already got some complains

Reply


From what I know a sue is suppose to have an unreal amount of something positive but when they always contradict themselves it gets annoying. Like this girl/boy is TO sweet,cheeful,pretty,powerful etc but at the same time this other girl/boy is TO gloomy,ugly to be liked as much as they are,weak,ect.
I say just write them however you like.

Reply

Reply

What typically happens is some idiot writes about an original character and a popular series character together. That slimed prompts Mary Sue labels. As for what you mentioned, what do you mean exactly? Someone wrote a fanfiction with their OC but took the series in a different direction?
Reply

Yup, there are a lot of people out there who write things that don't help better the situation. I give a lot of leeway to people who aren't past their teens, but after that, proper writing techniques and story progress should apply.
Reply

*pairing, not slimed (not even sure how my phone came up with that)

Indeed. I hate it when older people write that garbage. That's just sad.
Reply

I think people have gotten a little loose with that term and it's starting to lose its sting.

What prompted this observation, might I ask?
Reply

I think once the term (kind of like 'Hack')came closer to common knowledge amongst readers, it also became the knee-jerk reaction to something they don't like within a story. Not everyone, but they're out there.
No specific incident prompted this strip, just something I've observed. It's also part of the reason why I don't venture into the comments section of most things I read online.
Reply

Yeah, that's a good policy to have. Comments sections will kill your faith in humanity quicker than WWII footage of Nazis.
Reply