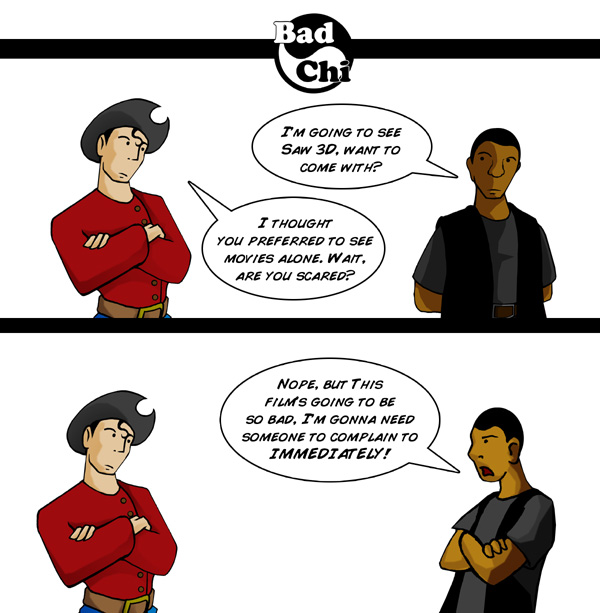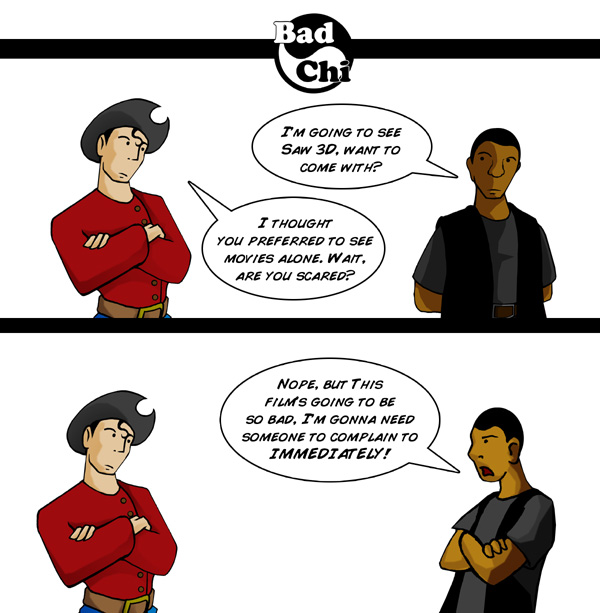 Watch
The Saw series has turned into the world's worst date. It was okay at first, showed some promise, but now it's just dragging on and on. You wish it'd end, but now you've committed so much time to it, you kinda feel obligated to see it through.

ouuuuch, thatīs why bad movies earn money, the obligation feeling...

Reply

I don't! My stubbornness doesn't extend nearly THAT far! Give it up buddy- some series can go on forever or should (damn you cartoon network! Bring back He-Man!) But the Saw run should be left to die in a desolate sodden field somewhere is the abandoned rural cutbacks of a forlorn waste of land and life. Like South Carolina.

Reply

Agreed! When did Cartoon Network become property of dribbling idiots? My theory is that they secrtetly fund the Saw movies and use the revenue to then fund all their horrible in-joke shows.
Reply

I don't get the whole Saw love thing either
Reply

1 and 2 were okay, but it really REALLY needed to end after say, three. This last one was such a boring formula I could already tell you what's going to happen in the next one.
Reply

Kinda like Smallville. Though, this last season has been pretty epic.
Reply

I gave Smallville more than its fair share of chances, I just... hate it. I hate how all but a few things have been handled. I'll give it some credit though, what few things it nails, it nails well. Characters like the Flash and Zanatan were handled well I think, but for the most part I found the series impossible to stomach.
Reply

Aquaman they got right too. Oh, and the Justice Soceity of America, Geoff Johns wrote a powerful two-parter there. And I love how they made losers out of the Wonder Twins.

But I do recommend giving this final season a chance. It's been awesome, especially the 200th episode where Brainiac 5 visits from the future and shows Clark a day in his future.
Reply

Will someone tell me what the deal is with 3D films and TV nowadays? I REALLY don't see the point...

If WWE or TNA start showing wrestling in 3D... I'm walking...
Reply

I'd be all for some 3D movies, if only they took advantage of the fact that they're 3D. So far, the only movies that seemed to remember that was My Bloody Valentine and... crap, that's the only one that really stands out. The other glut of films felt like they just tossed in a few bits of 3D because they had to.

I have to admit though, if done right, I'd be solidly behind some 3D wrestling! It's the future! Till the next fad, then everyone will (hopefully) forget again.
Reply