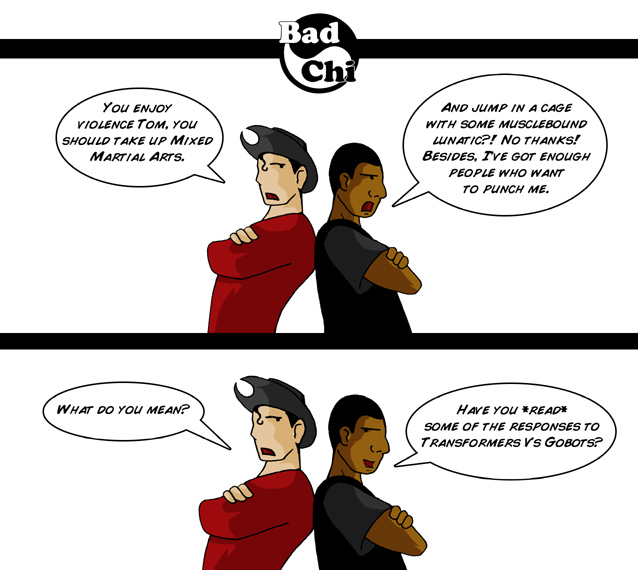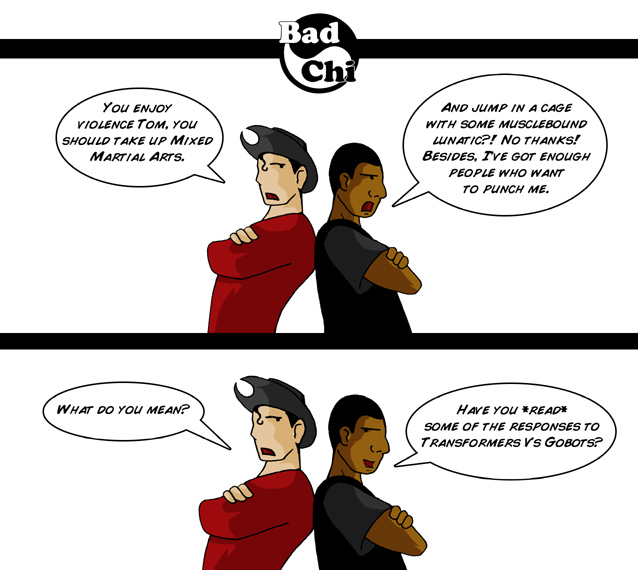 Watch
Sometimes I log back into my Tigerburn

account just to do some housekeeping and was surprised to see random comments still hitting my Transformers vs GoBots stuff. Most were fine, but there were a couple of really angry people who felt the need to tell me what I was, where to go and how to get there! I guess I'm glad the story moved them so much-but not so glad that I didn't flag some of the more over the top responses as spam. I mean, I love me some Transformers
and
GoBots, but seriously... they're toys.

well, this is interesting see how some people just leave things so to the personal side... and see is just a toy, not something related to reasl life

Reply

A lot of people have trouble making that distinction, you can tell by how much they love caps lock and exclamation points

Reply

Guess so... though I love the stories of both myself. Mostly Transformers though.

I hate to offend Gobots fans it's just... really, Gobots could use some improvement in a few areas and it's not impossible for that. Actually a new Gobots game or series would probably be very cool
Reply

I think even the most fanatical GoBot enthusiast (like myself) is happy to admit that they were really staggered in almost every area by being in the hands of Hanna Barbera and Tonka. It's the people who refuse to acknowledge the few diamonds in the rough within the series (better development of female characters, more believable interactions with humans) that are the first ones to hate on GoBots with no real reason. Hell, I'd be willing to bet most of the bashing comes from people who weren't even born when the series was out.
I, for one, would kill to have a new GoBot series, but as long as Hasbro owns them (and they will
never
</b> let that property go) we're just going to have to be content with the homages we get sprinkled into the main line. To be fair, there have been some great ones even if they don't come right out and say "This is so-an-so." Take a look at Reveal the Shield Highbrow, who's a dead ringer for the Guardian Bolt, or the Powercore Combiner Searchlight, who's only a few shades away from being the Renegade Twinspin. So, all things considered, I'm content with things the way they are for the time being, because little by little my updated Guardian and Renegade ranks continue to grow

Reply

True. I still liked my idea to do a remake of Gobots but, in the years since I lost my original texts... remakes have buried our film economy.

I feel saddened.

Though I would like to see a return of the Gobots. Forgive me for saying it but, I'd be happy with a little appearance in an episode or two of a new Transformers series. I was even pleased with the idea of Cykill appearing in comics despite him being killed off so quickly and frequently...
Reply

I would love that as well! I mean Crasher has reappeared in the Transformers fandom. She was remade into Fracture for the Bay-verse and Prime series, and she's stated to be Blackout's cousin in the Animated series.
Smallfoot, Pathfinder, and several others had a small arc in one Transformers comic. I forget the name, but it had to do with the Transtech-verse. You can find a synopsis of it on TFwiki, I'm sure.
But I would LOVE for Gobots to come back. I think it's make a GREAT young child cartoon, like My Little Pony: Friendship is Magic. It does sadden me to know that people write it off as "bad" when really, it wasn't. Was it GOOD? I can argue for and against, and I'm a fan. It's just that, for the times, it was BETTER than Transformers. More female characters, more racially diverse characters, and at times, a more coherent overarching plot.
Nowadays, the problem is that Hasbro-Takara owns the characters, Hanna-Barbara (I believe) owns the show, and Tonka owns the toys. And NONE of them want to talk to the other two.
Reply

Whoa you get comments like that?
Reply

Oh yes, and to an extent I love it because it means the story came out better than I thought

If they were saying things like "Your grammar is terrible!" or "Learn how to use an adverb correctly!" I'd actually be upset.
Reply

Where are these comments? I need a good laugh and reading the ramblings of any Trans/Go loony Fan must be entertaining.
Reply

Reply

I will have to check them out when ever I get some down time! I haven't been on DA since January!
Reply

In the beginning there was a lot of resentment because the story didn't follow the typical "TFs rulz, GoBots sux, LOL!" mentality, but as things progressed and new parts of the plot came to light, people seemed to be a little more on board.

Regarding that link; Wow.
I applaud your attempt to inject reason into that... mess. It's unfortunate that the main respondent is doing what I expected from someone who thinks there's nothing wrong with that kind of humor (or lack thereof) in the first place. It's the internet equivalent of sticking your fingers in your ears and shouting so you don't have to listen to reason.
On the upside, I did appreciate the sharp decline in generic "This is hilarious" responses after it was pointed out that no, that is not funny, and this is why. The troll can yammer on all they want, but the fact of the matter was, it's just not funny.

Sometimes it's hard for me (online anyway) to figure out whether or not someone is just arguing to be a troll, or if they truly believe some of the ludicrous things coming out of their mouths.
Case in point, I honestly didn't think anyone who had an opinion of the Twins from Revenge of the Fallen actually subscribed to the thought "Anyone who says the Twins are racist characters, are really racists themselves because they're just looking for it." I always laughed that off as a funny end of the spectrum just like there were others on both sides.
BUT, I actually met a guy at Botcon and for some reason the topic of the twins came up. This guy, who I'm sure is a good guy, actually said the above thought, out loud, with great passion and conviction. I could not believe someone was presenting that line to me as their actual stance on the Twins. I stared at him a moment like "Did you really just say that? Really? You really think that?" Unfortunately he got dog-piled after that, but egads, they're out there.
Reply

Ugh, the "Gobots sucks" meme got old the second time the Rebel Gobot Leader Whose Name I Can't Remember Right Now got killed in the comics.
Oh you haven't seen the entire argument. It continued on a Livejournal community and on her journal:
[link]
I don't regret a single word I posted... I probably would have continued if she hadn't blocked me but I know I wouldn't have changed her mind at that point.
I don't know if the Twins are stupid or not... Bay's an idiot, so it could be entirely possibly that the glut of "black stereotypes" were unintentional. The Twins are just
stupid,
plain and simple. Anything beyond that is just extra offensiveness.
Reply

Yikes, it does get worse.
Funny to see that a member of that argument is also someone who cursed out the wife of the guy who runs Botcon, threatened to raise a ruckus at a panel and then didn't seem to understand why the owner arrived with security and threatened to have them removed. Not the kind of person I'd want siding with my stand on pretty much anything.
Reply