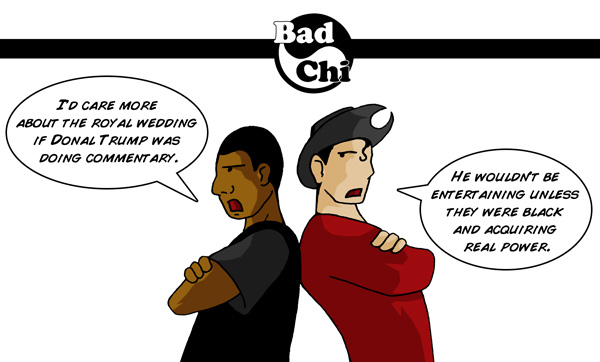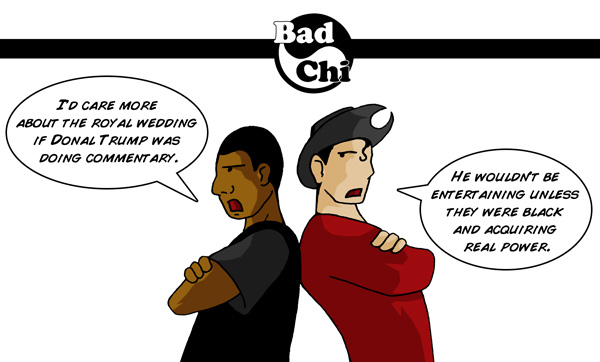 Watch
At the end of the day I guess it comes down to me 1) not caring about some goofy kids getting hitched who have zero bearing on my life, and 2)getting further confirmation that Donald Trump's an impotent, imbecilic douche.

I get a point? Great! I had NO idea we were keeping score! Rock on, one more for the good guys!
And look at it this way buddy - the more coverage that's on about the royal wedding, the less that's on about Jersey Shore, Paris Hilton and other stuff that's even MORE painful to watch! It all is a pointless suck-fest, but what is the lesser of the evils?

Think about it...
Reply

Yeah but at least those atrocities are *our* suckfests... but I guess none of them matter since I don't watch it unless it appears on the Daily Show or Colbert Report

Reply

Yup, sums up my views on those two topics nicely.
Reply

Well, at the very least, Leno's been on a role with the royal wedding jokes. Though at this point I'm no longer apathetic and find it a nuisance since the BBC preempted Doctor Who reruns for 24/7 specials on the royal family.
Reply

It's giving me flashbacks to my college days when Madonna went into labor and my roommate's drama buddies kept running in and out of the room giving minute by minute updates.
Reply

Reply

Yup, they were very high pitched and very annoying. Had I not actually been stuck in the room I wouldn't have believed it was happening.
Reply

Reply

I would loved to have been anywhere else, but I had papers due and the only typewriter we had was in the middle of the Madonna hub :-/
Reply

Typewriters, Madonna... do you have any idea how much that dates you?
Reply

Seriously, I don't get why everyone finds it a big deal when it's no concern of theirs.
Reply

Neither do I, the appearance of royal wedding posters in the store still befuddles me.
Reply