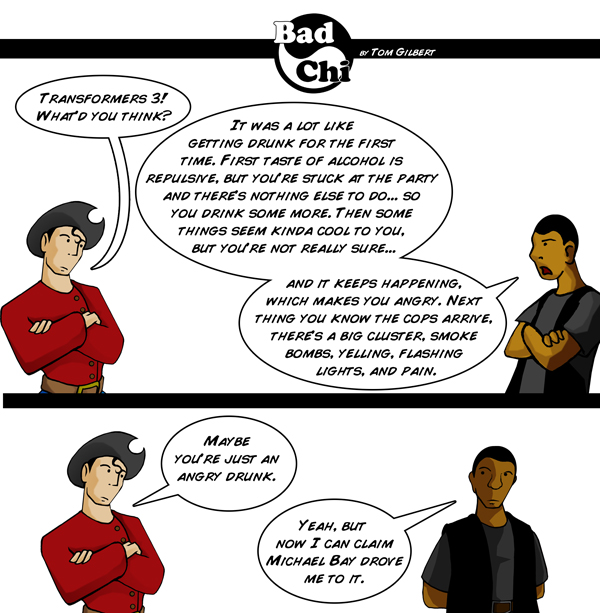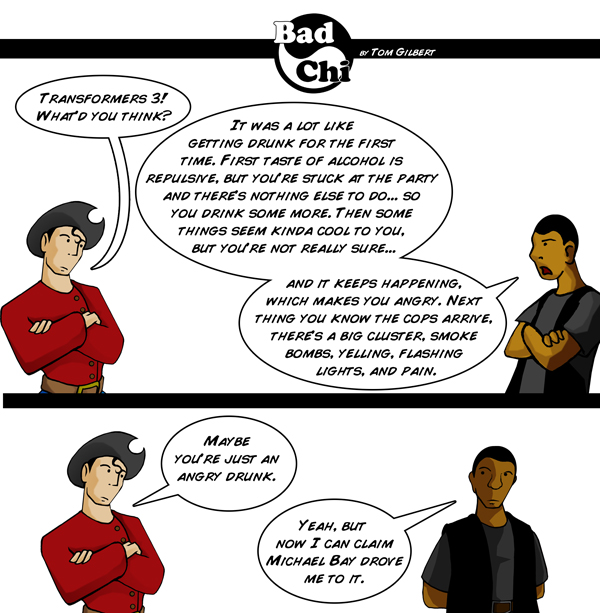 Watch
I was able to attend the New York red carpet Premiere for free this past Tuesday and I have to say, why in the world would
anybody
pay to be at one of these things? The setup was nice (I posted some pics on my
twitter
), but after about two hours of standing in the sun being reminded that personal space was non existent, it lost whatever charm it had real quick.
We got to see a bunch of celebs and their... whoever it is they bring with them chatting amongst themselves and the press while they pretty much ignored the fans.
Notable exceptions though, Tyrese LOVES him some fans, he must have done three laps along the red posing and pointing. I almost want to forgive him for being in Baby Boy. Michael Bay, to his credit, jumped down into the divider and signed a lot of the free shirts we were given. If you were a woman, he signed your shirt, if you were a dude, meh. Also, Rosie Huntington-Whiteley may not be a good actress, but she also walked the fan median and signed pretty much every shirt put in front of her. So now I've got a Rosie signed shirt I figure I'll either make a prize giveaway or give to my nephews. They're young, but they stop in their tracks when a cute blonde pops up in a commercial.
As for the movie itself... I'll just say I'm glad it's done, looking forward to seeing who's going to take up the reigns for the next go-round.
Also, I'm not a drunk


Woa! Well, must be at least interesting see that you can see those red carpet premieres

Well, I thought they were done at night, and not by day

Reply

Thankfully we have longer days or the night definitely would have descended on us. I'd hate to have been stuck out there in the dark though, there were some weird creepy people clogging that area.
Reply

Honestly, it did erase the bad taste in my mouth that I got from the second movie, so it wasn't all bad.
Reply

I dunno, I was hoping that this would be the better movie by comparison, but I don't know if the stand-out scenes in this one are better than some of the stand-out scenes from ROTF.
Reply

Reply

Let's see... I actually kinda liked the opening scene in ROTF, as well as the forest fight and Devastator's combination. After I figured out what the f was going on, I even warmed up to BB vs Rampage. In DOTM though, the only scene that I thoroughly enjoyed upon a second viewing was the highway chase/battle. But then, I loved the Dreads long before I saw that sequence, so that just made it even better.
Reply

I'd think the most exciting part about this movie sounds like it was standing in line with Tyrese doing the rounds. And despite the fact that Ms. Whitely was used as nothing better than eye candy for lecherous 12 year olds, she seems rather nice. But like all Bay movies, just the trailers leave me feeling like I went to a party, got drunk, sick, exhausted, and now I'm missing --- something -- plot, characterizations, dignity for my gender, heroes of my youth turned into psychopathic killers for reasons I can't explain-- that sort of thing.

Your comic is the most entertaining thing to come out of the movie. I look forward to a TF reboot.
Reply

I have to admit, as much as I don't care for the movies, I come to just see them as a necessary evil that funnels money into the department of Hasbro responsible for giving us more waves of Generations. Kinda like how I love me some hamburgers, but I know good and well there's all kinds of death and slaughterhouse horror going on in order to get it to me.

I'm looking forward to a reboot as well, give someone the same budget with a different vision and let's see what happens.
Reply

I think most people have a cousin he reminds them of.
He's absolutely a fan, he met Peter Cullen at Botcon 2009 and completely geeked out when he realized that was the guy who did Prime's voice. Hugged him and asked him for an autograph.
Reply

At the risk of sounding lisomething like Fanzone, this is why I stopped at the First Michael Bay TF movie. At least the red carpet event was something memorable to experience.
Reply

I'd call it a lesson learned, and I'll make it a point to never ever attend one of those things again! Not unless I'm the one walking the carpet.
Reply