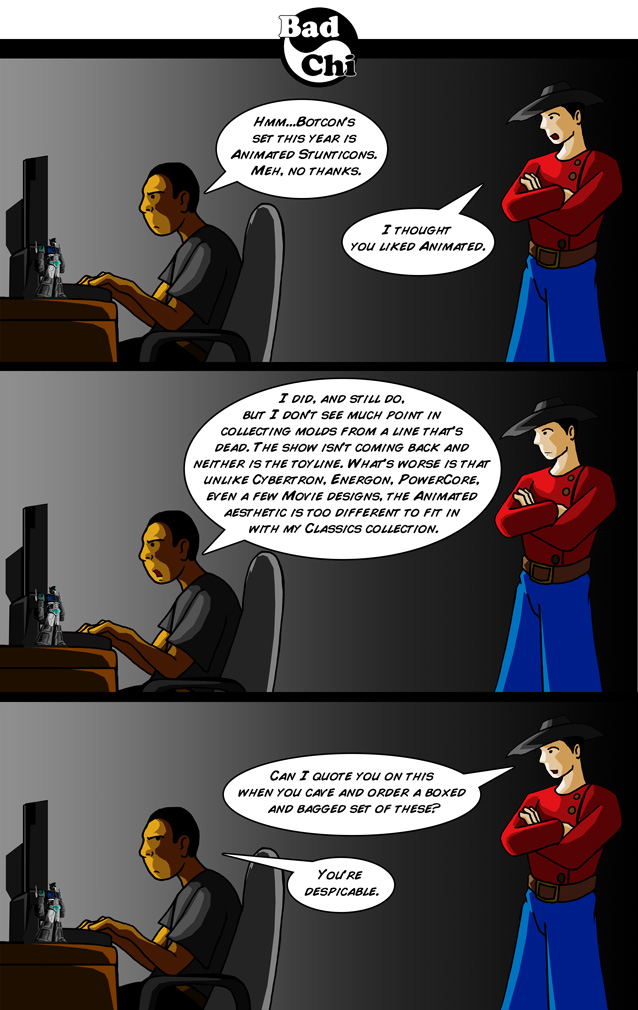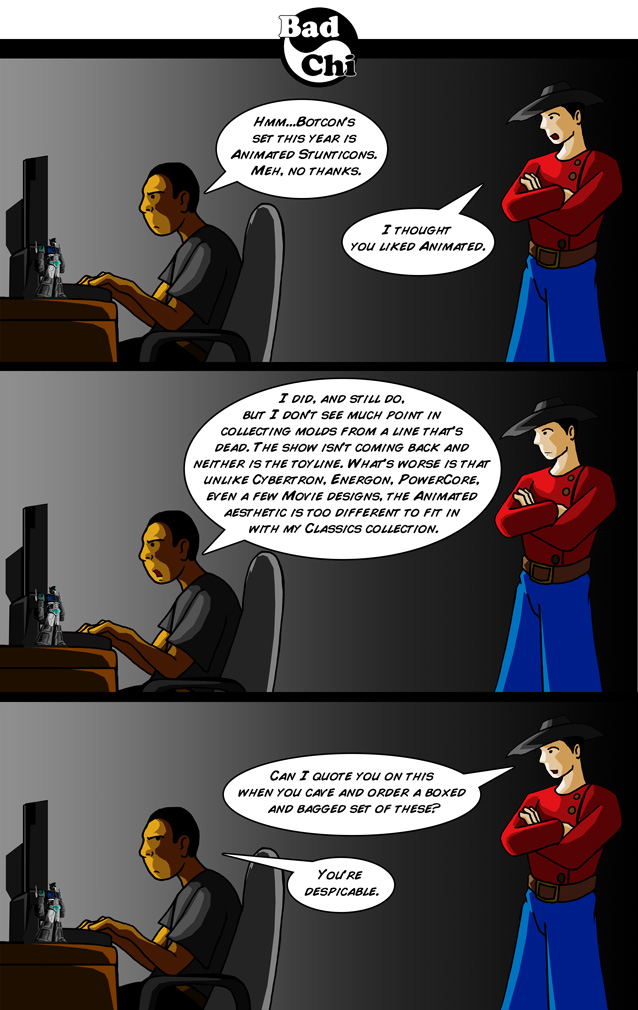 Watch
After all the speculation and chatter, FunPub revealed a couple of weeks ago that the theme for this year's set will be Animated, giving us the Stunticons using the Animated molds. I'm impressed that they managed to get permission to use those molds because they all but said Animated was not an option for them. I'm also happy for those who wanted more Animated goodness, but for this fan this set misses the target painted on my wallet.

Haha! It's a pretty funny one here. Love that.
Reply

Thanks! I'm actually kind of glad I have little to no interest in this set since I don't think Botcon's going to be within my budget this year.
Reply

S'funny, I feel the same about Animated. Love the figures but they don't blend in with the Classics at ALL and those are my main collecting priority. It's funny to see someone with the exact same thoughts as me.

But what REALLY bugs me about the Stunticon set is that I just don't like cross-faction repaints. I can get two bots on the SAME SIDE sharing a body type, but unless there's an in-story explanation it doesn't make much sense for enemies to mold themselves to look alike.
Reply

I agree, I'll accept most weirdness if there's a decent story explanation for it. I think the going story for the Stunticons is that the Decepticons purposefully styled them after Autobots. They might change it for Botcon, but I definitely recall reading that somewhere.
Reply

That could be cool. Motormaster molded after Optimus would actually be pretty awesome.
Reply

My immediate thought was Wreck-Gar for Motormaster because of the boxy head, but I've seen people suggest a black Prime with a remolded head plus the Wingblade armor. *That* would actually look really cool, so I'm curious to see what direction FunPub is going in. And because I have such a weakness for black repaints, I probably will get that if it's what they wind up doing.
Reply

Heh heh, my own first thought was Motormaster, but being a "clone" of Optimus would be an interest homage to the rivalry Motormaster had with Optimus back in G1.
Reply

actually i remember them saying that there would never be an animated set,barring the cheetor exclusive this year.at least the figures don't look too bad though
Reply

That's what made this year both a surprise and disappointment for me. I'm impressed that something must have changed for them to be allowed to use the molds, but I had grown comfortable 'knowing' that there wouldn't be a set using molds I couldn't fit in with the rest of my collection. So much for that

Reply

Haha, quote you. He got you there XD
Reply

That's why I'm always ready to bribe him with with Godzilla movies

Reply

Uhn! So there is a kind of.... wall between the Classic Transformers and the Animated series? ^^
Reply