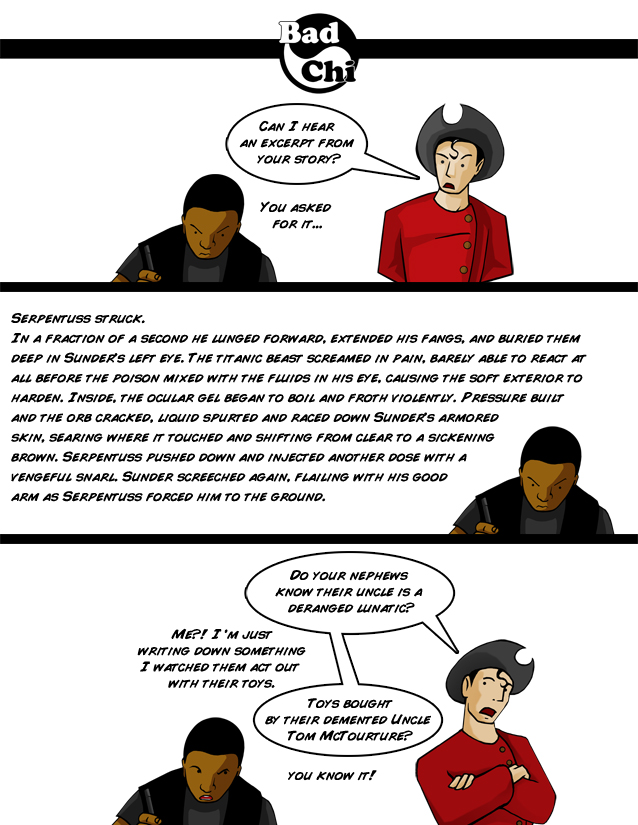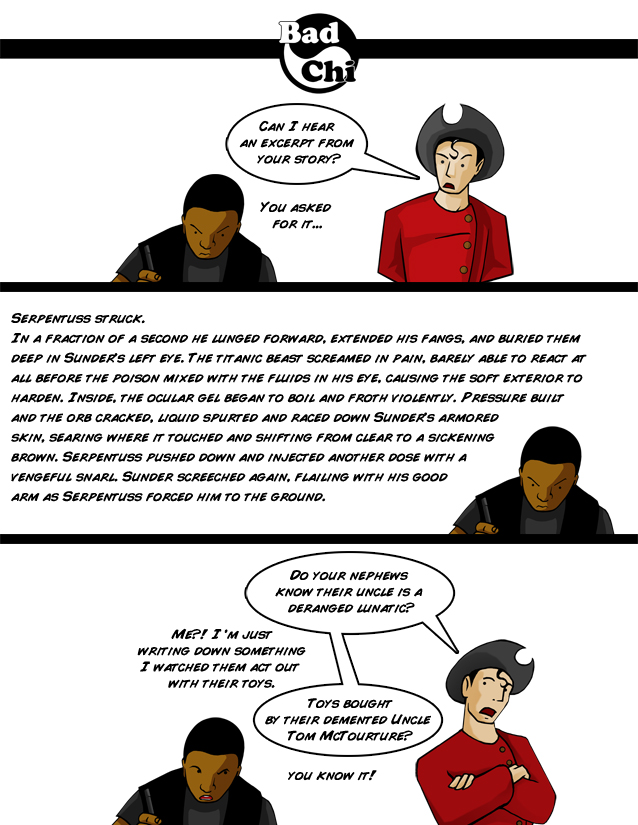 Watch
Sometimes kids say the darndest things, and can be interpreted and transformed into some mighty interesting and entertaining pieces of fiction. Just ask AxeCop.

Reply

You still write with a pen and paper?
Reply

Yup, and now that I've had numerous hard drives go kaput I'm really glad I do. Unfortunately, my ocd inclines me to cram two lines of tiny written text per line, so it's a pain in the tail to keep track of where I am when I'm typing it up.
Reply

Interesting. When I was a kid we didn't have a computer and I had to hand-write all my essays and I absolutely hated it. My hand would cramp up. It wasn't until I got a computer that I discovered my joy for writing. Of course, I back everything up meticulously for fear of crashes, but I haven't really lost anything yet.
Reply

Computers saved me from the dreaded typewriter. I have to look at the keyboard to type and was forever messing up term papers until I stopped caring and just X'd out my mistakes.
Be glad you haven't had to deal with losing work in crashes, even though I try to back up my files on a consistent basis, I still get caught every now and then. Just this past month my laptop hard drive went into sleep mode and never woke up, taking a lot of new Bad Chi with it (oh the irony)!
Reply

Ha! I have three nephews, and I can't wait until they're old enough for me to give those sorts of gifts/play those sorts of games with them. Right now its just backetball and brio trains... But someday, I will be the crazy uncle you just illustrated!
Reply

I'm in heaven now that I can give them Battle Beasts and watch them launch an attack against the Ben 10 aliens

Thankfully my brother-in-law is both a sports nut and a bit of a video game/comic nerd, so they get a happy mix of invaluable sports knowledge and still name over twenty Mega Man Robot Masters.
Reply

You must see something entirely different when you watch your nephews play. XD
Reply

I may embellish a bit to fill in the details, but the screaming and the crash-boom-bangining is all them

Reply

Woo Woo Woo, You know it? XD
Reply

I'm glad that guy's finally getting some screen time, though it saddens me to see that Robbie in TNA-who I think is doing a better job of the Jersey Shore gimmick than Ryder-just got saddled with Rob Terry.
Reply