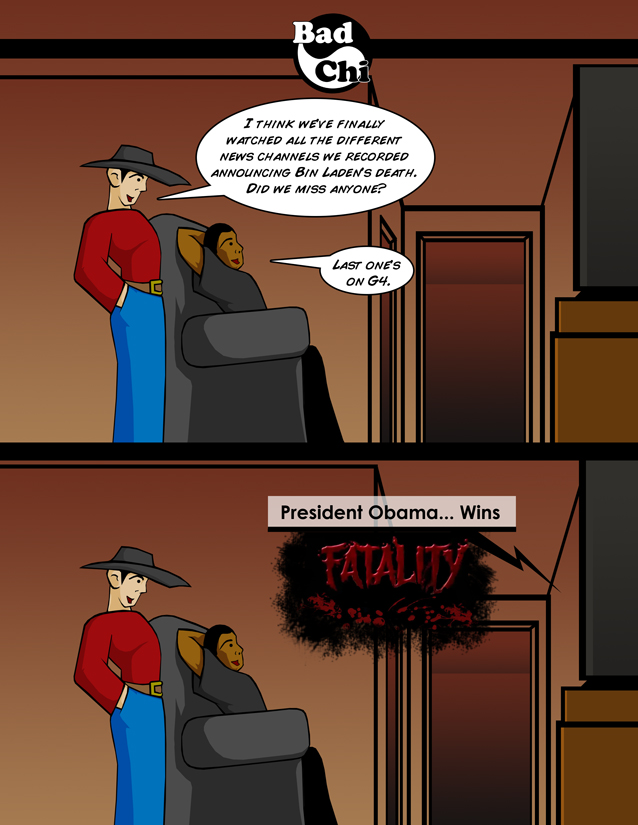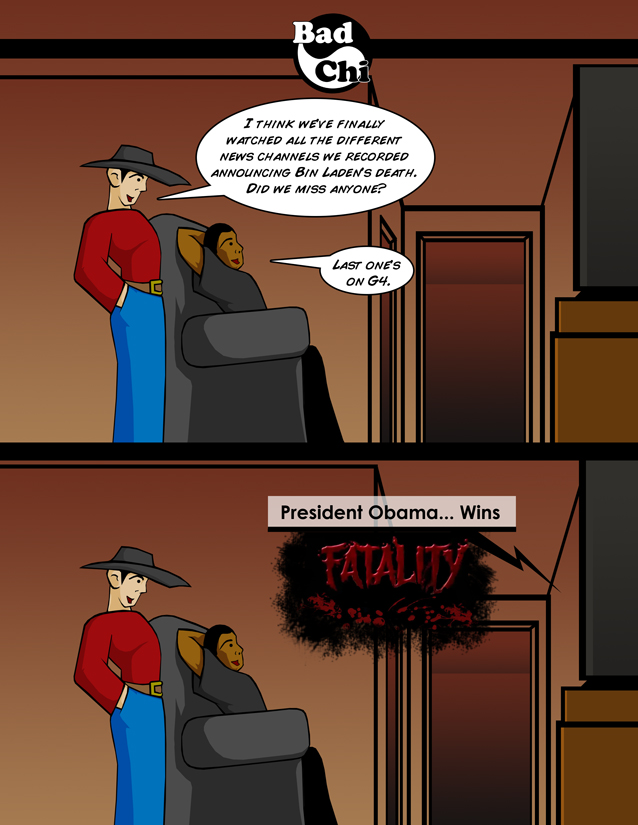 Watch
HA!

Mike and I thought music would have made the president's announcement all the sweeter. I was thinking something like 'Electric Avenue', the Terminator theme, or Real American like he used at the dinner. Mike thought "Move Bitch" would have put a real exclamation point on the whole affair.

Man, at least something original after all that repetitive news about Obama´s death!!!!!!!! I would love see this actually happening on brazilian TV.... FATALITY!!!! XDDDDDDDDD News need be a bit more atrractive nowadays

Reply

Y'know, normally I try to avoid political debate, but I think it's really unfair that Obama's taking the credit for this. It was the soldiers who pulled it off, the same soldiers who Obama was considering not paying just a few weeks ago. It just screams of douchebagery.
Reply

Can't we just be glad Bin Laden's dead?
You're acting like Obama said "I just got back from shooting Bin Laden in the eye." He didn't. He's the Commander in Chief, this was done under his watch whether you like it or not.
If you
really
want to debate the faults and merits of the president, feel free to note me as not to clutter this thread with it. This is supposed to be about celebrating the death of a horrible human being

Reply

I've been looking it up, apparently the payment freezing of military personel was a draft not supported by Obama.

I'd only give the president congratulations because before he went into office, every single critique was against him apparently attacking Pakistan. Back in 2008 John McCain could have won and we would still be in Iraq or Iran and Bin Laden would be completely left alone all the way over in Pakistan.
Reply

We're still in Iraq. It's not like Obama pulled out like he said we would.

But GL wants us to ixnay the political debate, so that's where I'll leave off. I just want proper credit where credit's due.
Reply

I give credit and congratulations to everyone who was involved with Bin Laden's death, thanks to them a serious blow's been delivered to Al Qaeda.
Reply

Point to Mike again! XD I can so see Obama walk down and up that long hallway to "Move Bitch!"

Reply

I really wanted some music to go along with him approaching the podium or leaving it, thankfully Stephen Colbert had the same idea

Reply

"Ladies and Gentlemen, The President of the United States..."

IF YOU SMEEEEEEEELLLLLLLLLLLLLLLLLLL...

WHAT BARACK...

IS COOKIN'!!!

*Music plays has he walks down hall to podium, pyro going off behind him*

Winning. XD
Reply

Haha, that takes me back to the election trail when WWE had McCain, Hillary, and Obama reading scripts. Too hilarious

Reply

Lol, that is epic. I may not watch G4 at all, but that is appropriately delicious XD
Reply