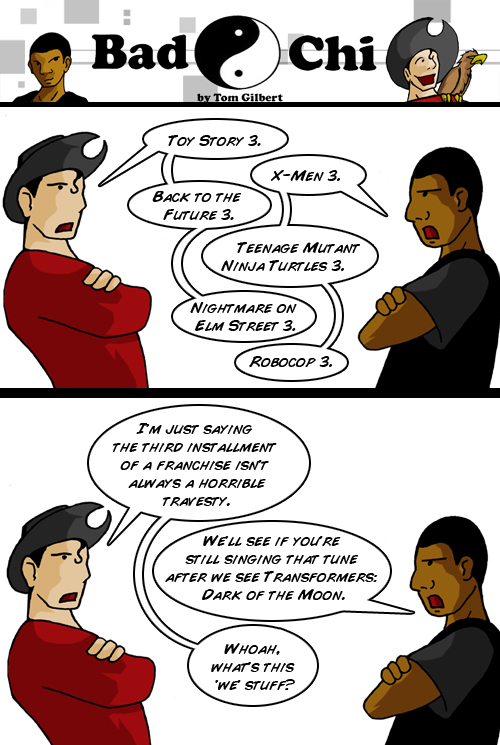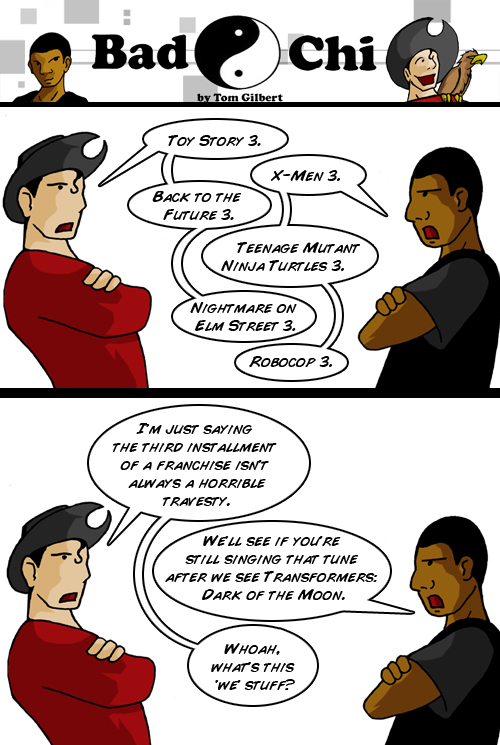 Watch
I've removed my journal because Bad Chi is a better expression of my thoughts.

Anywho, the 'final' installment of the Transformers Bayverse is technically already out if you live in Russia, but in the U.S you'll be able to see it Tuesday night. I refuse to pay full price, so Matinee Morning Wednesday is when I'll be subjecting myself to a movie I'm approaching with zero expectations... actually, make that negative expectations. That way the film's got nowhere to go but up.

I can't slam all of the toys though,Shockwave, Sentinel Prime, megs, and that nifty trans=scanning series is pretty neat.

Well, I see from the art that.... someone is not wanting to pay to see if he is correct or not about the quality of the third installment XDDDDDDDD But I think I play in the team who thinks that the third installment is NOT good...

Reply

I'm right there with you. I'd say that overall it was better than the second one, but I haven't been a fan of any of the movies in general.
Reply

I still don't want to hear it. No freakin' Dinobots...! Although I still bet it'll be better than Paranormal Activity - there was a waste of theater money! As long as we're throwing money away on 80's cartoon remakes, can I at least request an attempt at DinoSaucers? Or Galaxy High?

Reply

How dare you insult Paranormal Activity sir! I love 1 and 2, despite my nitpicks.
Any my God, do you really want to see what they'd do to Galaxy High? I'd rather someone pee all over M.A.S.K, or Jayce and the Wheeled Warriors! Heck, I never cared about SilverHawks, so they can have at them too

Reply

Was that Rattrap quote intentional?
Reply

Nope, the whole 'we' thing has been a shared joke between Mike and myself long before Beast Wars aired. Usually along the lines of: "Mike, we should probably study for this English test." "What's this 'we' stuff?"
Reply

You're acutely gonna pay to see it? I have even less hope them you apparently. i'm waiting for the DVD and borrowing it from the library.
Reply

Update, I scored some screening passes, so all I have to pay for is my popcorn

Reply

Lucky you. Even if it is a bomb, the popcorn should at least be worth the price you paid for it.
Reply

Probably, I mean, I've paid to see the Exorcism of Emily Rose,

and to date I haven't seen anything worse than that, not even Transformers 1 and 2.
With any luck I'll be able to score tickets to a free screening, then I'll only have to shell out money for my munchies.
I can't blame you for not wanting to spend any money on it at all though, they haven't really given people a reason to want to toss away their hard earned cash.
Reply

Sadly I have to agree on Exorcism of Emily Rose. I saw that once in theaters and was... very disappointed. I go to a very low price movie theater and that's where I'm gonna see Transformers 3.

I knew it was off to a bad start with reviews about a year ago when it was revealed Megan Fox would not be in it though. Some people I knew only went because she was in the second. For me it's more like we wasted a lot of time on a TRANSFORMERS movie series learning about human characters who we weren't going to use when we lose an actor/actress.
Reply

That's the best way to go about it, spend as little money as you possibly can. If at all possible, trick someone else into paying for you

Reply

Hated the 2nd one... When I saw Dale Earnhart Jr's car pimped out with missiles, that's when I knew there was no hope...
Reply

I love their logic of "Whelp, we've gone and offended a race of people, let's make up for it by offending another!" Brilliant, that is.
Reply

Haha, I knew he was trying to get out of seeing it. Honestly, in my opinion, I wonder how that flick is going to turn out.
Reply

I'm curious, but I have zero expectations of anything good. I figure everything we've seen in the commercials will be the opening 15 minutes, followed by a similar quest like adventure from Part 2, maybe a character swerve, and then a big battle with the camera zoomed in too close and lots of cuts so we have no clue what's happening. roll credits!
Reply