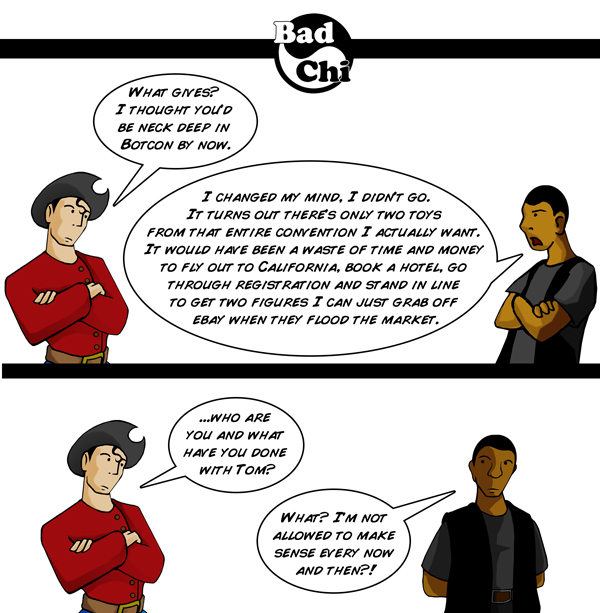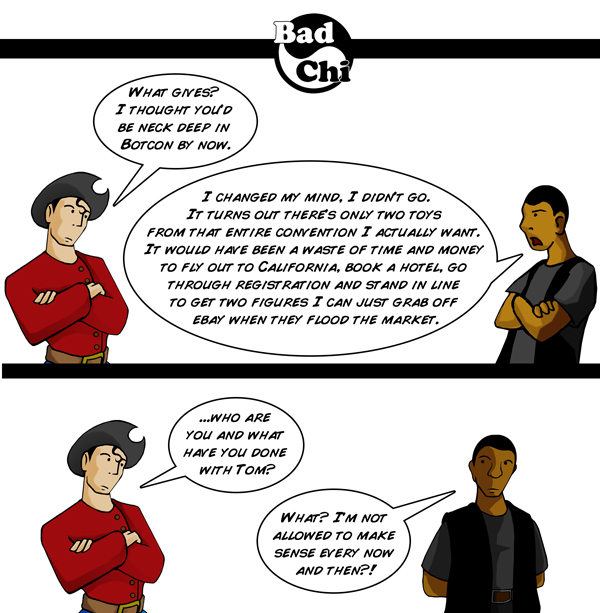 Watch
It pained me to cancel the hotel reservation I made last year to attend this year's Botcon, but now that the convention is happening and I'm finding out more about it... I actually don't regret my decision to miss this one. Now that they've gotten Animated out of their systems, I'm already getting stoked for Botcon 2012... it's gonna be filled to the brim with all those Generations/Reveal the Shield/Hunt for the Decepticon molds!

I miss attending cons with you, so we can make jokes about pirate man making lewd comments at ladies. XD
Though I don't miss botcon, people staring at me asking if I'll want the PINK toy.....

Reply

Haha, I dunno which amused me more, the prevailing thought that you *must* want pink transformers because you're a girl, or the super angry glares you got from other ladies. Because you know, clearly you wanted to steal their man, you harlot

Reply

Stumbled on humor is always the best kind--particularly when I did the same thing this year. Besides, TC looks like he should have been part of last year's Botcon with those colors of his.
Reply

They said he was actually what got the ball rolling for last year's set, I can see why! I'm happy to own him, but I kinda wish they had put *him* in the club store instead of Animated Cheetor.
Reply

Wait, I always thought you were the sensible one in our duo? Curses, there goes my already tenuous grasp on reality!
Reply

I think comparatively I am the sensible one

It's only when I start floating too far out to sea that you have to reel me back in buddy!
Reply

No, you're not allowed to make sense. Banned! XD
Reply

Damn! This always happens, maybe that's why I refuse to take anything seriously and talk nonsense

Reply

Which two figures do you want?
Reply

There's a souvenir 2 pack containing Shattered Glass Galvatron and Action Master Thundercracker that I'd love to get my hands on. But even those guys aren't a do or die for me, I've already done a custom of SG Galvatron that I'm pretty happy with, and I consider AM Thundercracker to be a fan joke gone too far (like Erector making it into the Hall of Fame running).

But I do love Shattered Glass, so having an official Galvatron would be neat and Thundercracker *is* a Classics mold... so I want him despite the silliness attached to him.
Reply

well to be fair,i believe it is actually meant to represent SG Thundercracker
Reply

Yup, I've got him hanging out with the rest of the SG crew, which works because my shelf space is almost non-existent!
Reply

Oooh, I can't wait to see the pics.
Reply

Make sure you wear your sunglasses, he is all kinds of unfinished prototype kinds of bright!
Reply