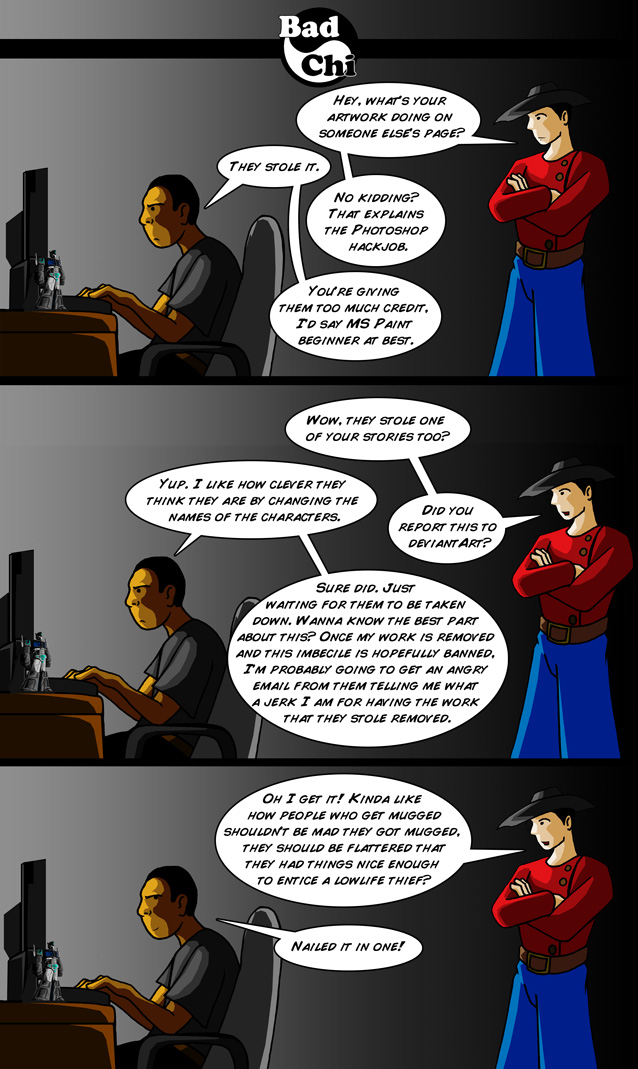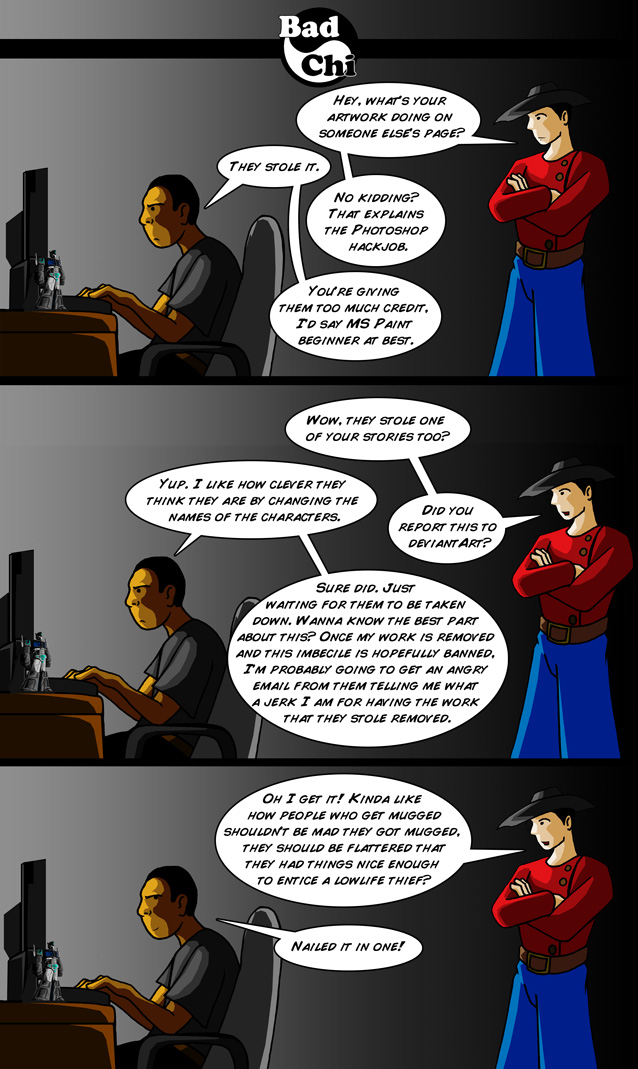 Watch
True story. Some no-talent loser right here on DA essentially right-click saved just about every character from my
Gigan Species website
and posted them up on their DA page. There are, I kid you not, over 40 stolen images on this goober's page alone, and at least 10 images I KNOW don't belong to them. Check out the Gigan Sppecies character page, then do a search on DA for 'Darksyde' and have yourself a chuckle. If those characters are popping up on any page that's not my

account, they're stolen. Oh, and if you'd be so kind, please report as many of those images as possible. Thanks in advance.
Don't you just love it when someone likes your stuff so much they decide to flat out steal it and try to take credit as if they created it? I think that mindset is something a person needs to see a psychiatrist about... or be forced into shock therapy, something painful like that.
Ah well, time to go slap a big ol' watermark on ALLLLLL the old art I have floating around the internet.

Well, thanks for the compliment my friend, but I meant the no artistic talent thing when I referred to myself, not the stealing of anothers artwork.

As for the watermarking...I wonder if I could get my name on Dana Hamm fast enough that it would count...

Reply

See buddy? This is how people with no artistic talent whatsoever (prime example : yours truly) can feel good about themselves by making it look like they have accomplished something worthwhile. Take it as a compliment that your stuff was good enough to steal and pass off as theirs. Take it as a compliment... And then crush the life out of them

Mwah ha ha!
So hypothetically, if plastering your watermark on things means you own them...does that work on anything? I'm thinking I may try this in real life if it might have a shot...

Reply

What? Anything devilish you've done has always been after being provoked, you've never stolen someone's work because your own scientific skills are too awesome for words!
As for watermarking, I recommend a thick black sharpie and a firm grip

Reply

I would be more than happy to troll this twerp on your behalf, sir.
Reply

Haha, by all means as long as you don't get in any trouble

I see he's at it again, posting another of my pics with a crappy recolor, so I may have to address him directly.
Reply

Ahh art thief is the prime example of how 'brilliant' the internet can be.
Reply

I agree. I don't know what's worse, a talentless loser who's desperate for attention, or a loony superfan who's convinced themselves that they love what you've done so much that it's somehow theirs to claim as their own. Never did understand the faulty wiring that allows that skip in logic.
Reply

Reply