A preview page from
Pint-Size Pranks 2
.
Synopsis:
Dave recently found out that his ex-girlfriend planned a very special prank for him. Now he must cope with being shrunk to the size of a doll! While this won't be the easiest thing to do, there will be some perks along the way...
Tags:
shrunken man, boobs, breastsplay, shower, body exploration, kissing, gentle, handheld, stripping, science
Pages:
15 + Cover
Written By:

Artwork By:

Issue #2 Release Date:
September 19th, 2021
Issue Link:
Pint-Size Pranks 2
Series Link:
Pint-Size Pranks
Here are the cover and preview page for Pint-Size Pranks: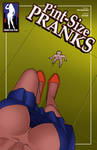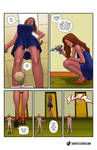 Download this comic and all of the others in our catalog with a single 1-month membership to
giantessfan.com
!
Image details
Image size
1100x1700px 859.5 KB