The cover for
Curse From Wonderland 2
.
Synopsis:
After receiving a curse making her "like Alice" from a copy of
Alice in Wonderland
in a mysterious book shop, Laura has gone from being a towering giantess to an inch tall and changes size every time she eats or drinks... anything!
Tags:
giantess, growth, shrinking, shrunken woman, shrunken gts, mega giantess, mini-giantess, blowjob, magic
Pages:
15 + Cover
Written By:

Artwork By:

Issue #2 Release Date:
September 28th, 2021
Issue Link:
Curse From Wonderland 2
Series Link:
Curse From Wonderland
Here are the cover and preview page for Curse From Wonderland: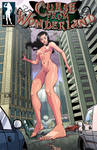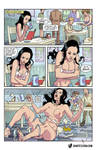 Download this comic and all of the others in our catalog with a single 1-month membership to
giantessfan.com
!
Image details
Image size
1100x1700px 1.41 MB

It would be better with the panel on the left. For her having a terrified expression (I would be scared to if I was that size and I could accidentally crush someone) instead an angry one