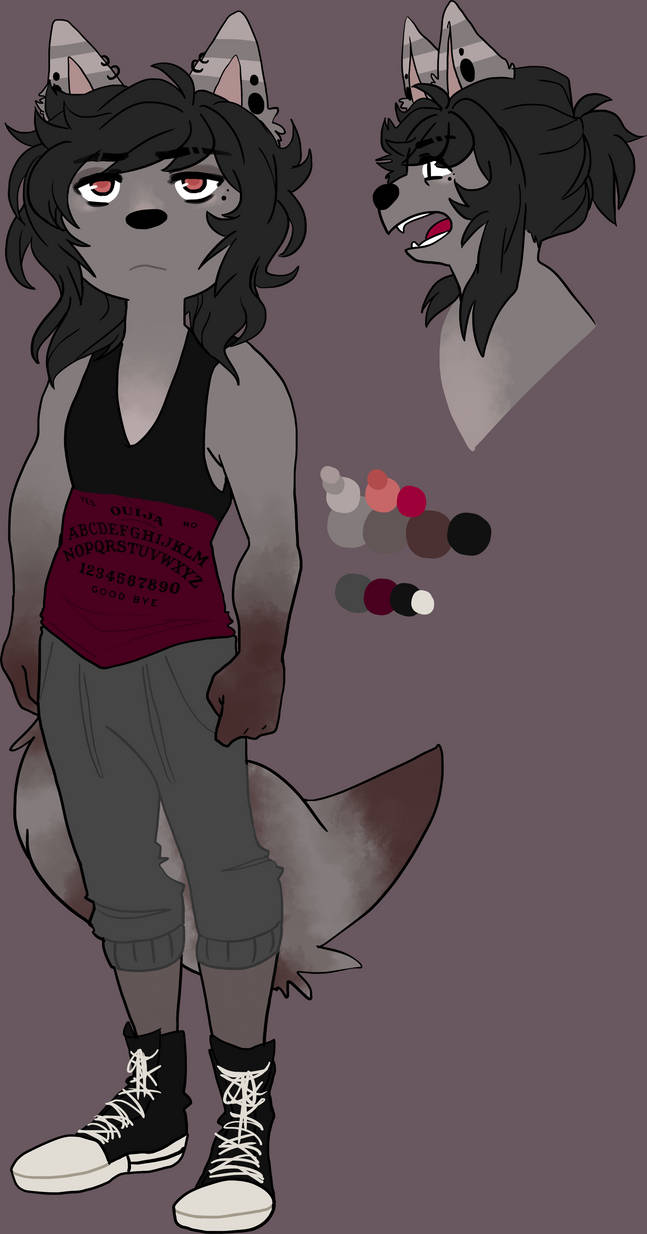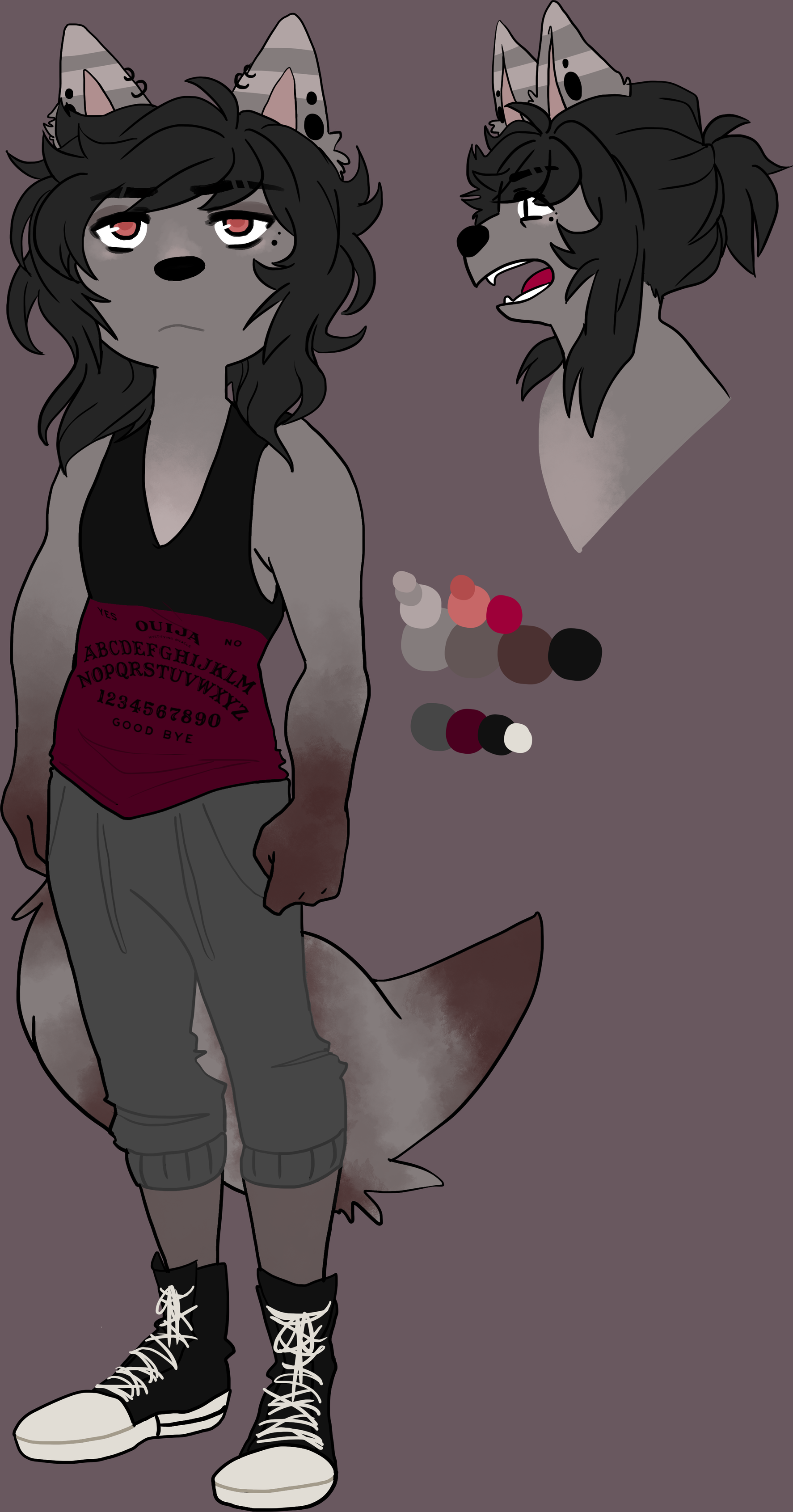 Full name:
Mako Pyotr
Pronunciation:
Ma-koh Pee-yo-tr
Nickname(s) or Alias:
Coon, Mo, usually just Mako.
Gender:
Male
Species:
Raccoon
Age:
N/A (Looks early twenties)
Birthday:
Oct 31st (whiCH HE IS VERY PROUD OF)
Sexuality:
Doesn't care
Nationality:
Russian
Religion:
Agnostic
City or town of birth:
Moscow
Languages spoken:
English, Russian
Native language:
Russian
Relationship Status:
Bluhh..
PHYSICAL APPEARANCE
Height:
6'3''
Weight:
180
Figure/build:
Lean/ Muscular
Hair colour:
Black
Hairstyle:
Longer in the front, shorter in the back--really fuckin' messy
Eye colour:
Salmon/Peach (It's called 'Contessa' apparently )
Skin/fur/etc colour:
Brownish? (The colors actually called 'Hurricane' lmao)
Tattoos:
None at the moment, will probably get them in the future. Wants full sleeves

Preferred style of clothing:
Joggers and a tank top.
Frequently worn jewellery/accessories:
Gauges and a few piercings, doesn't wear his piercings every day.
HEALTH
Smoker?
Nope
Drinker?
All the time.
Recreational Drug User? Which?:
Just weed
Addictions:
He'd probably deny having any
Allergies:
Fuck if he knows
Any physical ailments/illnesses/disabilities:
None.
PERSONALITY
Personality:
He's very detached at first-because that's how he was raised to be. He reads people before he gets to know them, identifying everything they do to get a good judge of who they are. Once he already knows who you are-then he'll talk to you. If he chooses not to read you-or can't, he'll get to know you by spending time with you-and that's when he opens up to people. He's really sarcastic and does like to tease people, usually picking at things that make them self conscious or makes them uncomfortable. He doesn't watch his language or words and will sometimes have to be put in his place when he steps out of line--but other than that, he's chill. When he gets close to someone he'll want to drag them everywhere with him and get jealous when they want to go somewhere without him. In that aspect he can be somewhat childish-expecting someones complete attention, but that's probably because he's so used to being out of reach to everyone else that when he finally has someone-he doesn't wanna let 'em go.
+
Straight foreword
Good judge of character
Protective
Sweet on whoever he likes (Friends, romantic, etc)
Calm and level headed (when he isn't being protective over someone or bothering them intentionally lol)
Likes looking after people (Not babying them though, he hates babying people)
-
Shady as fuck (His inner monologes are literally just him dragging people )
Sarcastic
Insecure in relationships (Romantic, friendship, etc)
Is a bully by nature (Likes to tease and poke fun at)
Jealous (Rarely acts on it unless necessary, he ends up keeping it inside and sits in his own jealous stew)
Will defend his friends even if they're wrong and he probably won't care
Likes:
Singing in front of a crowd, caramel apples, getting under peoples skin, when people sing to him/with him,
Dislikes:
Looking into someones eyes and they're blank (Meaning he can't read them at all, it freaks him out.), Tobias, Hunters who kill for sport, being lied to (mostly because he should have seen it in their eyes, so he blames himself),
Fears/phobias:
He's afraid of being alone in the future, friendless and loveless, with no one to turn to.
Favorite color:
Purple, maroon and black. Not necessarily all together. (Looks weird)

Hobbies:
Playing guitar, singing,
Taste in music:
Alternative, rock, trap, indie, etc
SKILLS
Talents/skills:
HE SINGS. It's what he's most proud of.
Skills; He reads people easily, almost instincitvely, lookin' into their eyes and reading who they are like a book. He doesn't mean to and is currently trying to control it.
EATING HABITS
Omnivore/Carnivore/Herbivore (Vegetarian):
Omnivore
Favourite food(s):
Caramel apples
Favourite drink(s):
Jack Daniels(brand) lmao and vodka
Disliked food(s):
Hates bland, bitter food
Disliked drink(s):
He hates orange and fruit juice lmao (especially when they're mixed with liquor, like..wHY )
FAMILY, FRIENDS AND FOES
Parents names:
N/A
Are parents alive or dead?
both alive
Is the character still in contact with their parents?
From time to time.
Siblings? Relationship with siblings?
Considers Core, Dante and Luka his brothers and Freya his sister rather than his actual siblings.
Other Important Relatives:
nope

Children:
Nope.
Best Friend(s):
Core, Dante, Luka, Freya
Other Important Friends:
Bahaha
Enemies? Why are they enemies?
Tobias-their families have bad history together. Hates him 'cuz he's a dick.
- Quick Facts ;


-Spends all day on his shitty blog
- He participated in a penpal project-which is how he met Core, and they were able to bond since Mako couldn't read him. He got to experience getting to know someone for the first time. Through Core he later met Dante and Freya-then Luka.
-When he left Russia, he left because his band had backstabbed him. (Long story.) Drummer and guitarist currently wait for him back in Russia so that he can pick one and be with them lmao. (He doesn't like any of them. Anymore. )
- Will always throw the first punch.
-His familys entire family tree is strewn across the globe, he's the first generation in Russia-his name actually originates in Japan and Germany.
- He's a little shit who swoons @ compliments
--
Godthattookforever
Here's my lil songbird