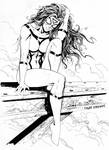 www.masterless.me/post/not-my-…
Tyler Kirkham's sketch with some awesome color! I'm not sure if he was the one who did this but I don't think so. His signature is cut out so that's a bit odd. Found the art in "Deskgram". The site had a bit of bugs so I won't link. just look up "Tyler Kirkham Spider-Woman" in google and you'll find the original site. Wanted to share this.
Image size
1080x1080px 113.19 KB

That's a credit I can only take in an alternate dimension where I am actually talented in that department XD

The sketch was fantastic enough but this coloring. I doubt it's the same artist that drew her....