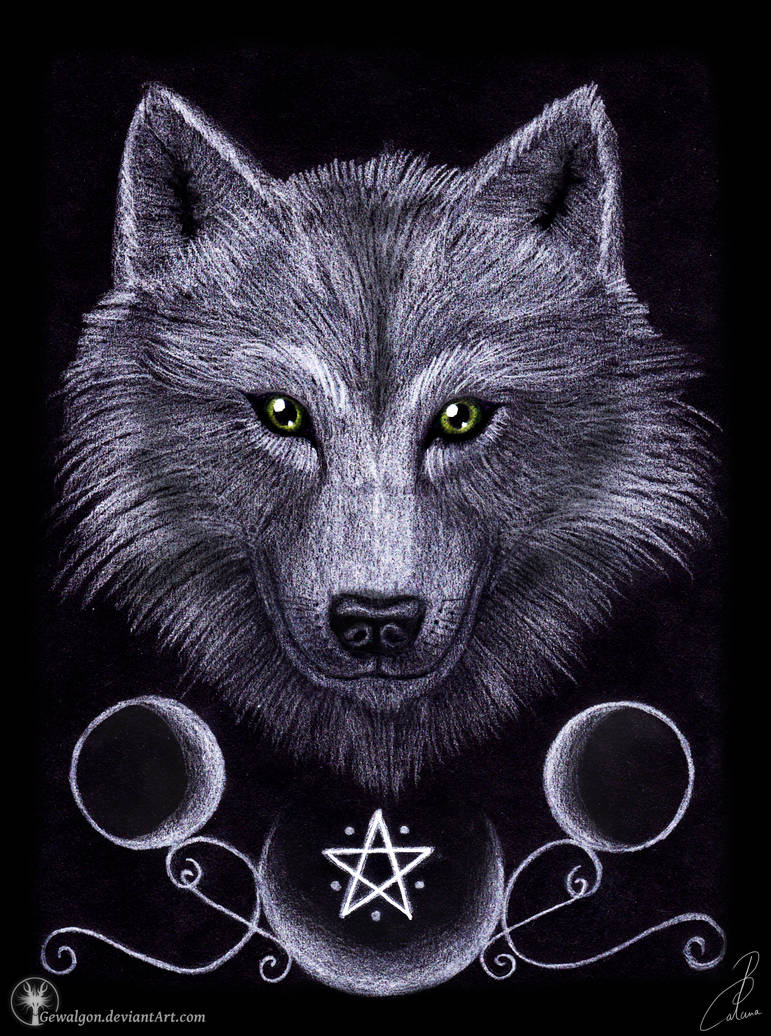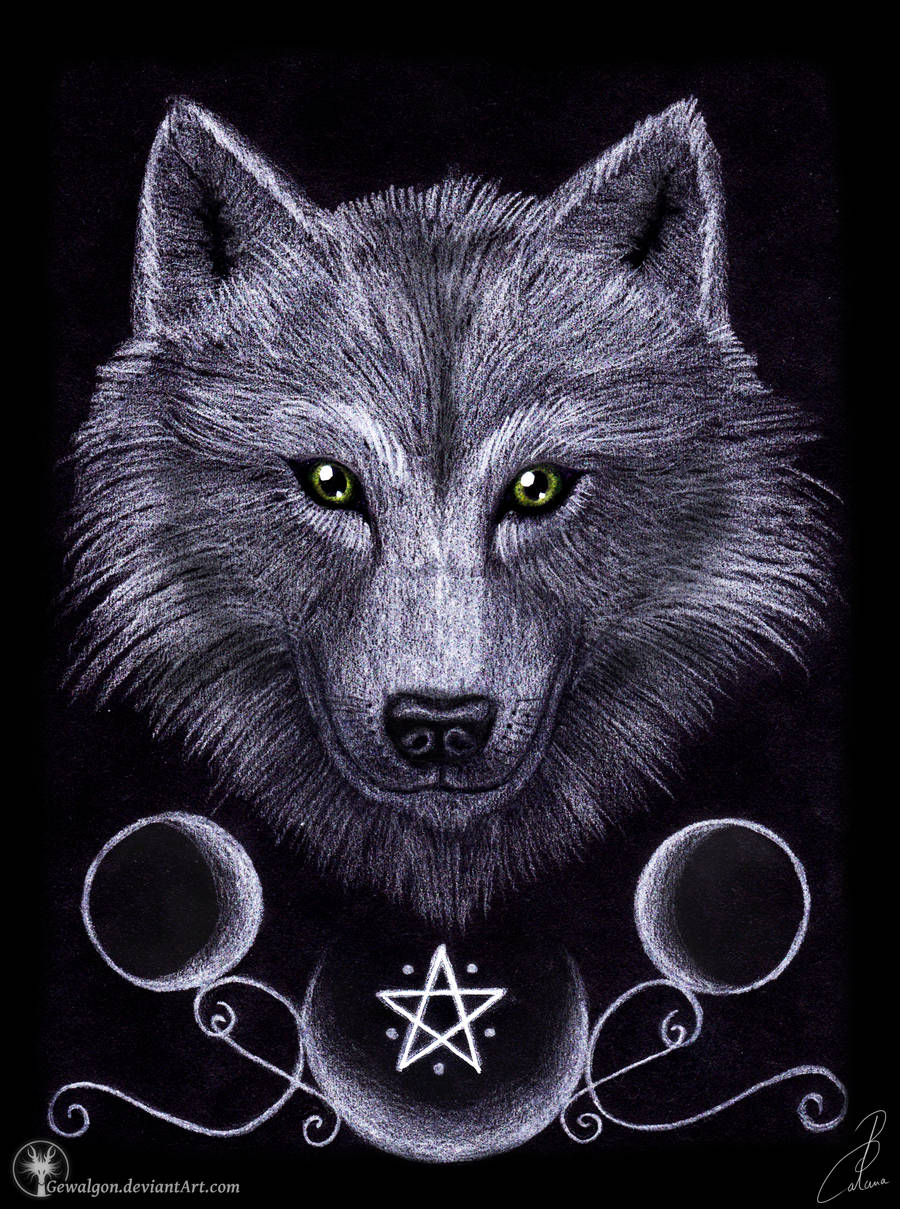 This time is the first time I drew Asél, the wolf-part of
Alvrericjas
.
I already planned to draw this piece a long time ago, but today the muse kissed me, so there is it finally! ♥
The symbols below Asél arised spontaneous.
There you can see the Triple-Goddess symbol (The three moons) and the pentagram with some flourishes.
I hope you like it!
~._____________________.~

Medias used:
- Colour pencils
- White edding
- Some edits with PS6
~._____________________.~
---
© Copyright by me, Gewalgon - Bettina Catana
Please don't take, use, reupload, etc. my work without my written permission. Thank you! ♥
---
This is a stunning piece, very impacting and beautifully made, however not without some small flaws.

First off, before the critique, let me tell you that this is a beautiful drawing, executed very well. The stark contrast between the background and the wolf head itself helps bring it together, I think.

One of the flaws that I picked up on was the wolf's muzzle. It's a bit on the short side, it looks more like a fox's muzzle rather than a wolf's. The eyes should slant a little more too, and the gap between the eyes seems a bit too small too. The ears would be a little more rounded at the top edge too, rather than having near perfect points.

Another flaw is the tonal range. You've used a lot of white to draw it, but it feels to me that you've left out a lot of the dark range of tone. Next time try and use a wider variety of tone, including the darker side.

Other than that, this is a truly spectacular piece. The flaws I have mentioned are small, and only appear after you have looked at it for quite a while. A tip for the future; every now and then, take a photo of what you are drawing and flip it horizontally, or simply put it up against a mirror. Flipping your work can make it easier to spot flaws in your work before it's too late to come back and change them. Great job on this, keep it up!
The Artist thought this was FAIR
8 out of 12 deviants thought this was fair.
It's a little amusing that before I read the description, I was thinking the wolf looked strangely like Alvrericjas. I had to chuckle when I realized that I was right. Asél's eyes are what got me, because they were so familiar... Alv has a certain persona identified with and intertwined in her star-lit eyes. They are so intelligent and cunning. If she was shown--say, as a horse or a jay--you would still be able to know who it was. Such as in Asél's case. I love this piece not only because of the essence of your characters that you can imbue into your work, but because of the simple gracefulness with which you complete such a thing. Everything flows in harmony, bound together in mystic and inspiring ways. You draw attention here not only to the major things, but the smaller details like the symbols and the hidden meanings. Beautifully done. I think that the choice to do this in a mono-tone black, white, and grey was an excellent one, which causes the iconic green eyes to stand out.
The Artist thought this was FAIR
4 out of 4 deviants thought this was fair.