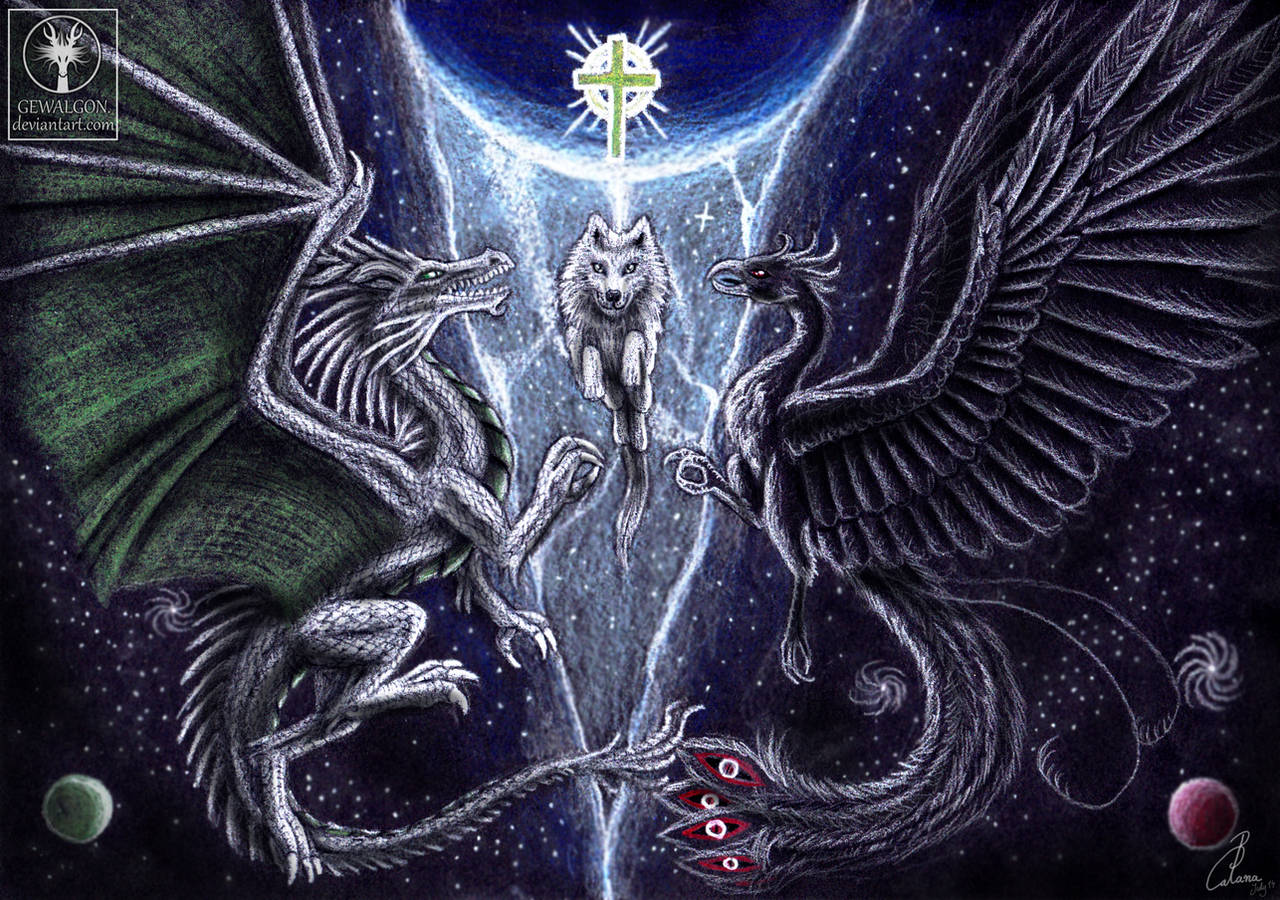 www.youtube.com/watch?v=emJPdN…

╭━━━━━━━━━━━━━━━━━━━━━━━━━━━━━━━━━━━━━━━━━━━━━━━━━━━━━━━━━━━━━━━━━━━━╮
Patria amica, Patria amica,
lost in time and space...
Destroyed you are,
forgotten is our race...
But we kept your light,
deep in our soul...
merged to one white,
to reach our goal!
╰━━━━━━━━━━━━━━━━━━━━━━━━━━━━━━━━━━━━━━━━━━━━━━━━━━━━━━━━━━━━━━━━━━━━╯
This time a very personal piece, so I won't explain too much here.
Just for short: Here you can see the three parts of which
Alvrericjas (the heaven spheres dragon)
consists of:
From left to right: Aldar the european moondragon,
Asél the arctic wolf,
Aracrija the black phoenix.
-> fav.me/d5p5tve <-
[ABOUT POWERANIMALS]
The symbol on the top is supposed to be the symbol of
Hope
. (At least this symbol comes into my mind when I think about hope.)
Edit: I found out that it's similiar to the celtic cross, but the one I drew is without the celtic patterns/knots and has beams around the circle)
This piece is using a lot of more symbolism, and I am really curious what you think about it? Please let me know!
Hope you like it, thank you for giving me the pleasure to share it with you!

Do you want to see the sketch? Take a look to my Facebook page:

www.facebook.com/Gewalgon
~._____________________.~

Medias used:
- Colour pencils
- White edding
- Some edits with PS6
-> Drawn on blackpaper
~._____________________.~
. : : More Art from me : : .
---
© Copyright by me, Gewalgon - Bettina Catana
Please don't take, use, reupload, etc. my work without my written permission. Thank you! ♥
---
i'm not that good at rating on a 5 star scale. so bare with me. the over all look is amazing! i would guess you used pastels and it helps to add to the fantasy feel. personally, and if there is a story behind it that i neglected to read please throw this away, i don't understand whats happening, i don't know what the light behind the wolf is, i don't know why there is a cross over the wolf. The stars also seem to circle them. that being said it's still breathtaking and a wonderful piece of art. 5/5
The Artist thought this was FAIR
10 out of 16 deviants thought this was fair.