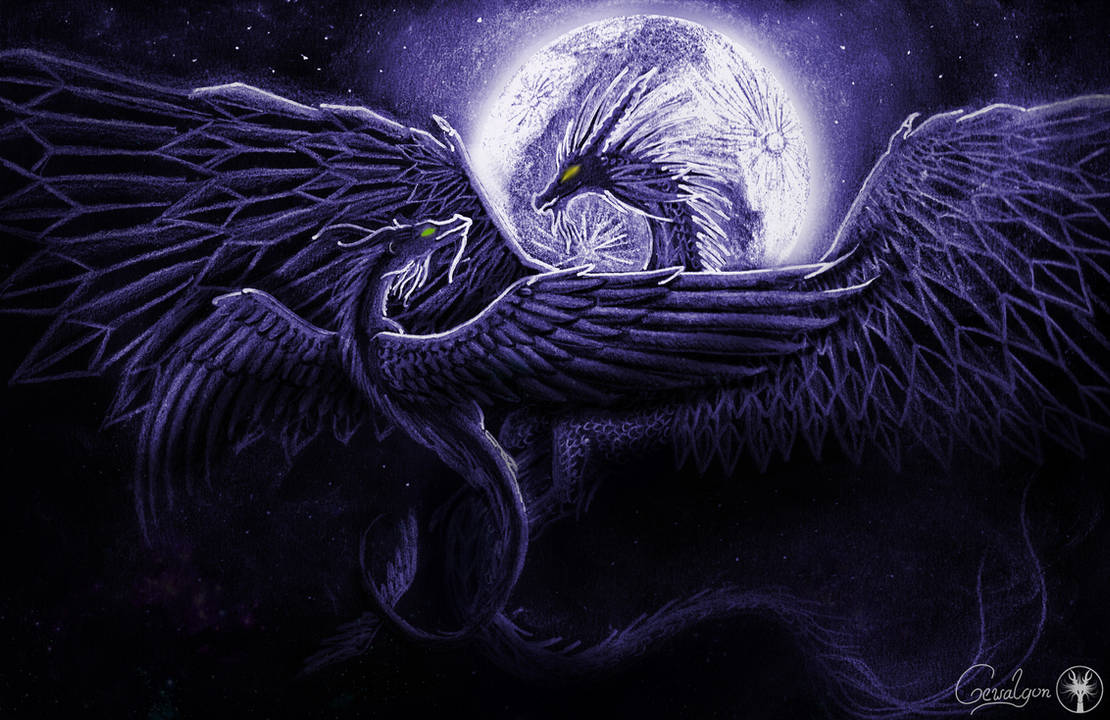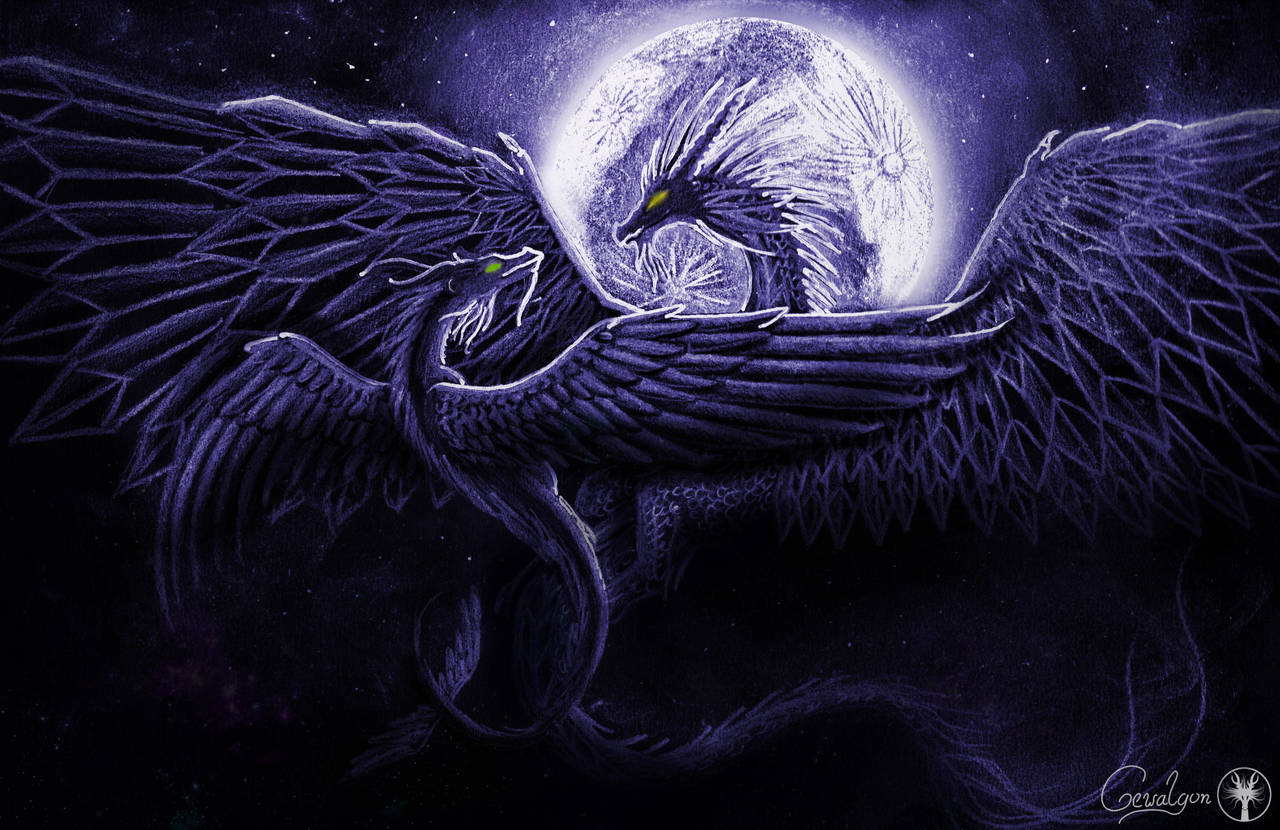 ╭━━━━━━━━━━━━━━━━━━━━━━━━━━━━━━━━━━━━━━━━━━━━━━━━━━━━━━━━━━━━━━━━━━━━╮
You're my guide,
You're my light,
You're my friend,
You're my mate,
You're my companion,
You're my guardian,
You're everything for me what I need...
You're my Totem...
I love you!

╰━━━━━━━━━━━━━━━━━━━━━━━━━━━━━━━━━━━━━━━━━━━━━━━━━━━━━━━━━━━━━━━━━━━━╯
After a long time it was time to upload a new drawing!
This piece shows me in my dragon form together with my Totem.
We are flying... enjoying the moonlight... enjoying our strong bond...
This time I tried to draw my Totem's true wings - crystal wings. It was difficult to draw them the way I see them, but I think they look good for the first try.
If you're curious, yes, he has a name, but I won't tell you his true name. If you know the name from your totem you should keep it in your heart, because he/she/it is only for you on this world.

But you may call him Krysalis, this way it's easyer to talk about him.
Do you want to know more about Totem-animals?
Listen to this wonderful music! ->
www.youtube.com/watch?v=8gkbK9…
German Version: ->
www.youtube.com/watch?v=NHjmFr…
More you can also find here:
Spirit Guides
Alvrericjas Krysalis
[Drawn on a black paper with color pencils, pastel chalks and white edding - some edits with "Gimp"]
More Art from me:
---

© Copyright by me, Gewalgon - Bettina Catana
Please don't take, use, reupload, etc. my work without my wirtten permission. Thank you! ♥


---
First of all, this is incredible! I love how you drew your Totem outlined against the moon, as though it's showing you the way to the stars. For your first try on drawing the crystalline wings, I think it's excellent, although you might want to add some refractions/reflections of the moonlight because they seem opaque, and while that isn't inherently bad or wrong, it just makes them seem more feather-like instead of crystalline. The overall effect, however, is just stunning. The bond between yourself and your Totem shines beautifully in this work, so bravo. I am always impressed by your work, since it's white on black (which to me, is very tough. I just can't think in reverse shading like that), but this is so well done, I love it! Thank you for showing us all your bond with your Totem like this. It's a beautiful piece of artwork.
The Artist thought this was FAIR
8 out of 8 deviants thought this was fair.
The name explains it all. I love how you made your other dragon mysterious, and I want to know more, but you said it's a secret, and that's ok with me. I love the hard work and detail also. I am especially impressed using black paper. It is very well detailed, and I love the color, even though there isn't much color in it, it is still beautiful. and also probably one of the best works of art I've seen by you, great job! I will be looking forward to your next work of art and many many more!

-Vo6
The Artist thought this was FAIR
15 out of 15 deviants thought this was fair.